Squats are a great way to improve the shape and appearance of your butt and achieve a rounder and firmer backside, without any doubt. 
But exactly how to do squats for a peach booty? Not too tough, squats are simple movements to work out the entire lower body.
Also, if you think, do squats build quads? 
Absolutely! The squats target the quads, hamstrings, glutes, and core all at once.
When it comes to determining the number of squats to do to see results? It will depend on your fitness level and goals.
So, how do we know this? Here is a detailed guide: 
Related Article: The Ultimate Guide to Building Stronger Glute Muscles
The Advantages of Squats You Can't Afford to Miss
Here are some benefits of squats that may surprise you. So, without delay, let's find out the incredible benefits of squats, which can affect the entire body!
1. Improve Balance and Coordination
Squats help improve balance and coordination as they require the use of multiple muscle groups simultaneously. While squatting, your quads, hamstrings, and glutes work together, improving communication between your muscles and brain.
2. Help Build Muscles
Squats are an excellent exercise for building muscle. A person while doing squats uses some of the largest muscles in his body. This means he can squat with heavy weights and challenge his muscles. Squats should be part of your workout routine if you want to build muscle mass.
3. Improve Joint Health
Squats can also help improve joint health. When you squat, your hips, knees, and ankles all have to move through a greater range of motion than they would if you were standing. As a result, squats help reduce stiffness and pain in joints and prevent injuries in the future.
4. Enhance Posture
Squats help you to improve your posture and balance. The groups that squats target are the working muscles in the lower body, such as your quads, glutes, and calves, help them to become stronger, supporting better posture and improved balance.
5. Improve Bone Health
Squats can also help improve bone health by stressing your bones to strengthen them. Squats are an effective way to help increase bone density in your legs and hips. Regular squats strengthen the bones in these areas and reduce your risk of osteoporosis or other age-related bone issues.
6. Help Burn Fat
Squats are a fat burning exercise as they increase your heart rate and get your blood flowing. When your heart rate is up, you're burning more calories. Squats also build muscles as muscle tissue burns more calories than fat tissue. So, the more muscle you have, the more calories you burn, even when resting.
Elevate your fitness routine with Kettlebells!
SHOP NOW
How Many Squats Should You Do for a Peach Booty?
There is no definitive answer to this question. The number of squats you should do will depend on your fitness level and goals.
If you are a beginner to squatting, start with 2-3 sets of 10-15 reps. As you get stronger, you can increase the number of sets and reps.
If you are an intermediate, you need to do more squats with heavier weights to build bigger muscles. Aim for 4-6 sets of 6-12 reps.
Finally, if you are trying to improve your overall fitness and get a bigger butt, aim for 3-4 sets of 15-20 reps.
Remember, the key to getting results is to challenge yourself. You must challenge yourself to see changes. Also, focus on the following aspects:
1. Watch Your Frequency
How often you squat will affect your results. If you squat every day, you may need to give your muscles more time to recover. This can lead to injury and plateauing of your results. Aim to squat 2-3 times per week. This will give you enough time to recover and see the results.
2. Vary Your Squats
If you do the same squat routine every day, your body will adapt, and you will not see any results. To avoid this, make sure to vary your squat routine. You can do this by changing the type of squat, the number of reps, the number of sets, or the weight you use.
3. Modify the Intensity
The intensity of your squats will affect your results. You will not see any changes if you do too many reps with too little weight. On the other hand, if you do too few reps with too much weight, you may risk injury. Aim for an intensity that challenges you but does not put your health at risk.
TRENDING ARTICLES
Types of Squats
There are many different types of squats you can do. Your squat type will depend on your fitness level and goals. Here are some different types of squats:
Basic Squat
Basic Squats is an easy squat workout that works on numerous muscle groups, including glutes, quadriceps, and hamstrings. They help to improve your leg strength and endurance.
Performing squats through a full range of motion helps improve hip, knee, and ankle joint flexibility.
How to Do It:
Stand with feet shoulder-width apart and toes forward.
Bend your knees and lower your hips
Keep your back straight, and lift your chest
Make sure to engage your core to maintain proper form.
Stand back up once your thighs are parallel to the ground.
Perform 3 sets of squats of 10-15 reps.
Goblet Squat
The goblet squat is a specific type of squat in which you hold a weight. This exercise is a great lower-body workout that targets the glutes, quads, and hamstrings. Holding the weight engages your core as well and increases your core strength.
How to Do It:
Start with feet shoulder-width apart and toes pointing slightly outward.
Hold the kettlebell or dumbbell to your chest
Slowly lower yourself into a squat position
After a brief pause, return to the starting position.
Repeat for as many reps as desired.
A great addition to any home gym, the DMoose Cast Iron Kettlebell - 28LB is high-quality, durable exercise equipment. It's also widely used in group kettlebell workouts because it is easy to grip.
Wall Squat
If you want to tone your legs and glutes, the wall squat might become your new best friend. This is the best squat challenge for those who want to level up their daily workout. It targets the quadriceps and gluteal muscles, promoting strength and toning in the thighs and buttocks.
How to Do It:
Stand with your feet hip-width against the wall
Slide down the wall until your thighs parallel the ground
Keep your knees at a 90-degree angle
Hold the position for a few seconds, then stand back up.
Kang Squat
Kang squats, also known as kangaroo squats, is a dynamic exercise to include in your daily squat challenge that combines a squat with a jump. It engages multiple muscles simultaneously and provides strength and power to the lower body. Kang squats are particularly effective for enhancing cardiovascular fitness, as jumping elevates the heart rate.
How to do it:
Standing with feet shoulder-width apart.
Hold the powerlifting barbell firmly on your shoulders
Complete the good morning exercise
Sit into a squat, lowering your hips and bending your knees.
Return to the good morning position by straightening your legs.
Created by powerlifters for powerlifters. Our Powerlifting Bar is made of a high quality steel, coated with cerakote, and has a tensile strength of 190,000 psi.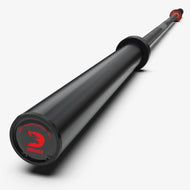 Workouts for Your Squat Day to Get a Firm Booty
Now you'll get to know about some exercises that can give you that big and firm booty to enhance your look:
Pistol Squat
Pistol Squat is a great addition to your squat day. This exercise engages the quadriceps, hamstrings, and glutes, increasing muscle power. Piston squats enhance flexibility and joint mobility, particularly in the hips and knees, contributing to improved overall functional movement.
How to Do It:
Stand with your feet shoulder-width apart.
Lift one foot off the ground and extend it in front of you
Lower into a squat on your standing leg, keeping your core tight and balance-centered
Rise back up to a standing position.
Repeat on the other leg.
Side-Kick Squat
The Sidekick squat is a great variation of normal squats that engage the inner and outer thigh muscles and glutes. The addition of a side-kick motion targets the hip flexors, increasing flexibility and range of motion. This exercise is an excellent addition to your squats schedule and can be modified to fit any fitness level.
How to Do It:
Stand with your feet shoulder-width apart.
Start squatting by bending your knees and pushing your hips back
As you stand up, lift your left leg to the side
Lower the leg back down and perform the squat again.
Repeat with the right leg next time.
Squat Jacks
Squat jacks are a combination of jumping jacks and squats. It's a fun and challenging daily squat exercise that will keep your heart rate up quickly. This exercise engages the lower body, including the quadriceps and glutes, while activating the cardiovascular system.
How to Do It:
Stand with your feet together and hands at your sides.
Start squatting with your feet shoulder-width apart
Jump up and bring your hands together above your head, like a jumping jack.
Land back into the squatting position.
Perform the Squat reps.
Wide Stance Squat
Wide Stance Squad is a squatting method involving spreading your feet to a wider distance than usual. This technique emphasizes the inner thigh muscles while engaging the glutes and quadriceps. This exercise is a must-add to your squat routine as it enhances hip mobility and flexibility, contributing to improved overall lower body strength and stability.
How to Do It:
Stand with your feet wider than shoulder-width apart.
Step sideways with each foot, toes pointing slightly outward
Slowly lower your hips and back in the squatting position
Keep your knees aligned with your toes
Stand up by straightening your legs.
FAQs
1. How many squats should I do a day to see results?
It depends on what your goals are. If you want to see strength or size gains, you should do 3-5 sets of 6-10 reps. Do 2-3 sets of 15-20 reps to gain endurance. And if you're trying to stay healthy, 1-2 sets of 20-30 reps should be good.
2. Will doing squats every day make my bum bigger?
Squats will not make your bum bigger. However, if you want to improve your bum's shape and size, squats can help. To see results with squats, it is crucial to be consistent and to do them correctly.
3. How long do you have to do squats to get a booty?
There is no one "right" answer to this question since everyone's body is different and will respond differently to squats. However, to tone and build your booty, you should do squats at least thrice weekly.
4. Do squats increase hip size?
Yes, squats can help increase hip size. The main muscles worked during squats are the glutes, so squats can help to make these muscles bigger and rounder. However, it's important to note that squats will not make your hips significantly larger if you already do not have any muscle mass there.
Final Thoughts
Squats are an excellent exercise for your butt. Start by doing 2-3 sets of 10-15 reps. As you get stronger, you can increase the number of sets and reps.
If you feel squatting is a harder task for you, don't worry! To reach your goals, you should add some tools in your routine when working out.
By using Dumbbell and Barbell gear while working out, you will activate your overall muscles and engage your full body. These tools will never let you feel tired even if you overdo the squats.
Also, this technique will help you achieve results faster than ever. All with this, you can gradually increase the amount and intensity as you go along.
FYI, you should add multi-function gym equipment in your routine, DMoose store is the perfect place for that.