-Inf%
Sale price
$23

​
Regular price
Unit price
per
& FREE Returns
Return this item for free
Free returns are available for the shipping address you chose. You can return the item for any reason in new and unused condition: no shipping charges
Learn more about free returns.
Size Guide
Measure the Circumference of the Wrist Directly Over the Wrist Bone
Small
<6
Medium
6 - 7.5
Large
>7.5
Measure the Circumference of the Wrist Directly Over the Wrist Bone
Small
<15.25
Medium
15.25 - 19
Large
>19
Why DMoose Figure 8 Straps?
Heavy-Duty Cotton Fabric
Crafted for endurance, our straps withstand intense workouts.
Reinforced Stitching
Boosted durability with additional stitching to withstand high tension.
Anti-Slip Design
Ensures a secure grip every time.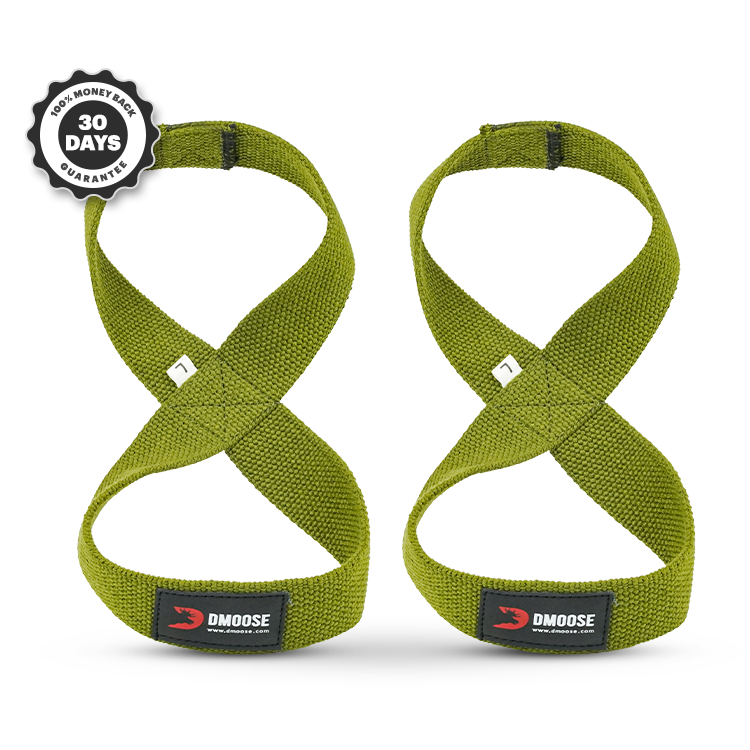 Versatile Usage
Perfect for a variety of weightlifting exercises and gym workouts.
Recyclable Packaging
Conscious packaging choices made for a better environment.
Quick Application & Removal
Designed for convenience, straps are easy to use and remove.
What Our Customers Are Saying
Unbeatable Durability!
"I've tried many lifting straps, but these DMoose figure 8 straps are by far the most durable. The heavy-duty cotton fabric and reinforced stitching really stand up to intense workout sessions. A must-have for any serious weightlifter!"
- Jack T
Outstanding Support and Improved Lifts
"The three size options in Figure 8 straps ensure a perfect fit for my needs. I now enjoy more improved lifts due to its outstanding support. Highly recommended!"
- Grace Woods
Easy to Use & Eco-Friendly
"I love how easy these straps are to put on and take off! Plus, the recyclable packaging shows DMoose's commitment to the environment. It's great to see a fitness brand taking steps towards sustainability."
- Aaron K
Frequently Asked Questions
A. Our Figure 8 Lifting Straps are made of heavy-duty cotton fabric, designed to withstand intense workouts.
A. The durability of our straps comes from the reinforced stitching that adds strength, ensuring they can withstand high tension during workouts.
A. Figure 8 straps are designed to provide enhanced wrist support and grip during heavy weightlifting exercises like deadlifts and barbell lifts.
A. Our figure 8 straps are designed for quick application and removal, ensuring convenience and efficiency during your workout.
A. Absolutely! The straps are versatile and perfect for a wide variety of weightlifting exercises and gym workouts.
A. Yes, our Figure 8 Lifting Straps are designed for lifters of all levels. Whether you're a beginner getting used to correct lifting techniques or an advanced lifter handling heavier weights, these straps will provide the necessary grip and wrist support
More
Questions?
If you have any questions about this product please feel free to get in touch. We pride ourselves in the quality of our products and our customer service.
Figure 8 Lifting Straps