Heavy and resistance training promise quality and effective results, but sooner or later, your joints might have to suffer. You might experience pain in your joints which can become a major problem for your health. When your joints are hurting, you do not feel enough motivation to exercise.
Exercise can make your joints and muscles strong and can relieve you from pain. Even if you have joint pain, doing some specific exercises can help you to subside the pain easily. But, if exercise makes you tired with extreme stress in your joints, you might not be doing the correct exercise.
It is never a good choice to stop exercising when you have pain in your joints, as exercise brings positive benefits. The longer you decide to stay inactive, the worsen your joint situation will be. You can search for alternate options so that your joints experience less stress, along with working to strengthen and build your muscles.
Light and low impact exercises and following some simple and effective techniques can help you to make your workouts more joint-friendly.
What Happens When You Have Weak Joints?
Weak joints may be a consequence of some underlying condition such as a broken bone or dislocation of the bone, or injury to the joints. People who have weak joints often complain of continuous and progressive joint pain, which becomes a major reason for their inactivity.
They are even unable to walk or do their routine tasks as they cannot withstand the pain.
Research shows that exercising at an early age or even after the onset of the problem can help in reducing the pain and symptoms of weak joints. It is best to stay active to reduce the severity of the problem, and exercising is the best option.
What Exercises Increase Joint Stability?
Exercises show promising results on people who have weak joints or have pain in joints. If you do not deal with the problem at the start, it may lead to permanent immobilization or develop risky conditions such as arthritis or osteoporosis.
So, when you decide to exercise for improved joint health, you must opt for simpler options to not cause excessive pressure on your joints. Following are some of the exercises that you can do for improving your joint health:
Brisk walks
Swimming
Strength training
Yoga
Pilates
Balance exercises
Apart from exercising, other practical techniques include giving yourself the required rest to keep your joints healthy and strong.
Tips to Make Your Workout Joint Friendly
Following are some of the tips that you can practice to have a joint-friendly workout:
1. Look for Simple Exercises
Exercises that are simple and effective show a prominent effect on your joint health. The research conducted on rheumatoid arthritis patients demonstrated that exercising helped in improving the symptoms of RA. The patients showed an overall improvement in performance without any associated negative effect.
It is best to do exercise every week keeping in view the importance of exercise. You can look for simpler techniques to avoid any excess pressure on joints. For instance, if you have knee pain, you should avoid doing lunges or squats as they might worsen your pain.
2. Avoid Excessive Cardio Workouts
Cardio workouts are good for health as they help maintain your heart health and make your lungs stronger. No doubt that they have many positive aspects, but if you even have the slightest pain in your joints, then it is best to avoid your cardio sessions.
You can burn maximum calories by having repetitive sets of jumping, but you should also consider your joint health. If you still want to go for a cardio workout, you should search for light options of short duration. Give yourself enough time to get equipped with the exercise and take a rest when needed.
3. Invest in Useful Machines
Using machines while exercising is preferred to get in shape and build strength in the muscles. There are many useful machines available that can help you to build muscle mass by adding resistance to exercises, and at the same time, protect your joints.
The elliptical, stationary bike or rowing machine will provide the right resistance to you, which you can adjust according to your health. You can also invest in dumbbells or resistance bands to take your workout to the next level, along with improving your joint health.
Are you looking for comfy-grip dumbbells to tone and sculpt your arms, shoulders, and back? If yes, then try DMoose neoprene dumbbells - perfect for your fitness regime.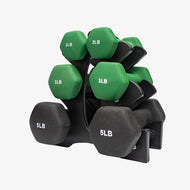 TRENDING ARTICLES
4. Remember to Warm Up Always
Exercising without warming up your body can make you prone to injuries or exercise-induced pain. No matter how perfect your technique is or how good you are at exercising, if you do not warm up your muscles, you might experience pain.
Warm-up includes light exercises that involve all muscles and joints, which helps in improving the movement. So, when you start exercising, your joints are already in good shape to support your body weight. A quick warm-up session is a perfect way to eliminate the risks of joint pain, and it also makes your workout joint-friendly.
5. Try to Stay in Shape
Controlling your weight is an effective approach in subsiding joint pain. People having arthritis of knee joints have a strong correlation with obesity. The association of obesity and joint pain is even greater in women, as per research.
Obesity induces pressure on your joints to bear your body weight. At times, the joints cannot deal with that pressure, so you might experience pain. Aim to lose weight healthily and progressively to have better joint health. You will also feel better performing different exercises such as aerobics when you are in shape.
6. Do Controlled and Stable Movements
When you aim to make your workout effective, joint-friendly, and stress-free, having controlled and stable movements are key. If you are a beginner, you should increase your workout intensity gradually. Starting with hard workouts can induce pain in your joints, limiting you to some specific movements only.
Whereas, having controlled movements increasing your pace can be a good way to work for your goals. You will never experience pain in your joints if you control your movements and stay consistent. The technique works great for those people as well who already have pain in their joints.
7. Understand Your Limits
Exercises involved different techniques and ideas. If you are a pro fitness enthusiast, you know how hard a workout can be once you reach a specific point. But, even in that situation, you must look after your joint health, or else you might not get on your feet.
While performing a specific exercise, if you do not feel good or experience pain or difficulty in bending your legs or back, then quit the exercise. Listen to the needs of your body and understand your limits for your health's sake.
8. Do Simpler Exercises First
Workout sessions can get a lot better when you are in the middle. So, design your workout plan in a way that all simple and easy-to-do exercises are at the start. It will help you to build your stamina and will work just like a warm-up session.
You can also add some simple exercises at the end of your workout so that you end up smoothly without any pressure on your joints.
9. Practice Full Range of Motion
Joint pain can affect your range of motion. So, it is best to occasionally practice a complete range of motion for the better functioning of your joints. The range of motion will allow you to practice any movement without having difficulty.
Joint disorders often limit your range of motion, and hence it is better to work on it. Stretch in all directions to test your range of motion. Doing this in the early stages can ensure that you do not have to suffer from any problems in the next years.
10. Do Not Lock Your Joints
When your joints are locked, you are unable to move because of stiffness and pain. The locking might be a gap in the joints or the presence of a bony texture in the joint space. The situation can be quite uncomfortable and can immobilize the person for a long time.
Performing range of motion and strengthening exercises can help in avoiding the situation altogether. You can easily practice any movement as your joints are in perfect health.
11. Take Anti Inflammatory Medication
Inflammation in the joints or around the joint space is one of the reasons for pain. If you have persistent inflammation in your joints over a long time, then it can lead to joint destruction, limiting you to fewer movements only. Rheumatoid arthritis and inflammation have a direct association with each other.
Hence, you should go for anti-inflammatory medication such as NSAIDs when you have an underlying injury or persistent pain in joints for over a month. Make sure to consult with your doctor before starting medication.
12. Increase Your Speed Gradually
Your workout will feel nice and good when you decide to increase the intensity at a gradual level. If you have recovered from an injury, you should wait for some time before getting back to your exercise routine. You will have a better tolerance level if you increase your workout pace step by step.
Doing this will also protect your joints from excessive damage or pain. Go for low-impact options first to build stamina. Once you practice the form and get it perfectly, jump to high-impact techniques for better results.
13. Set Achievable Goals
It is perfect to have slow growth when you decide to look after yourself. Your primary focus should be to prioritize your health, and for this, you need to set achievable goals. If you aim for too high, then you might face a hard time in achieving that.
A realistic goal will ensure that you are working slowly and gradually, taking a step closer to your goals. Your joint health will not suffer as well because you are not hard on yourself.
14. Take Rest if Needed
Resting your body or recovering from an exercise session is a must for you. If you do not rest yourself and continue to work out without a break, your joints will become weaker, leading to excessive pain.
Take a break from your exercise routine if you are having pain in any body area. The incidence of locking of joints also increases much when you do not rest yourself.
15. Always Stretch After Workout
Stretching after your workout improves your range of motion and allows you to practice a better workout form. The stretching exercises also help you to relax after a long and tiring workout session. It is best to follow a proper workout routine to maximize your results.
The research shows that active stretching has a positive role in improving the flexibility of joints in older women. It is also good to improve the functional mobility of the joints.
16. Keep Your Calcium and Vitamin D Levels Checked
The role of calcium and vitamin D in joint and bone health is evident. The supplementation of vitamin D has shown fruitful results in dealing with various medical conditions in women, such as joint pain, the onset of fatigue, and improving knee and bone health.
In the same way, calcium is also important for health as it helps in reducing the pain in arthritis of the knee or hip joint. Keeping your calcium and vitamin D levels checked at the start can protect you from developing joint pain or disorders. You can also start taking a multivitamin supplement to improve your bone health.
Experience the DMoose difference with our Multivitamin. Designed to enhance athletic performance, elevate energy, mood, and promote overall health. Try DMoose Multivitamins today!
Bottom Line
Following these effective tips will help you to focus on your exercises and stay consistent as well. If you are ever experiencing pain in your joints, it is best to take a break or stretch.
Changing your exercise form or technique can also help in taking off the excessive stress from your joints. Always look after your joint health as it can impact your overall health.
Article Sources
Rebecca-Jane Law, Anne Breslin, Emily J. Oliver, Lauren Mawn, David A. Markland, Peter Maddison, Jeanette M. Thom, Perceptions of the effects of exercise on joint health in rheumatoid arthritis patients, Rheumatology, Volume 49, Issue 12, December 2010, Pages 2444–2451, https://doi.org/10.1093/rheumatology/keq299
"Joint Pain." Nhs.Uk, 18 Oct. 2017, https://www.nhs.uk/conditions/joint-pain/.
Orlova, E. V., et al. "[The comparative effectiveness of high-intensity dynamic training with the use of exercise machines and therapeutic gymnastics for the joints in the patients presenting with early rheumatoid arthritis]." Voprosy kurortologii, fizioterapii, i lechebnoi fizicheskoi kultury, no. 2, Mar. 2013, pp. 14–19.
Osteoarthritis (OA) | Arthritis | CDC. 4 Aug. 2020, https://www.cdc.gov/arthritis/basics/osteoarthritis.htm.
"Osteoporosis." Nhs.Uk, 3 Oct. 2018, https://www.nhs.uk/conditions/osteoporosis/.
Cooney, Jennifer K., et al. "Benefits of Exercise in Rheumatoid Arthritis." Journal of Aging Research, vol. 2011, Feb. 2011, p. e681640. www.hindawi.com, https://doi.org/10.4061/2011/681640.
Hartz, Arthur J., et al. "The Association of Obesity with Joint Pain and Osteoarthritis in the HANES Data." Journal of Chronic Diseases, vol. 39, no. 4, Jan. 1986, pp. 311–19. ScienceDirect, https://doi.org/10.1016/0021-9681(86)90053-6.
Hall, Toby, et al. "The Influence of Lower Cervical Joint Pain on Range of Motion and Interpretation of the Flexion–Rotation Test." Journal of Manual & Manipulative Therapy, vol. 18, no. 3, Sept. 2010, pp. 126–31. Taylor and Francis+NEJM, https://doi.org/10.1179/106698110X12640740712293.
Wick, M. C., et al. "Relationship between Inflammation and Joint Destruction in Early Rheumatoid Arthritis: A Mathematical Description." Annals of the Rheumatic Diseases, vol. 63, no. 7, July 2004, pp. 848–52. ard.bmj.com, https://doi.org/10.1136/ard.2003.015172.
Batista, Lucia Helena PhD; Vilar, Ana Carolina PT; de Almeida Ferreira, José Jamacy PhD; Rebelatto, José Rubens PhD; Salvini, Tania Fátima PhD Active Stretching Improves Flexibility, Joint Torque, and Functional Mobility in Older Women, American Journal of Physical Medicine & Rehabilitation: October 2009 - Volume 88 - Issue 10 - p 815-822 doi: 10.1097/PHM.0b013e3181b72149
Khan, Qamar J., et al. "Effect of Vitamin D Supplementation on Serum 25-Hydroxy Vitamin D Levels, Joint Pain, and Fatigue in Women Starting Adjuvant Letrozole Treatment for Breast Cancer." Breast Cancer Research and Treatment, vol. 119, no. 1, Aug. 2009, p. 111. Springer Link, https://doi.org/10.1007/s10549-009-0495-x.
Jensen, Niels Hertz. "[Reduced pain from osteoarthritis in hip joint or knee joint during treatment with calcium ascorbate. A randomized, placebo-controlled cross-over trial in general practice]." Ugeskrift for laeger, vol. 165, no. 25, June 2003, pp. 2563–66.