-Inf%
Sale price
$30

​
Regular price
Unit price
per
& FREE Returns
Return this item for free
Free returns are available for the shipping address you chose. You can return the item for any reason in new and unused condition: no shipping charges
Learn more about free returns.
Why DMoose Knee Wraps?
78" Length
Ensures full knee coverage and a secure fit for all sizes.
Reinforced Stitching
Enhances durability for rigorous workouts.
Breathable Fabric
High-grade cotton for cool, comfortable knees.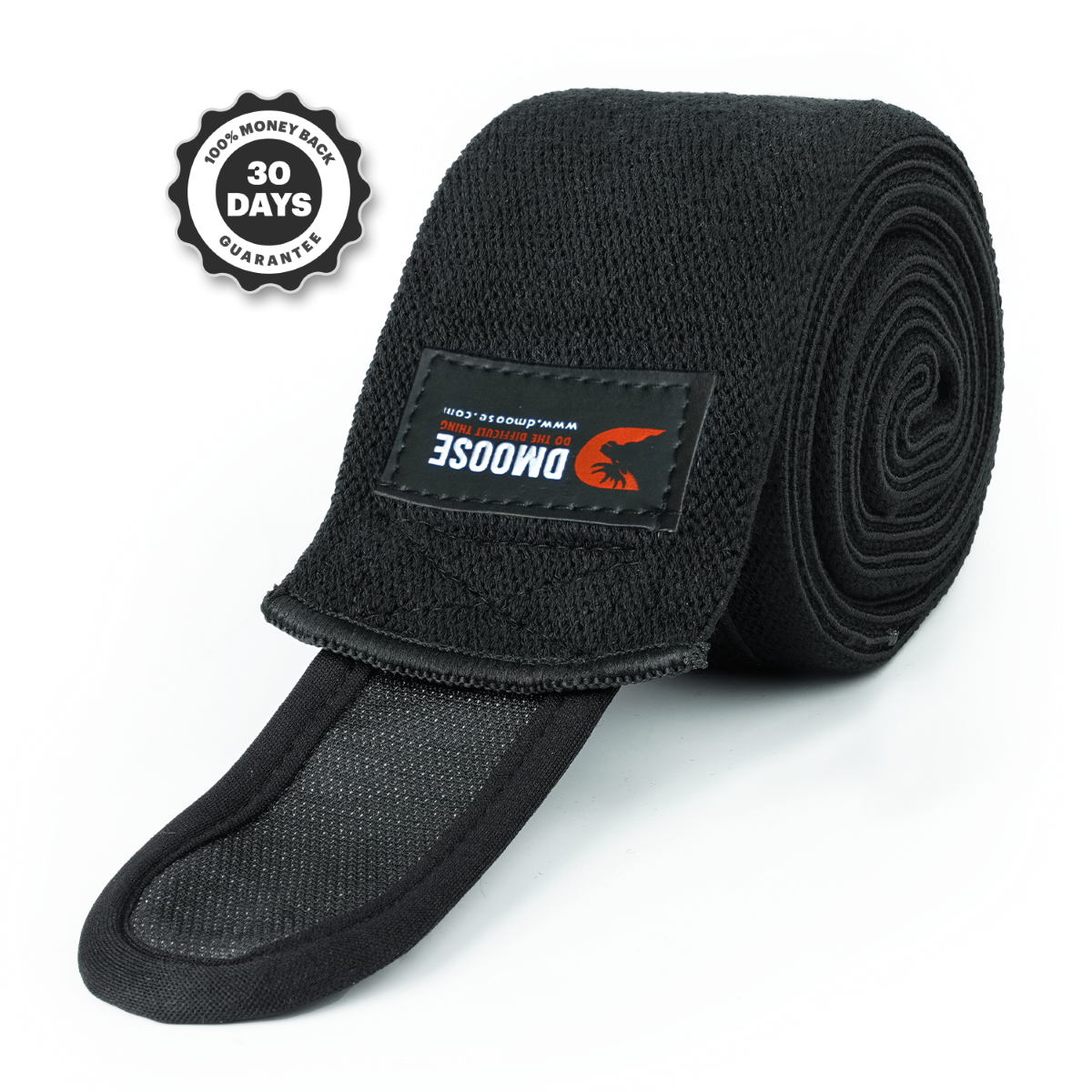 Versatile Support
Tailored for gym, weightlifting, and running.
Premium Cotton
Soft, durable material for ultimate comfort.
USPA & IPF Approved
Meets strict standards of powerlifting associations.
What Our Customers Are Saying
Ideal Knee Support for Weightlifting!
"DMoose Knee Wraps have truly transformed my weightlifting sessions. The support and stability they provide have taken my workouts to the next level. These wraps are an essential part of my routine now. Highly recommended!"
- Laura P
Reduced Discomfort During Squats!
"Struggling with knee pain during squats was a constant battle for me, but the discomfort has significantly reduced since I started using DMoose Knee Wraps. Their durability and support have made a world of difference for my workouts."
- Alex S
Running with Confidence Now!
"As a runner, knee protection is extremely important for me. After incorporating DMoose Knee Wraps into my running routine, I now run more confidently, thanks to the comfort and stability they provide."
- Michael R
Frequently Asked Questions
A. Absolutely! DMoose Knee Wraps are designed to support individuals of all fitness levels, including beginners.
A. Yes, DMoose Knee Wraps are perfect for weightlifting and various gym exercises where knee support is necessary.
A. No, DMoose Knee Wraps are versatile and can be used for powerlifting, weightlifting, running, and other activities that require knee support.
A. These wraps provide exceptional knee support, minimizing strain and safeguarding against injuries during workouts.
A. Start about one full wrap width below the Knee, and wrap up overlapping by half the wrap's width. Wrap up as far as you like and then down again as far as you can.
A. Yes, they're crafted with high-grade materials, ensuring exceptional comfort and long-lasting durability.
More
Questions?
If you have any questions about this product please feel free to get in touch. We pride ourselves in the quality of our products and our customer service.

Knee Wraps for Weightlifting