While performing exercises in gyms, it is essential to play safe. Weight lifting exercises such as deadlifts and powerlifting specifically require a correct form and technique to protect you from injuries and medical emergencies. 
Using safe equipment that does not pressurize your back muscles is the solution to your problems. Hence, fitness experts emphasize using a weight lifting belt to stabilize your back muscles and reduce the pressure on the spine. Using the belt has become a recent trend in the fitness industry due to its effectiveness.
Even though many people have mixed reviews about weight lifting belts, they have become quite popular during the past few years. The primary purpose of this belt is to protect your spine muscles from injury and pain. It does not help you lift the weight, but it does stabilize your spine.
Knowing the correct way to wear a belt is necessary to avoid any inconvenience. The back muscles play an essential role in various exercises. They support the movement and ensure that you do your exercises in the correct form. But, if your spine is not straight, you have a higher chance of getting exposed to injuries. Hence, many gym-goers prefer to use a weight lifting belt, which helps maintain correct posture.
In this article, we will cover everything you need to know about weight lifting belt advantages, types, sizes, and other details. So, keep reading to dig a little deeper into this topic!
Benefits of Weight Lifting Belts
Weight lifting belts have become common gym equipment now. The following are some of the benefits that one can reap from them:
1. Reduces Stress on Your Spine
Your spine plays an integral role during specific exercises such as deadlifts and lifting heavyweight. The belts make sure that there is no excessive pressure on the spine. These belts fit the body perfectly and increase the intra-abdominal pressure.
The increased pressure on the core muscle minimizes the chances of disc injury. Other than that, it also helps in lifting heavy weights safely.
2. Improves Your Form
The form of your body during exercises is necessary to maintain. If you do not have a proper form during exercises, you might not have a productive exercise session. Hence, practicing the form to fetch more fruitful results is necessary.
A weight lifting belt helps you to achieve this goal. The use of belts will improve the back posture, which will ultimately help perform the correct technique. The chances of back pain are also reduced.
3. Allows You to Perform Multiple Exercises
Weight lifting belts are versatile as you use them for different exercises. Their usage in different exercises has made them a preferred choice among many gym-goers. Whether you want to do a squat while lifting heavy weight or need to do deadlifts, you can rely on belts for your safety.
They will make sure that your back is completely involved in exercises and minimizes the risk of accidents as well.
4. Helps Minimize Risk of Injuries
According to a report, the male weight lifters trained for United States Olympic Training Centers have encountered several injuries during training. The estimated injury rate among them was 64.8%. Out of them, 74% of people reported back injuries during training.
Hence, to avoid injuries, it is essential to use safety equipment to minimize injury rates. Weight lifting belts are safe to use and can play a dominant role in preventing back injury.
5. Improves Your Muscle Growth
With weight lifting belts, you are doing a lot more for your body. Their usage will benefit you in the long run, as you will experience more muscle growth. When you wear them, your muscles become more active.
The increased muscle activity will then lead to enhanced growth of muscles. If someone aims for a muscular body, then using a belt is the best choice.
Different Types of Weight Lifting Belt 
When you know the benefits of a weight lifting belt, you must know how they are categorized. There are different belts available, each having a different look or material but serving the same purpose.
Some of the common weight lifting belts are:
1. Power Lifting Belt
A powerlifting belt is like a normal belt that you can easily wear. It is user-friendly, is made of high-quality material, and comes in different sizes to help meet your needs. It is made from deluxe suede leather, so it does not irritate your skin.
These belts last longer and are wide enough to support the back muscle. The use of powerlifting belts provides the following benefits:
Targets all muscle groups
Helps in working on core muscles.
Maintains a neutral position of the spine
Assists in weight lifting 
Experience unmatched support with DMoose's 10mm Weight Lifting Buckle Belt. Crafted from genuine leather, it's perfect for boosting performance in weightlifting and powerlifting. Secure your gains today!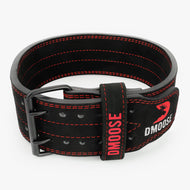 2. Weightlifting Leather Belt
The leather weightlifting belt is also made from strong and durable leather material. It does not slip and stays on your body even when you need to do workouts for a longer time. The straps for the belt are adjustable, and you can fix them according to your requirements. 
The belt is available in varying sizes for your convenience. It is padded from the inside so that you do not have any rash on your body. It is wide enough, and its durable material promises longer usage. Some of the benefits that it gives are:
Helps in stabilizing your upper and lower body
Less pressure on the spine
Suitable for almost all weight lifting exercises.
TRENDING ARTICLES
3. Dip Belts
A dip belt with a chain is what you need to cater to your weight lifting targets. It is easy to wear and provides extreme comfort during workouts. Ensuring that you have tied it tightly is important to gain maximum benefits.
It is sweat-resistant, and with two huge D-rings, you can make sure to attach any weightlifting equipment. The belt provides better stability and is a useful tool. The noticeable features of a dip belt are:
Increases your muscle mass.
Comfortable and easy to use.
Provides a neutral grip.
Assist in your body-building exercises.
Perfect for chin-ups and pull-ups
Maximize your strength training with the DMoose dip belt with chain. Featuring a 6-inch lumbar support and heavy-duty chain, these are the best dipping belt for pull-ups!
4. Neoprene Weightlifting Belt
A neoprene weightlifting belt is available in different sizes. It is made from a breathable neoprene material with a heavy-duty steel ring that helps in adjustability. It provides extreme lumbar support that minimizes the risk of back injury.
You can lift heavy weight with ease and without excessive pressure on your back muscles. The belt helps stabilize the back muscles and is great to use in different workouts. It has the following features:
Comfortable and lightweight design
Helps in boosting your performance
Protects your back muscles
How Do I Use a Weight Lifting Belt?
It is important to understand that you can solely use belts in weightlifting exercises. They will make you better in your exercises. If you are experiencing some problems during weight lifting, then having a belt is a great option.
You should wear weightlifting belts correctly to gain maximum benefits from them. 
If you do not aim to lift any heavyweight during your exercises, you should not go for a weighted belt.
It is also important to check the width of weight lifting belts while purchasing them. The uniformity of the width makes sure that your back has a balanced pressure. The perfect width will also eliminate any lower back injury risk.
The thickness of the belt is another thing to look for. The thicker a belt is, the more comfortable you will be during your exercises.
You need to wear a belt on your waist level just above your belly. Wearing it on the lower abdomen will bring no major benefits for you. Other than that, the belt should be tight enough to stabilize the spine. You need to check your breathing while wearing it, as you should not suffocate.
Look for your comfort while wearing a belt and adjust its tightness according to your convenience.
After you are done with your weight lifting exercises, make sure to remove the belt. Even if you have some workouts left, you should remove them. Wearing it for longer times can affect your abdominal activity.
What Should I Look for When Buying a Belt? 
You should know how to lift heavy weights before using a belt. If you are not familiar with the exercise form, using a belt will not add any convenience. 
If you do not feel comfortable during exercises when wearing a belt, it is better to take it off.
The belts are great when you need to lift a heavyweight. Since you do not feel any strain in your muscles, you can focus on your exercises completely.
It is better to consult a trainer first before using a weightlifting belt. You must decide which belt you want to opt for and what material is comfortable with your body.
The belts should be strong and durable not to slip away from the body. If you are facing some medical conditions, then it is best to consult a doctor first to know whether a belt works for you or not.
If you are a beginner who has just entered the fitness world, you should wait for some time before lifting weight. Similarly, it is not the best approach to directly jump to the weightlifting belts. The fitness experts also do not recommend using a belt for a beginner.
You should make sure to adapt yourself to the fitness changes first. Doing it will make sure that your body is comfortable with the changes. After you have equipped yourself with major changes, you can use any equipment that caters to your needs.
Takeaway
It will work best for you if you know how to use a weightlifting belt during exercises. While working with them, it is necessary to exercise mindfully to not harm yourself. It is also good to know about the exercises that you can do with weightlifting belts.
They are common gym equipment that can help you to maximize your results if you use them correctly.
They effectively protect your body from severe injuries while lifting heavyweights. Their usage in the correct way ensures maximum benefits and helps increase the effectiveness of exercise.