-31%
Sale price
$20

​
Regular price
$29

​
Unit price
per
& FREE Returns
Return this item for free
Free returns are available for the shipping address you chose. You can return the item for any reason in new and unused condition: no shipping charges
Learn more about free returns.
WHY DMOOSE BLOOD SUGAR SUPPORT?
13-Herb blend
Optimal blood sugar support through potent natural ingredients.
Glucose metabolism
Bitter Melon, Gymnema, Chromium for maximum effectiveness.
Vegan-Friendly
Suitable and inclusive for all lifestyles.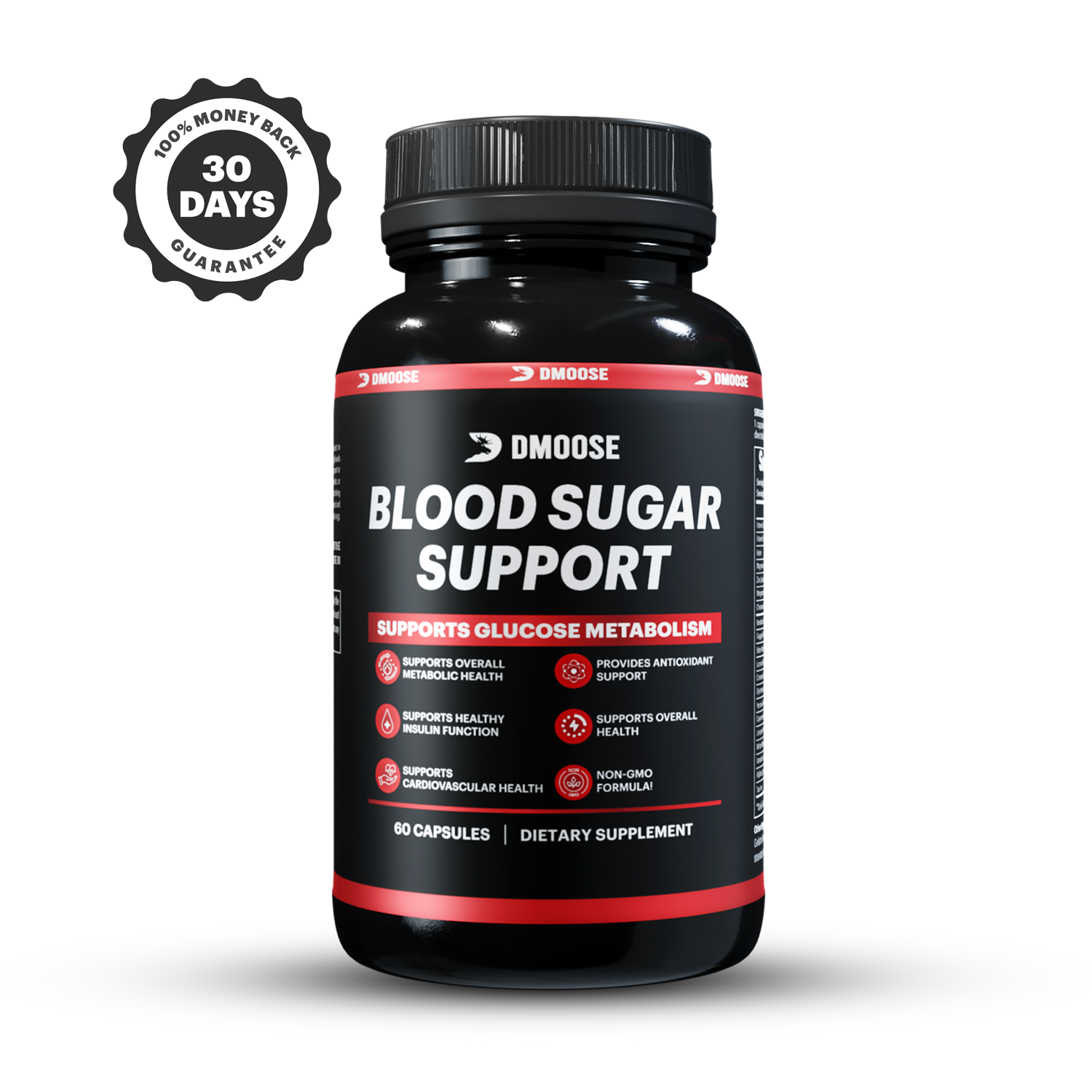 100% non-GMO
Ensures peace of mind and high-quality ingredients.
Smart solution
Helps maintain healthy blood sugar levels.
Overall well-being
Trusted supplement for improved health.
KNOW YOUR INGREDIENTS
Fundamental Nutrient Powerhouse

DMoose Blood Sugar Support consists of essential vitamins and minerals such as Vitamin C, Vitamin E, Biotin, Magnesium, Zinc, Manganese, Chromium, and Vanadium. These key nutrients offer a wide range of health benefits by supporting the immune system, promoting bone health, boosting energy levels, and assisting in cellular function. They also help regulate metabolism, enhance skin health, and reduce oxidative stress, serving as integral components of any well-rounded dietary supplement routine.
Herbal & Botanical Extracts

A medley of carefully selected herbal and botanical extracts. Featuring Banaba Leaf, Guggul Resin, Bitter Melon Fruit, Licorice Root, Cinnamon Bark, Gymnema Sylvestre Leaf, Yarrow Flowers, Cayenne Pepper Fruit, Juniper Berry, and White Mulberry Leaf. These natural extracts offer a harmonious blend of health benefits, enhancing digestive health, helping regulate blood sugar levels, boosting the immune system, and providing anti-inflammatory benefits.
Oxidative Stress Defenders

Contains potent antioxidants like Alpha Lipoic Acid and Taurine. These compounds help combat harmful free radicals, support nerve function, improve eye health, and aid in maintaining heart health, rounding out this comprehensive supplement formulation.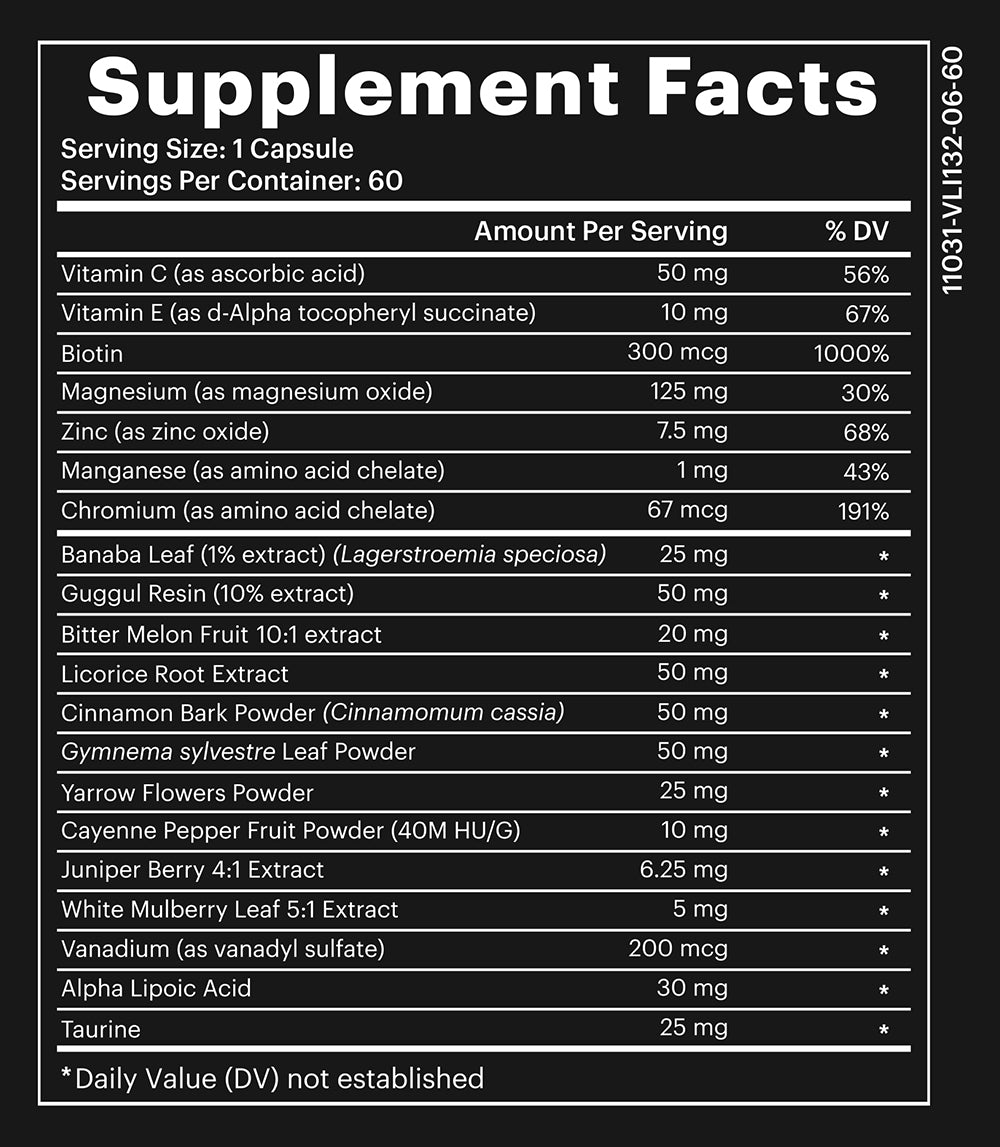 ×
What Our Customers Are Saying
Life-changing supplement!
"In just two months, this supplement has boosted my energy and improved my health. Love the vegan-friendly, non-GMO ingredients!"
- Sarah J
Effective and high-quality
"The best blood sugar supplement I've tried. Potent, natural, and vegan-friendly. Noticeable improvements in well-being!"
- Michael T
Impressive results
"Finally found an effective supplement! Better energy and mental clarity. The 13-herb blend and smart solution are perfect for me."
- Karen L
Frequently Asked Questions
A. Each bottle contains 60 capsules, providing a one-month supply when taken as directed.
A. Take two capsule daily, preferably with meals, or as directed by your healthcare professional.
A. Our blood sugar support is made with natural ingredients and is generally well-tolerated. However, if you have any concerns or experience any adverse reactions, please consult your healthcare professional.
A. It's essential to consult with your healthcare professional before taking any dietary supplement, including our blood sugar support, if you're pregnant or breastfeeding.
A. Our blood sugar support is designed to help maintain healthy blood sugar levels. However, if you have diabetes or any other medical condition, it's important to consult with your healthcare professional before using this or any other supplement.
A. Results may vary depending on individual factors such as lifestyle, diet, and overall health. It's important to maintain a consistent routine of taking the supplement and follow a balanced diet and exercise regimen for optimal results.
More
Questions?
If you have any questions about this product please feel free to get in touch. we pride ourselves in the quality of our products and our customer service.
Blood Sugar Support