While you can't get your mind off sex when you are young, sex often starts to feel like a chore as you grow older. After a tiring day at work, taking a nap or doing household chores seem more logical and appealing than having sex.
Many factors such as dietary intake, depression, history of sexual abuse, or medication use can impact your sex drive. However, decreased libido can be the main culprit if you do not have these issues but still do not urge sex.
Almost one-fourth of women at the reproductive age and about half of postmenopausal women may suffer from decreased libido. As you grow older, it is completely normal for your sexual drive to reduce. While the exact hormone influencing the sex drives in both males and females is unknown, estrogen and testosterone are the primary hormones that are in abundance when you are young and reduce as you age.
Many people suffering from decreased libido rely on an aphrodisiac, a food or drug that increases your desire, sexual performance, and pleasure. While various drugs containing aphrodisiac are available in the market, most people opt for natural alternatives as they have minimal side effects.
This article refers to the natural aphrodisiacs (herbs and foods) and supplements that can help boost your libido and enhance your sex life and performance.
Herbs That Boost Your Libido
This section refers to the five scientifically backed herbs for libido that can enhance your sexual drive and pleasure. 
Tribulus 
Tribulus, also known as Tribulus Terrestris or bindii, a plant that grows in dry climates, is known for its libido-boosting effects. 
According to a research study, Tribulus may help improve sexual functions and enhance desire in males and females. Besides, another study suggests that Tribulus can increase testosterone levels in animals, while more research is required to assess its impact on testosterone levels and fertility in humans. 
Red Ginseng 
Ginseng is a popular herb used in Chinese medicines. According to a research study, red ginseng helps improve erectile functions. Moreover, another study suggested that red ginseng does wonder in enhancing sexual arousal among women during menopause.
Since the results of most research studies on ginseng are not universal, some researchers recommend doing more research to make strong conclusions. While ginseng is generally tolerated well by most individuals, it may cause headaches or minor stomach upset. 
Maca 
Although maca has several other health benefits, most people, especially in South America, use it to boost fertility. It is a sweet vegetable related to cruciferous vegetables such as broccoli, kale, cauliflower, and cabbage.
According to research, maca is a famous herb for sex that boosts libido among humans. In addition, a study also suggests that maca helps minimize the loss of libido, which is primarily a side-effect of antidepressant medicines. 
Taking 1.5 to 3.5 grams of maca per day for the period of 2 to 12 weeks is generally a recommended dosage that causes minimal side effects. 
Red Clover 
It is a legume like lima beans, known for increasing sex drives. It is primarily a plant high in isoflavones, also known as plant estrogen, similar to female estrogen. For this reason, it is known as a natural female aphrodisiac, used to boost libido or treat menopausal symptoms. 
A study published in Obstetrics and Gynecology International suggested that postmenopausal women who took red clover for 90 days could increase their libido and improve their sleep, energy levels, and mood. Besides, red clover is also known for improving cardiovascular and bone health.
Fenugreek 
Fenugreek is commonly used in Ayurvedic medicines and has immense health benefits. The powerful aphrodisiac contains specific compounds that can help make sex hormones, such as testosterone and estrogen. 
According to a study, 600 mg of fenugreek herb per day for six weeks helped increase men's sexual arousal and orgasm. While the aphrodisiac herb is generally well tolerated, it may cause stomach upset and interact with blood-thinning medications. 
Foods That Science does Not Back but May Help
While there is quite limited scientific evidence to support these claims, some foods are known to have aphrodisiac properties. This section refers to the list of aphrodisiacs popular for boosting libido. 
Chocolate 
Chocolate contains compounds that are considered to have aphrodisiac effects, especially for women. However, studies have very limited evidence to support this assumption. 
Chasteberry
Some studies suggest that Chasteberry fruit may help reduce premenstrual syndrome symptoms (PMS) and influence hormone levels among women. However, no evidence suggests that it has libido-boosting effects. 
Honey
A lot of individuals have used honey to make their marriages more romantic and pleasurable. Mad honey, a variety of honey, is even sold as a sexual stimulant. However, no study suggests such influence of mad honey so far, and some suggest that it may contain dangerous toxins. 
Hot Chilies
According to a popular belief, compound capsaicin in hot chilies releases sex-drive boosting chemicals. However, this support is not backed by any scientific research. 
Alcohol 
Alcohol helps both men and women get in the mood. Therefore, it is known for acting as an aphrodisiac. However, it is suggested that you consume alcohol in moderation, or else it may negatively impact sexual functions and reduce sexual arousal. 
Oysters
According to one study, oyster tends to have libido-boosting effects in rats; however, no study shows that oysters enhance humans' libido. 
Can Supplement Help Boost Libido?
Now that you know some scientifically-backed herbs and popular foods with aphrodisiac properties, it is time to see if supplements can help boost libido and enhance your sexual drives. 
Supplements contain ingredients that can help increase your stamina and overall energy. Some libido-boosting supplements help reduce stress levels and boost testosterone levels naturally and have no side effects. 
The supplements to boost testosterone may even work better than an aphrodisiac, such as herbs and foods, as they contain the exact ingredients in the perfect quantity to help boost your libido and increase testosterone levels. 
Related Article: 7 Foods that Kill Testosterone and 7 Foods that Boost it
What Ingredients to Look for in a Testosterone Booster Supplement? 
A testosterone booster is one of the most common supplements that help increase your testosterone levels and make you feel more active both physically and mentally. Testosterone boosters are primarily used to boost sexual performance. Testosterone booster pills are also associated with male sexual characteristics, such as body hair, voice, etc., and regulate sperm production. 
However, if you want to try a supplement to boost your libido, you must choose a supplement with the perfect and reliable ingredients known for improving sexual functions and desire. 
DMoose testosterone booster is a natural formula that increases testosterone levels, enhances athletic performance, and improves your overall energy levels. DMoose testosterone booster also lifts your mood, boosts your libido, and supports lean muscles. 
DMoose testosterone booster pills contain 600 mg fenugreek that has chemicals called saponins. Saponins produce testosterone and boost blood circulation. Since fenugreek is a natural way to boost testosterone production and enhance sexual health, it is an essential ingredient to look for in a testosterone booster. 
In addition, the DMoose testosterone booster for men contains 100 mg horny goat weed that increases testosterone levels by improving the body's utilization of testosterone. The active ingredient in horny goat weed is icariin, which has similar effects to the acid L-arginine, which releases growth hormone and produces more testosterone by stimulating testicles. 
Moreover, the test booster contains 600 mg of Tribulus Terrestris, which contributes to increased testosterone levels, improved libido, enhanced muscle size, and strength. 
Besides, the DMoose testosterone pills contain 50 mg of Tongkat Ali, a powerful testosterone booster extract, and 11 mg zinc, which play a crucial role in steroid production and have several health benefits. 
So buy a testosterone booster if you want to increase your libido, improve your erectile functions, and gain multiple benefits, such as lean muscles, enhanced energy levels. 
Do you want to restore the vitality and vigor you once had? Look no further than a testosterone booster to restart your passion engine and rekindle your desire with a blend of natural herbs.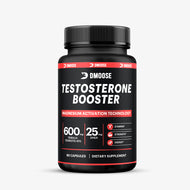 TRENDING ARTICLES
Takeaway 
It is quite common for people to experience reduced sexual drive as they age. While different reasons from diet, medication, and psychological issues may contribute to less sex drive, decreased libido is the most common cause. 
By focusing on your diet, using aphrodisiacs in the form of herbs and foods, you can improve your libido. However, if you want to ensure that your body receives the exact nutrients and chemicals that have libido-boosting effects, a testosterone booster supplement can work wonders for you! 
Article Sources
Abdi, F., et al. "Effects of Phytoestrogens on Bone Mineral Density during the Menopause Transition: A Systematic Review of Randomized, Controlled Trials." Climacteric, vol. 19, no. 6, Nov. 2016, pp. 535–45. Taylor and Francis+NEJM, https://doi.org/10.1080/13697137.2016.1238451. 
Dording, Christina M., et al. "A Double-Blind Placebo-Controlled Trial of Maca Root as Treatment for Antidepressant-Induced Sexual Dysfunction in Women." Evidence-Based Complementary and Alternative Medicine: ECAM, vol. 2015, 2015, p. 949036. PubMed Central, https://doi.org/10.1155/2015/949036. 
George, William H., et al. "Women's Sexual Arousal: Effects of High Alcohol Dosages and Self-Control Instructions." Hormones and Behavior, vol. 59, no. 5, May 2011, pp. 730–38. PubMed Central, https://doi.org/10.1016/j.yhbeh.2011.03.006. 
Gonzales, Gustavo F. "Ethnobiology and Ethnopharmacology of Lepidium Meyenii (Maca), a Plant from the Peruvian Highlands." Evidence-Based Complementary and Alternative Medicine: ECAM, vol. 2012, 2012, p. 193496. PubMed, https://doi.org/10.1155/2012/193496. 
Hashim, R., et al. "Screening for Aphrodisiac Property in Local Oyster of Crassostrea Iredale." Undefined, 2013. semanticscholar.org, https://www.semanticscholar.org/paper/Screening-for-Aphrodisiac-Property-in-Local-Oyster-Hashim-Mohamaddiah/bf6d1f64556878ecd76b629131e928aee485283c. 
Izzo, Angelo A., et al. "Cardiovascular Pharmacotherapy and Herbal Medicines: The Risk of Drug Interaction." International Journal of Cardiology, vol. 98, no. 1, Jan. 2005, pp. 1–14. PubMed, https://doi.org/10.1016/j.ijcard.2003.06.039. 
Jang, Dai-Ja, et al. "Red Ginseng for Treating Erectile Dysfunction: A Systematic Review." British Journal of Clinical Pharmacology, vol. 66, no. 4, Oct. 2008, pp. 444–50. PubMed Central, https://doi.org/10.1111/j.1365-2125.2008.03236.x. 
---. "Red Ginseng for Treating Erectile Dysfunction: A Systematic Review." British Journal of Clinical Pharmacology, vol. 66, no. 4, Oct. 2008, pp. 444–50. PubMed, https://doi.org/10.1111/j.1365-2125.2008.03236.x. 
Lipovac, Markus, et al. "Effect of Red Clover Isoflavones over Skin, Appendages, and Mucosal Status in Postmenopausal Women." Obstetrics and Gynecology International, vol. 2011, 2011, p. 949302. PubMed, https://doi.org/10.1155/2011/949302. 
Nestel, P. J., et al. "Isoflavones from Red Clover Improve Systemic Arterial Compliance but Not Plasma Lipids in Menopausal Women." The Journal of Clinical Endocrinology and Metabolism, vol. 84, no. 3, Mar. 1999, pp. 895–98. PubMed, https://doi.org/10.1210/jcem.84.3.5561. 
Oh, Kyung-Jin, et al. "Effects of Korean Red Ginseng on Sexual Arousal in Menopausal Women: Placebo-Controlled, Double-Blind Crossover Clinical Study." The Journal of Sexual Medicine, vol. 7, no. 4 Pt 1, Apr. 2010, pp. 1469–77. PubMed, https://doi.org/10.1111/j.1743-6109.2009.01700.x. 
Qureshi, Ahmed, et al. "A Systematic Review on the Herbal Extract Tribulus Terrestris and the Roots of Its Putative Aphrodisiac and Performance Enhancing Effect." Journal of Dietary Supplements, vol. 11, no. 1, Mar. 2014, pp. 64–79. Taylor and Francis+NEJM, https://doi.org/10.3109/19390211.2014.887602. 
Rosaiah, Mohamed Farid, et al. "Prospective Analysis on the Effect of Botanical Medicine (Tribulus Terrestris) on Serum Testosterone Level and Semen Parameters in Males with Unexplained Infertility." Journal of Dietary Supplements, vol. 14, no. 1, Jan. 2017, pp. 25–31. Taylor and Francis+NEJM, https://doi.org/10.1080/19390211.2016.1188193. 
Roemheld-Hamm, Beatrix. "Chasteberry." American Family Physician, vol. 72, no. 5, Sept. 2005, pp. 821–24. 
Salonia, Andrea, et al. "Chocolate and Women's Sexual Health: An Intriguing Correlation." The Journal of Sexual Medicine, vol. 3, no. 3, May 2006, pp. 476–82. PubMed, https://doi.org/10.1111/j.1743-6109.2006.00236.x. 
Shin, Byung-Cheul, et al. "Maca (L. Meyenii) for Improving Sexual Function: A Systematic Review." BMC Complementary and Alternative Medicine, vol. 10, Aug. 2010, p. 44. PubMed Central, https://doi.org/10.1186/1472-6882-10-44. 
Sreeja, S., et al. "In Vitro Estrogenic Activities of Fenugreek Trigonella Foenum Graecum Seeds." The Indian Journal of Medical Research, vol. 131, June 2010, pp. 814–19.
Steels, Elizabeth, et al. "Physiological Aspects of Male Libido Enhanced by Standardized Trigonella Foenum-Graecum Extract and Mineral Formulation." Phytotherapy Research: PTR, vol. 25, no. 9, Sept. 2011, pp. 1294–300. PubMed, https://doi.org/10.1002/ptr.3360. 
West, Elizabeth, and Michael Krychman. "Natural Aphrodisiacs-A Review of Selected Sexual Enhancers." Sexual Medicine Reviews, vol. 3, no. 4, Oct. 2015, pp. 279–88. PubMed, https://doi.org/10.1002/smrj.62. 
Zenica, T., et al. "Subjective Effects of Lepidium Meyenii (Maca) Extract on Well-Being and Sexual Performances in Patients with Mild Erectile Dysfunction: A Randomised, Double-Blind Clinical Trial." Andrologia, vol. 41, no. 2, Apr. 2009, pp. 95–99. PubMed, https://doi.org/10.1111/j.1439-0272.2008.00892.x.