Get ready to have a "bell" of a time with kettlebells! Despite their quirky shape, these versatile fitness tools are no joke. They'll have you wondering why you didn't start swinging sooner. It's like having a mini cannonball with a handle, ready to take your shoulder fitness to new heights.
Unlike traditional dumbbells, kettlebells allow for a wide range of movement, engaging multiple muscle groups simultaneously. Picture yourself swinging, snatching, and pressing your way to shoulder greatness. It's a workout that's as fun as it is effective.
Ever looked at kettlebells and wondered what they could do for you? Kettlebells are one of the most versatile fitness equipment you can own. They allow for a wide range of movement and challenge the shoulder muscles uniquely. Not only do they offer a challenging workout, but they also build strength and stability in your shoulders.
This blog post focuses on kettlebell workouts because using a kettlebell is the perfect way to promote proper shoulder functioning while also building endurance, size, and strength.
Understanding the Shoulders
The human shoulder is an amazingly complex structure. It comprises three bones: the scapula, the clavicle, and the humerus (upper arm bone). A network of muscles, ligaments, and tendons joins these bones together. The shoulder joint is a "ball-and-socket" joint, which allows for a wide range of motion.
However, this increased mobility comes at the expense of stability. The shoulder is susceptible to dislocation, which can occur when the joint ball pops out of the socket. The shoulder has several muscles surrounding and supporting the joint to prevent such an injury.
Deltoids
This set of muscles sits on the outside of your shoulders. It is made up of three parts, namely the anterior deltoid (front), medial deltoid (middle), and posterior deltoid (back). The deltoids are responsible for movement in all directions, such as lifting weights overhead, flexing, extending, and rotating your arm.
Rotator Cuff Group
The rotator cuff group includes four muscles-supraspinatus, infraspinatus, teres minor, and subscapularis-that help support the shoulder joint. They originate from the scapula and insert onto the head of the humerus bone. These muscles work together to stabilize the shoulder joint and keep the head of the humerus in the shallow glenoid fossa.
Trapezius
This large muscle spans from your neck to mid back, covering a broad upper body area. It is divided into three parts-the upper, middle, and lower trapezius. The trapezius helps move, support, and stabilize the shoulder blade (scapula).
It is also involved in shoulder retraction, shoulder depression, and rotation and elevates the scapula for proper posture.
Serratus Anterior
This relatively small muscle runs along the side of your ribcage and helps rotate the scapula forward when you lift your arms overhead. It maintains the stability of the shoulder blade during arm movement.
The complex ball-and-socket architecture of the shoulder allows for a diverse range of movement and function. However, this fragile setup can also become a common area of distress when mistreated.
It's crucial to develop shoulder stability by conditioning the muscles around the shoulder joint that are more endurance-based and maintain good shoulder alignment.
Kettlebell exercises can target each of these muscles to improve shoulder stability and strength and reduce your risk for injury. So go ahead and give that kettlebell workout a try! You'll be glad you did.
Related Article: What Are Deltoid Muscles? 6 Best Shoulder Isolation Exercises for Men to Get Bigger Deltoids
The hexagonal dumbbell consists of two weighted heads connected by a central grip shaft. It's the future of weight training and it's waiting for you.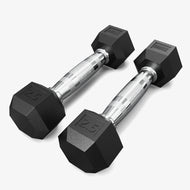 Why Kettlebells, Not Dumbbells?
Kettlebells are a great way to get fit and stay in shape. But are they better than using dumbbells? Kettlebells offer many advantages over traditional weights, including providing variety in your workouts, improved posture and balance, muscle toning, and even cardio benefits.
Let's explore the unique advantages of kettlebell training and how it can help you reach your fitness goals faster!
Allows Free Movement
First, kettlebells allow you to move more freely than dumbbells. This is because kettlebells are not attached to a fixed-weight plate, which gives you more range of motion. The free movement increases your range of motion and strengthens your muscles more by constantly surprising the muscles with new twists.
Helps in Explosive Movements
Secondly, kettlebells are often used in exercises that involve explosive movements, such as swings and snatches. Explosive exercises increase your strength, power, balance, and coordination.
Kettlebells' movement across multiple plains during an exercise makes sure your body learns to balance itself in many different angles and positions.
Adds Functional Element to the Traditional Weightlifting
Thirdly, kettlebells are loved for adding a functional element to our traditional weightlifting exercises. As you lift the weight and move it in a thrusting manner, you imitate activities that we do in our daily lives, conditioning our muscles to get comfortable with those activities.
Supports Several Muscle Groups
Kettlebells support various exercises, which allow you to target different muscle groups. In addition, kettlebells involve most major muscle groups in a single exercise, which means you can target more muscles with kettlebell exercises than you'd do with other weightlifting equipment.
In contrast, adjustable dumbbell training is typically limited to a few basic movements. For these reasons, kettlebells are often preferred for building muscle.
Related Article: 10 Kettlebell Exercises That Will Tone Your Entire Body
Elevate your fitness routine with Kettlebells!
SHOP NOW
5 Dynamic Kettlebell Shoulder Workouts
Kettlebells have become increasingly popular in recent years as a versatile training tool that can be used for various exercises. One area where kettlebells can be particularly effective is building shoulder strength and stability. Let's look at the five kettlebell shoulder workouts to help you develop stronger and more stable shoulders.
1. Single-Arm Kettlebell Swing
The single-arm kettlebell swing is an amazing exercise for your shoulders and the whole body because it activates quite a few muscles all over the body. Though it seems like an exercise that activates one's arms, it also affects the glutes.
It increases demands on the shoulder, stabilizing muscles while improving core anti-rotational muscles. It strengthens the upper back and also improves grip strength.
How to Do It:
Start by standing with your feet slightly wider than your shoulders.
Start by lowering your hips and knees with one arm extended to the side.
Grip the kettlebell between your feet with the arm you are exercising.
Keep your back straight and core engaged while the kettlebell is placed slightly behind the knees.
Now in an explosive style, push your hips backward while simultaneously thrusting the kettlebell forward and upwards.
Allow the kettlebell down and behind the knees to return to the starting position.
A great addition to any home gym, the DMoose Cast Iron Kettlebell - 28LB is high-quality, durable exercise equipment. It's also widely used in group kettlebell workouts because it is easy to grip.
TRENDING ARTICLES
2. American Kettlebell Swing
The American kettlebell swing is a compound movement that simultaneously works for multiple muscle groups. The primary muscle groups involved are the hamstrings, glutes, and core. However, the shoulders, arms, and back also get a workout.
It's an excellent way to build strength and power. It also helps improve your coordination and balance. In addition, the American kettlebell swing is a great cardio workout and an ideal exercise for improving flexibility and range of motion.
How to Do It:
Stand straight with the kettlebell in your grip.
Keep your arms loose and long while engaging your core muscles and squeezing your shoulder blades together.
Bend your knees slightly, put your weight on your heels, and lean your butt back and down toward the wall.
Then push through your heels to make the weights rise from your quads. Your arms should be extended overhead.
You must snap your hips through and contract your core while squeezing your glutes to achieve the desired finishing position.
Let the weight do most of the work as you ready yourself for repetition. You should also shift your weight back into heels while hinging at the hips to load your hamstrings and glutes.
As the kettlebell returns, let it ride back between legs before transitioning from backward to forward motion, repeatedly driving through heels and hips.
3. Kettlebell Vertical Row
A kettlebell vertical row is great for building bigger and stronger shoulders. It works on the back muscles well. While the vertical row is a great exercise for engaging a range of muscles with just one move, you can quickly get it wrong.
How to Do It:
Start by standing with your feet shoulder-width apart, holding the kettlebell with both hands.
Next, engage your core and raise the kettlebell by lifting your elbows until they are close to your shoulders.
Your elbows should be tilted above the wrist level throughout the movement.
When lowering the kettlebell, straighten your arms before starting another repetition.
Continue for the desired number of repetitions.
4. Kettlebell Shoulder Press
The kettlebell shoulder press is an excellent exercise for building shoulder strength and stability. The shoulder press can be performed with either one or two kettlebells, depending on your preference and level of strength.
Remember to engage your core and keep your shoulder blades down and back throughout the movement to maximize shoulder stability.
How to Do It:
Start by standing with your feet about shoulder-width apart and your knees slightly bent.
Holding a kettlebell in each hand, raise your arms so the weights are at shoulder level.
Press the weights overhead from here, keeping your elbows close to your ears.
Return to the starting position and repeat for 10-12 reps.
Be the envy of the gym with adjustable dumbbells!
SHOP NOW
5. Single-Arm Kettlebell Z Press
The Single-Arm Kettlebell Z Press is an exercise that works the muscles in your shoulders, chest, and arms. This movement also benefits your core and helps to improve your posture.
How to Do It:
Sit on the floor with your legs straight and slightly apart.
Pick up a kettlebell with an overhand grip, keeping it close to your body.
Curl it upwards until your arms are fully extended above your head and you can see the elbow joint locked out.
Lower it slowly to the starting position and repeat for as many reps as assigned.
Related Article: The Shoulder Blaster Workout for Intermediate Fitness Enthusiasts
The Secret to Bigger and Stronger Arms
SHOP NOW
FAQs
1. Do Kettlebell swings build shoulders?
The advantages of this kettlebell workout are far-reaching, working muscles in the abs, shoulders, pecs, glutes, quads, hips, hamstrings, and lats. And because it also works your grip strength, it's a fantastic all-around exercise.
2. Are kettlebell workouts good for shoulders?
Kettlebells are a great way to build strength in your shoulders. The basic movement of a kettlebell swing uses many of the muscles in your shoulders, including the rotator cuff muscles. These muscles work together to stabilize your shoulder joint, and by training them with kettlebells, you can help reduce your risk of injury.
In addition, kettlebells provide an excellent way to build grip strength. A stronger grip not only helps you perform better in other exercises but can also help prevent injuries. For example, a strong grip can help you generate more power in your shots if you play tennis or golf. In short, kettlebells are an excellent tool for building strength and preventing shoulder injuries.
3. What happens if you do 100 kettlebell swings a day?
Switching up your fitness routine by doing 100 kettlebell swings daily has many benefits, like better posture, reduced back pain, increased testosterone and growth hormone levels, and forming a habit of movement.
Key Takeaways
Kettlebells are an ideal weight for shoulder exercises because they create stability, forcing your muscles to work harder. To sum it up, these five kettlebell shoulder workouts can help build strength and stability in your shoulders. All of the moves focus on using proper form to ensure you get the most out of each exercise. They also require minimal equipment, making them a great choice for those who don't have access to a gym or other fitness equipment.
So, if you want to increase your shoulder strength and stability without spending too much money or time, try these five workouts! You might be surprised at how effective they are. Good luck on your journey towards stronger, healthier shoulders!
Reading List