Meet Sarah, a 25-year-old woman who has always been skinny her entire life. Despite her efforts to gain weight, she found it incredibly difficult.. She noticed that no matter how much she ate, she couldn't seem to put on any weight. It wasn't until she went to the doctor that she discovered the culprit: her fast metabolism.
A fast metabolism is when your body burns calories at a faster rate than the average person. This can be both a blessing and a curse, as it makes it difficult to gain weight and build muscle. Sarah was frustrated by her fast metabolism and felt like she was stuck in a never-ending cycle of eating more and not seeing any results.
One day, Sarah decided enough was enough and began researching ways to gain weight with a fast metabolism. She found that many people with a fast metabolism struggle with gaining weight and building muscle, but there were ways to overcome it. With determination and a little bit of guidance, Sarah was able to gain weight and transform her body.
If you're someone who struggles with gaining weight due to a fast metabolism, don't worry - you're not alone. There are many people just like you who have successfully gained weight and built muscle despite having a fast metabolism.
In this article, we will discuss the signs of a fast metabolism, the science behind it, and provide tips on how to gain weight with a fast metabolism. So, let's dive in and start your journey to a healthier and stronger you!
What Is Fast Metabolism?
Metabolism is the set of chemical processes that take place within an organism to maintain life. A fast metabolism refers to the speed at which your body burns calories to produce energy. It's determined by several factors, including age, gender, genetics, body composition, and activity level. Some people are naturally blessed with a faster metabolism, which means they burn more calories at rest and can eat more without gaining weight.
According to Dr. Holly Lofton, director of the Medical Weight Management Program at NYU Langone Health,
"Metabolism is the rate at which your body burns calories to convert food into energy. It's like the engine of your car. The faster it runs, the more fuel it needs to keep going."
A fast metabolism means your engine is running at a higher speed, so you need to provide your body with more fuel in the form of calories to gain weight.
However, fast metabolism doesn't necessarily mean you're healthy or fit. It can sometimes be a disadvantage if you're trying to gain weight or build muscle. As your body burns calories faster, it can be more difficult to consume enough calories to meet your needs, especially if you have a busy lifestyle or struggle with your appetite. This is why it's important to understand the signs of a fast metabolism and take proactive steps to support your weight gain goals.
Signs of High Metabolism
Having a fast metabolism can be a blessing for some individuals, but it can be a challenge for those trying to gain weight. If you suspect you have a fast metabolism, here are some signs to look out for:
Difficulty Gaining Weight
Having a faster metabolism can make it challenging for some individuals to gain weight, as their bodies utilize energy rapidly. Despite consuming a large quantity of food, these individuals may not experience significant weight gain due to the efficiency with which their bodies convert the calories into energy and expend them.
Constant Hunger
A faster metabolism can lead to increased hunger, as your body needs more fuel to keep up with the high metabolic rate. If you find yourself constantly hungry, even after eating, it could be a sign of a faster metabolism.
High Energy Levels
People with faster metabolisms often have higher energy levels and may feel restless or hyperactive. They may also find it challenging to sit still or relax for extended periods.
Fast Digestion
If you have a faster metabolism, your digestive system may work faster than others. This means that food moves through your digestive tract more quickly, and you may have more frequent bowel movements.
Sweating
People with faster metabolisms may sweat more than others. A higher metabolic rate increases your body's core temperature, which triggers sweat production to cool down your body.
Temperature Sensitivity
If you have a faster metabolism, you may be more sensitive to changes in temperature. This is because your body's metabolism is crucial in regulating your body temperature.
Irregular Periods
Women with faster metabolisms may experience irregular periods or have a lighter flow. This is because a higher metabolic rate can affect hormone production, leading to changes in menstrual cycles.
Tips on Gaining Weight With Fast Metabolism
Our body is similar to a machine. It needs food as energy which is later broken into smaller energy portions and used in the metabolic process.
So to keep the chemical process going on in our bodies, we must adjust our lifestyle and eating habits. Here are some quick suggestions to gain weight and calories while having a fast metabolic rate.
Engage in High-Volume Resistance Workouts
It is more of a misconception these days that workouts or training would help in weight loss, but in reality, doing more workouts regularly can help our body maintain strength and weight simultaneously.
But only lifting heavy weights in a single range won't help because our bodies quickly adapt to changes, so to keep the muscles and joints increasing, we must challenge our bodies by increasing the resistance, volume, and frequency and decreasing the time between each set.
A compound movement is any exercise that simultaneously recruits several muscles and joints (meaning, with one exercise, you can gain multiple benefits).
The best exercises to gain weight include squats. They help increase the strength and weight of the lower body, without a doubt. Squats, push-ups, deadlifts, bench presses, and crunches are exercises that help you balance your weight and strength with high BMR.
While high-resistance workouts may help us achieve our goals, not being in the proper form or position may lead to severe injuries, so stretching your body and warming up before every session is better.
Related Article: 6 Best Upper Body Exercises to Increase Your Metabolism Fast
The hexagonal dumbbell consists of two weighted heads connected by a central grip shaft. It's the future of weight training and it's waiting for you.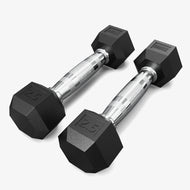 Have More Nutrients Dense Food
The most effective and easiest way to gain weight with high BMR is to choose healthy eating. Eating food that isn't processed and is low in sugar should be on top of the list.
A diet with a large portion of carbohydrates (quick energy), is rich in minerals and vitamins, lean proteins, and healthy fats can be defined as the perfect dense meal to gain weight.
Some nutrient-dense food includes
Oils and butter
Avocados
Nuts and beans
Red meat (bison, beef)
Whole grain
Fruits and leafy vegetables
Low-fat or fat-free milk products
Protein supplements
Incorporating everything into your daily routine or diet won't be that simple. Still, once you stick to getting yourself to the desired goal, it will surely make you feel more energetic and fresh daily and maintain your strength and high metabolic rate.
Related Article: 15 Nutrient-Dense Foods That Will Build Your Body Like No Other
Whey protein is a convenient, nutritious, and delicious way to help you build muscle, lose weight, and boost your metabolism. Our whey protein powder will help you reach your fitness goal faster.
Increase Your Daily Caloric Intake
Calories are the daily energy intake our body gets from our food and drinks. The range of calories may vary from person to person depending on age, size, weight, and other factors.
Normally the average woman would need 2000 calories, and men would need 2500 calories. But if someone has a high metabolism, they should try to intake more calories than the average.
The best way to increase your intake is to find substitutes for low-caloric foods, like adding juices and milkshakes to your diet rather than tea or coffee. Try to eat more than you used to. It will help you tolerate larger meals and increase your portion size.
Eat snacks that are naturally high in calories frequently and make the most use of carbohydrates and healthy fats in your diet. Lastly, a pleasant environment will help you enjoy your meal and eat more.
Get Innovative With Your Food
It's not the most important part, but as humans, we have it in our nature to get bored with having the same things every time, so if you plan to be in a long queue, you might want to get creative with your food at regular intervals.
Creativity doesn't mean you would have to make a five-star dish every day but rather just small changes whenever you feel it's getting repetitive. While on a high-caloric diet, you can choose from various foods and supplements.
Someday, you can add avocados and nuts to your meal, and on other days, add berries or oats to your protein shakes to change up your daily meals.
Have Small Meals Throughout the Day
We often need to pay more attention to having our meals on time, which greatly energizes our bodies for the day. That may be why we often have fatigue and laze around. The lack of energy can have an adverse effect on our daily activities.
To ensure that our body and mind stay active and fresh, we should stop avoiding meals and start having smaller and more frequent meals to have a calorie surplus at all times.
For example, if someone has three meals a day, he/she should start having 6 smaller meals daily, including healthy snacks. It will help increase appetite, leading to weight gain and enough energy to survive the day. The best way to keep your calories in check is to keep a calorie calculator.
This way, you will always know if you have enough calories for the day or need to add more. You can also incorporate DMoose multivitamins into your routine to optimize your body's nutrient levels so you feel active and energized and can gain strength.
Related Article: How to Increase Appetite Naturally: Best Methods to Stimulate Appetite
Incorporate Protein Powder
Incorporating supplements such as whey protein can be incredibly beneficial if you're looking to gain weight with a fast metabolism.
Whey protein supplements are rich in amino acids, which are the building blocks of muscle tissue. When you consume whey protein, your body can use the amino acids to repair and build muscle tissue, increasing muscle growth. This is especially important if you struggle to consume enough protein through whole foods alone.
One great option for a whey protein supplement is DMoose Whey Protein Powder. This supplement contains 25g of protein per serving and is made from grass-fed cows, ensuring high-quality protein.
Additionally, it contains digestive enzymes to help your body absorb the protein more efficiently, reducing the likelihood of digestive discomfort. For lactose intolerant, DMoose also offers a Whey Protein Isolate supplement, which is lower in lactose and easier to digest.
Remember, while supplements can be helpful, they should be used to supplement a healthy diet and regular exercise routine. Aim to consume enough protein through whole foods such as chicken, fish, and beans, and use supplements such as Dmoose Whey Protein to fill in any gaps in your diet.
Achieve Your Fitness Goals with Whey Isolate Powder!
SHOP NOW
FAQs
1. Who has a higher metabolic rate, men or women?
Metabolism is the rate at which the body burns energy, and several factors can influence an individual's metabolic rate. In general, men tend to have higher metabolic rates than women.
This is due to several factors, including musculature, hormones, and body fat percentage. Men generally have more muscle mass than women, and muscle tissue is more metabolically active than fat tissue.
In addition, men have higher testosterone levels, a hormone that helps increase metabolism. Finally, men typically have lower body fat percentages than women, and fat tissue is less metabolically active than muscle tissue. All of these factors contribute to the fact that men tend to have higher metabolic rates than women.
2. How long do you have to follow the diet to see the results?
How long you'll need to follow the diet will depend on your goals. To lose weight, you must stick with the diet for at least a few weeks before seeing results. This is because it takes time for your body to adjust to the new eating habits and start burning fat.
However, if you want to improve your health, you may start seeing benefits within a few days. This is because the diet eliminates unhealthy foods contributing to problems like high blood pressure and cholesterol. So, whether you want to lose weight or improve your health, following the diet for at least a few weeks is essential.
3. Is a high metabolic rate beneficial?
A high metabolic rate has some benefits. One of the most obvious benefits is burning more calories and losing weight. This can be helpful if you're trying to diet or maintain a healthy weight. In addition, a high metabolism can help to keep your energy levels up and improve your mental focus.
It can also help protect your body against diabetes and heart disease. However, a high metabolism also has some downsides. For example, it can make you more prone to anxiety and mood swings.
It can also make it difficult to get a good night's sleep. Overall, though, a high metabolism has more benefits than drawbacks.
4. How can we speed up our metabolism?
The metabolic rate is the speed at which the body burns calories and is determined by various factors, including age, weight, gender, and muscle mass. While there is no way to change the metabolic rate completely, some lifestyle changes can help improve it.
For example, regular exercise helps build muscle mass and increase the body's natural calorie-burning ability. Eating a healthy diet high in protein and low in fat can also help boost metabolism. Finally, staying hydrated by drinking plenty of water throughout the day can positively impact metabolism. People can see a noticeable difference in their metabolic rate by making small changes to their lifestyle.
Conclusion
Gaining weight might become a nightmare for some people, so let's be easy on ourselves and others. Try to follow the diet with a calm and peaceful body instead in a rush to gain weight. Most importantly, have enough water, an adequate amount of sleep, and calmness in the body too. This will surely lead you to achieve your long-term goals.
Lastly, remember that you can't compare your journey with someone else. It will only demotivate you from your target. The key to achieving your desired weight is being patient and consistent throughout the journey.
Reading List