Obesity is the most common problem today. Data suggests half of the American adults are trying to lose weight: this shows how common obesity and weight gain have become. It's not just America; it's a global trend. Everyone is talking about weight loss strategies. Look at the number of diets and weight loss plans available online and offline, and you will know the gravity of this predicament.
While everyone is trying to lose weight, discussing plans, buying diet sheets, and blaming metabolism, It seems we still do not know the real tricks to speed up calorie-burning processes. You can't micromanage your metabolism (because some aspects are genetically coded), but some strategies work, and they are backed by research too.
Unlike our general perception, we do not need to starve ourselves or run a thousand miles to gear up metabolism for a lean body; a few changes to our eating routine and some weight on those reps for resistance will do the trick.
Plan your day with these seven simple steps to give your metabolism a much-needed push for optimal performance.
7 Steps to a Faster Metabolism
Boosting your overall metabolism and BMR (Basal Metabolic Rate) will have far-reaching effects on your body; weight loss is a major one. You will, however, need to adopt some new, refreshing, and healthy habits for it and let go of a few harmful and useless ones.
Your metabolism will not fire up with magic pills or intense drills: a steady and consistent lifestyle change will do the trick.
You need to reconsider your eating, sleeping, and resting patterns along with the level of activity from a purely metabolic and weight loss angle and make the necessary changes to help your body burn more calories.
1. Eating at Regular Times
First thing first, our bodies need routine. Weight Loss is not just eating fewer calories and burning more: your timings affect metabolic rate as well. Create an eating cycle: make a food schedule for yourself so that your body can predict the time you will be giving it food. When your body knows it will get energy at a certain time, it does not react in panic and doesn't store fat for energy. 
Do not confuse your body regarding food intake, or your body will become defensive, which translates into a remarkably slow metabolism. The human body starts to store away energy when it's not sure about the next mealtime. 
2. Eating Foods That Increase Metabolism
Some foods are awesome for boosting metabolism naturally. Consider these three described below.
Avocados
Choose avocados because of the healthy fats in them. You may think you must eliminate fat from your diet, but your body essentially needs good fats. Choose avocados: they are a great source of fat for you.
Eggs
The lean protein in eggs is ideal for increasing your TEF (thermic effect of food) rate. Protein is a great choice when curbing fat, reducing weight, and boosting your metabolism. Protein is the building block of muscles, and protein consumption prevents muscle loss.
When dieting and restricting your calorie intake, you need protein even more because you can lose muscle along with fat. This is especially true for those not doing resistance training; protein intake will save you from muscle wastage.
Research suggests protein keeps hunger at bay, and you will feel full for longer periods. With a protein-centric routine, you are likely to consume fewer calories than people whose meals are focused on carbs and fats.
Beans
Beans are also a great protein source. They are protein-rich, amino acids loaded food. Beans are a sure-fire way of building more muscle and reducing fat. 
Including beans means a muscular body, and more muscles mean a higher metabolic rate. You will be burning calories even as you laze around watching your favorite movies. 
If protein foods are not readily available and you don't have time on your working schedule, you can always boost your metabolism with protein powder. It dissolves in water instantly, tastes great, and increases strength for better performance and greater endurance. 
3. Drink Green Tea or Oolong Tea
These teas contain caffeine in smaller amounts than coffee and can aid in increasing your overall metabolism by directly increasing your energy, which can in turn increase your calorie expenditure.
Moreover, green tea also has antioxidants that neutralize free radicals. This means you are not just signing up for calorie burning and increased metabolism, there is a lot more than meets the eye. Make them your morning partner and reap massive benefits.
4. Drinking Enough Water
Hydration is a great trick for increasing BMR. You may think water has appetite suppressant abilities, but that's not all. Water not only suppresses hunger and makes you eat less, but it also increases metabolic rate.
Drinking half a liter of water will boost calorie burning in the body for 2-3 hours afterward. This is why you see doctors and dietitians recommending high water intake no matter which diet style is prescribed. Water intake is one of the basics of weight loss and metabolism boost. 
Related Article: Here's How Hydration Supplements Supercharge Your Summer Workouts
5. Doing Resistance Training
We all know we need to keep moving to stay fit, smart, and healthy. Did you know you need to lift some weights during your exercises to accelerate your metabolic rate? Most people don't. 
Strength training is great for muscle building and increasing muscle size. When we add resistance with bands or weights, we challenge our muscles to overcome the difficulty, requiring more energy and burning more calories.  
The more muscular you are the higher your BMR. Yes! That's true, and that's why research encourages people to add strength training to their physical activity plan. 
Muscle needs more maintenance energy than fat. So, if you are a muscular person, you will burn more calories even out of the gym. Your muscles also keep burning calories hours after strength training as the body returns to normality. 
Related Article: Top 10 Essential Barbell Exercises for Building Muscle and Strength
If you are looking for perfect gym equipment that boosts your regular workouts by adding the right strength, then fabric resistance bands are the best choice. They are the perfect gym equipment that assists you in extensive workouts.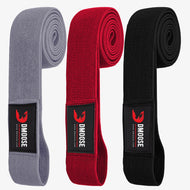 6. Do a High-Intensity Workout
Instead of doing simple cardio, you might as well want to switch to HIIT (High-Intensity Interval Training). This is because a high-intensity workout increases your metabolism, and your body keeps burning calories for many hours even after you have finished. 
HIIT workouts are bouts of intense exercise and very quick motions. Your heart rate goes haywire, and you are disheveled by the intensity, but this activity leads to a whole host of tremendous effects in the body. You burn calories more and for longer.
7. Getting Plenty of Sleep
Sleep resets so many processes and releases some hormones that primarily determine the course of metabolism in the body.
Sleeping too little or too much will have adverse consequences. Moderation is the key here. As an adult, 6-8 hours should be your target. Any less than this, and your body releases ghrelin- a hormone that makes you feel hungry even when you are not. It gives you a signal to eat more, add calories, and accumulate fat over time.
Experience the DMoose difference with our Multivitamin. Designed to enhance athletic performance, elevate energy, mood, and promote overall health. Try DMoose Multivitamins today!
Final Thoughts
Everyone is trying to lose weight, but not everyone knows the right approach to weight loss. Fad diets, which are not sustainable, are on the market, everywhere, confusing people. They are not worth your time and energy. Change your routine for boosted metabolism in the seven ways described in this article, and weight loss will be a piece of cake for you. 
Reading List
What Researcher Says on Improving Your Immune System to Prevent Diseases | Complete Guide