Welcome, fitness enthusiasts! Are you tired of sifting through the fitness industry's misleading claims and promises? Well, fret no more because we're about to unveil the truth about a fitness secret hiding in plain sight: jumping rope.
Prepare yourselves for an exhilarating journey into the calorie-counting abyss, where we'll separate fact from fiction and have a little dance along the way.
Now, you may be eagerly asking, "How many calories does jumping rope burn?" Well, my friends, let's start with a critical factor: weight. As it turns out, the world has a sense of humor; the more you weigh, the more calories you'll burn while jumping rope. But fear not; even the featherweights among us can still join in on the action and reap the benefits!
Next, let's delve into intensity or the "sweat factor." If you want to scorch some serious calories, it's time to crank up the intensity. Jump faster, jump harder, and jump like you mean it. Break a sweat, and those calories won't know what hit them. Get ready to unleash your inner jumping rope beast.
Lastly, we have duration, the final piece of the calorie-burning puzzle. How long can you keep those feet flying? The answer is simple: the longer you jump, the more calories you'll wave goodbye to.
So, buckle up and prepare for an honest exploration of the jumping rope phenomenon. We'll shatter the fluff and give you the knowledge to make the most of this calorie-burning powerhouse.
Related Article: 6 Best Jump Rope Exercises to Burn Fat Fast, Experts Say
How Many Calories Does Jumping Rope Burn?
The calories you burn while jumping roping depends on weight, intensity, and duration. For instance, a 155-pound individual can burn approximately 100 calories in 10 minutes of moderate-paced jumping.
However, if you ramp up the speed and maintain a vigorous pace, you could torch closer to 200 calories in the same duration. Remember, the more you weigh, the more calories you'll likely burn, and long jump rope sessions can amplify your calorie expenditure.
Factors Affecting the Calories You Burn When Jumping Rope
We're all unique, and our bodies respond differently to exercise, affecting how many calories we burn. Comparing ourselves to others, especially fitness pros, isn't fair. Take Brandon and Dan, for instance, with their athletic backgrounds.
They burn calories faster and more efficiently, even at rest. However, someone with a sedentary lifestyle may initially burn more calories by doing the same workout at the same intensity. Age, sex, fitness level, body composition, muscle mass, and workout intensity all impact calorie burn.
Don't be discouraged; focus on what you can control to maximize your workout benefits. Here are the key factors that influence calorie burn.
Bodyweight
Calories are a measure of energy in the body, and weight plays a significant role in calorie burn. If two individuals of different sizes perform the same intensity jump rope workout, the heavier person will burn more calories due to their higher energy expenditure.
Research shows up to 43% of calorie burn differences can be attributed to organ size. Larger organs, like the heart, liver, kidneys, and lungs, require more calories to function, leading to increased calorie burn at rest and during exercise.
You can also add DMoose Fat Burner Supplement to your routine for effective results and immediately see yourself losing excess fat. This powerful addition can help accelerate your progress and assist in shedding those stubborn excess pounds.
By incorporating a Fat Burner Supplement into your regimen, you may experience enhanced fat metabolism, increased energy levels, and improved focus.
It's crucial to delve into your diet and lifestyle choices to achieve your fitness goals and overcome plateaus. Seek guidance from a registered dietitian to establish healthy and realistic goals. Remember, weight is not the sole measure of fitness.
Related Article: Bodyweight Workouts: 16 Best Bodyweight Exercises for Beginners
Get Ripped and Shredded
in Record Time
SHOP NOW
Age
As we age, our bodies naturally experience a decline in muscle mass, typically around three to five percent every decade after age 30. This muscle loss can lower our metabolic rate, affecting the calories we burn.
However, metabolism may not decline steadily throughout adulthood. Instead, it tends to plateau between 20 and 60 before gradually decreasing. It's important to note that individual variations exist, and not everyone's calorie expenditure remains consistent.
Aging brings various physiological changes that impact metabolism and calorie burning. While we cannot halt aging, we can focus on preserving and building muscle mass to maintain a higher metabolic rate.
You can also incorporate Whey Protein Supplements to build perfect muscle mass. By including whey protein Supplements in your daily regimen, you can give your body an extra boost of protection and support for maintaining toned muscles. Incorporating strength training and other muscle-building activities into our routine can support our metabolism and promote better calorie burning as we age.
Whey protein is a convenient, nutritious, and delicious way to help you build muscle, lose weight, and boost your metabolism. Our whey protein powder will help you reach your fitness goal faster.
Muscle Mass
Muscle is more metabolically active than fat, as it burns more calories pound for pound. If two individuals weigh the same, the person with greater muscle mass will have a higher calorie burn.
Be careful when considering claims about how many calories a pound of muscle burns, as it's essential to have realistic expectations.
We highly recommend combining resistance training, such as weightlifting, with jumping rope. Compared to cardio alone, this combination enhances fat burning and provides long-term health benefits.
Building muscle requires increased energy production to support muscle contractions, turning your body into an efficient fat-burning machine. So, embrace the power of resistance training and jumping rope for optimal results.
Related Article: Does Jump Rope Build Muscle? All You Need to Know
TRENDING ARTICLES
Fitness Level
As you excel in your fitness journey, your body adapts and becomes more efficient at exercise. This evolutionary adaptation is a positive aspect, although it can lead to plateaus in your fitness goals.
As your fitness level progresses, your body becomes more efficient at performing the same workout, resulting in fewer calories burned. To overcome this adaptation and maintain muscle mass and a healthy metabolic rate, it's crucial to challenge yourself and introduce variety into your workout routine.
This includes varying the intensity levels, trying new exercises, and pushing yourself beyond your comfort zone. You can continue progressing and achieving your fitness goals by continually challenging your body.
Related Article: Fitness Challenge: '8 New Fitness Activities That Helped You Beat Perfectionism'
Get fit and build strength with DMoose heavy jump rope. Experience a challenging workout that targets muscles and boosts cardio. Elevate your fitness routine today!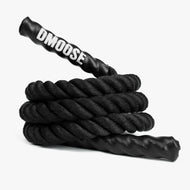 Workout Intensity
The level of intensity during your workouts has a significant impact on calorie burning. Working out at a high intensity, where you cannot comfortably hold a conversation, can result in double the calorie burn compared to low-intensity exercise.
Even if two people perform similar exercises, their intensity and calorie burn may differ. For instance, running and walking offer similar health benefits, but running burns more calories due to the higher intensity.
Instead of worrying about factors you can't control, like metabolic rate or weight loss, focus on what you can influence: the intensity and duration of your workouts. You can maximize your calorie burn and achieve your fitness goals by pushing yourself to work at a higher intensity and incorporating challenging exercises.
How to Calculate the Number of Calories Burned When Jumping Rope
Calculating the precise number of calories burned during exercise is challenging due to various factors. Nevertheless, there are reliable methods to estimate calorie expenditure accurately.
To determine the calories burned per minute during an exercise like jumping rope, you can use the following formula:
Calories/minute = 0.0175 x MET x weight (in kilograms)
By multiplying the MET value (a measure of the exercise intensity) by your weight in kilograms and then multiplying the result by 0.0175, you can estimate your calorie burn rate per minute. While this formula provides a reasonable estimate, remember that individual variations and other factors may still affect calorie expenditure.
Running Vs. Jumping Rope Which Burns More Calories?
Whether running or jumping rope burns more calories has sparked many debates. Runners argue that they burn more calories, especially when running outdoors with varying terrains and altitudes. They often dismiss jumping rope as merely running in one place.
However, jumping rope offers a multitude of tricks and variations that can take your workout to the next level. On average, running burns around 10-15 calories per minute, while jumping rope burns approximately 10-20.
The intensity of the jump rope workout plays a significant role in determining the calories burned per minute. Although the difference may be marginal, jumping rope is a more practical option if you aim to burn calories rapidly.
You can use a calculator that considers your average metabolic rate to calculate the calories burned during a jump rope session. Simply input your weight and the duration of your jump rope exercise, and select the average number of jumps per minute. The calculator will provide you with an estimated calorie expenditure.
Calories Burned Per Skipping Time
The number of calories burned while skipping rope depends on your weight, pace, and duration. On average, individuals can expect to burn approximately:
35-50 calories for 250 skips
70-100 calories for 500 skips
105-150 calories for 750 skips
140-200 calories for 1000 skips
280-400 calories for 2000 skips
These estimates give you a rough idea of the calorie expenditure associated with different skipping durations, allowing you to tailor your workout accordingly. Remember, the calorie burn may vary based on individual factors and intensity levels.
DMoose Jumping Rope
DMoose jumping rope is highly effective for achieving fitness goals and burning calories. It's durable construction and adjustable length allow users of all heights and skill levels to engage in a challenging and efficient workout.
The smooth rotation and comfortable grip of the handles ensure a seamless jumping experience, reducing strain on the wrists and maximizing performance.
Whether used for cardio, weight loss, or improving overall fitness, DMoose jumping rope provides a versatile and dynamic workout that targets multiple muscle groups, including the legs, core, and shoulders.
By incorporating DMoose jumping rope into your exercise routine, you can enjoy a fun and effective way to boost endurance, improve coordination, and achieve your fitness objectives.
Master Your Double
Unders with Jump Rope!
SHOP NOW
FAQs
1. How many calories does jumping rope burn in 1 hour?
On average, jumping rope at a neutral pace can burn approximately 600 to 800 calories per hour for an individual weighing around 155 pounds (70 kilograms). However, increasing the intensity and performing high-intensity interval training (HIIT) or engaging in vigorous jumping may burn up to 1000 or more calories in one hour.
2. How many calories does jumping rope burn in 30 minutes?
A person weighing around 155 pounds (70 kilograms) can moderately burn 300 to 400 calories during a 30-minute jumping rope session. However, increasing the intensity and incorporating high-intensity interval training (HIIT) or more vigorous jumping may burn closer to 400 to 500 calories in 30 minutes.
3. How many calories do two hundred jump ropes a day burns?
A person weighing around 155 pounds (70 kilograms) can burn 150 to 200 calories by completing 200 jump ropes.
Conclusion
In conclusion, jumping rope is an effective, versatile, and convenient exercise that can be a powerful tool in your weight loss journey. The number of calories it burns depends on various factors, including your weight, the intensity of the workout, and the duration. However, it's clear that this simple yet dynamic exercise can be a significant calorie burner. Remember that a balanced diet and a consistent workout routine are crucial to achieving your fitness goals. So why not add jumping rope into your regimen and experience the calorie-burning benefits yourself?
Reading List
Article Sources
Muller, Manfred J., et al. "Effect of Constitution on Mass of Individual Organs and Their Association with Metabolic Rate in Humans-A Detailed View on Allometric Scaling". PLOS ONE, vol. 6, no. 7, July 2011, p. e22732. PLoS Journals, https://doi.org/10.1371/journal.pone.0022732.