You might have heard a quote popularly attributed to legendary strength coach Joe Defranco.
"You have to squat if you want to get fit." ~Joe Defranco
This statement can be an essential reminder of all the benefits of using a squat rack for your workout routine.
Squats strengthen and tone the glutes, quads, and hamstrings and help develop core strength, mobility, stability, balance, coordination, and cardiovascular endurance.
Wait, are you looking for upper body strength but want to avoid jumping in on a full gym membership?
Are you too embarrassed to use the old rusty weights at the community center and would turn your home into an affordable and stylish mini-fitness paradise instead? Get ready to buy a squat rack for home gym.
Owning a squat rack might be the perfect solution! It's an incredibly versatile equipment that can help you grow muscle, lift heavier weights safely, and create a dynamic resistance workout.
By using various barbells or weights in combination with bodyweight exercises on the squat rack, you can build muscle mass and get an excellent full-body workout too! So remember: it all starts with the humble squat rack when it comes to achieving fitness goals!
When building your dream space, the first purchase you'll want to make is a trusty squat rack. But before you start crunching the numbers, let's talk about how much this essential equipment will cost you. Let's break some sweat and calculate!
With so many different racks available, how do you know which is right for you? In this blog post, we'll explore all squat racks: from how much they cost to what features are most important when deciding.
So read on as we help equip our readers with all the information they need to find their perfect rack!
Related Article: Is Home Gym Worth the Investment or Gym Membership?
What is a Squat Rack
Get your fitspo on with the heavy-duty power machine, AKA the squat rack! This must-have strength training equipment boasts a solid metal frame and four vertical posts. Whether for toned legs or bulging biceps, the squat rack has your back (and front!).
So, let's get low, get fit, get strong! Discover the ultimate fitness tool- the Squat Rack! But what exactly can you do with it besides squatting? Unleash the full potential of this gym staple and banish boring workouts for good.
A squat rack is your new BFF if you want to pump up those quads, hammies, and glutes. It offers a safe and stable platform for squats - the ultimate muscle-building move - and helps prevent injury. Load up that barbell with weights and squat like a pro, all thanks to this trusty equipment. Your booty will thank you later.
Another catch is that the adjustable safety bars on a squat rack have got your back. They'll catch that barbell if you can't complete a rep or need to exit quickly. Safety first is the way to go when you're lifting heavy and testing your limits.
Uses of Squat Rack
Who knew a squat rack was the Swiss Army Knife of the gym? Not only great for squats but also perfect for many exercises.
Read on to explore what else you can do with a squat rack. But wait, there's more! With its versatility, the squat rack can also help you hit other muscle groups and build strength like a boss. Time to squat like you mean it! Get yourself a squat rack and see the gains pile up. Get ready to get your squat on with these joint exercises and reasons you need a squat rack:
Squats
The trusty squat rack lets you safely pump out squats with a barbell, a foundational strength training exercise. It means lower body strength, power, and some serious gains in the muscle mass department.
Rack Pulls
Get ready to give your posterior chain the attention it deserves with rack pulls! This variation of deadlifts starts with the barbell elevated on the safety bars of a squat rack, but be aware of the slight modification. Rack pulls work your hamstrings, glutes, and lower back like a boss.
Overhead Press
Time to press your shoulders to new heights! The squat rack isn't just for squats but also for overhead presses. This exercise hits your deltoids (aka the shoulder muscles) and triceps. Plus, thanks to the squat rack, you can easily lift that barbell and perform the exercise risk-free. So, power up and get ready to pump those guns, champ!
Bench Press
Want to bulk up your chest, shoulders, and triceps? Look no further than the trusty squat rack! With an adjustable bench at just the right height, you'll have a rock-solid platform to crush some bench presses. Make those muscles pop and leave the weaklings in the dust!
Barbell Rows
Barbell rows are a killer workout for your upper back muscles, including your lats, rhomboids, and rear delts. Adjust the safety bars to the perfect height, and you'll row with proper form and control.
And if you have a rack but are looking for some good Barbells, let me introduce you to the DMoose Regional Barbell the barbell's durability and versatility make it a worthy investment for serious athletes who value long-term performance and reliability. And the catch is it comes both for women and men separately. So, no need to stick to one; get yours and keep rocking.
The 1500 lbs. weight capacity bar is made of high-grade steel with a tensile strength of 190,000 psi (a 500 lbs. increase from the DMoose Open Barbell). Regardless of your weight, you can use it for all of your workouts.
How Much is a Squat Rack?
Before you break the bank on a fancy squat rack, know the cost can vary from $200 to over $1,000 depending on brand, quality, features, and whether it's part of a larger equipment package.
On the low end of the price spectrum, you can snag a basic squat rack or power rack for home use without many bells and whistles. These no-frills options are ideal for space-constrained individuals seeking a budget-friendly workout solution.
Don't be a sucker and overspend on a rack you don't need! Opt for the right one and save some cash for a gym membership or a celebratory smoothie. If you're serious about your workouts, go big or go home. And by big, we mean splurging on commercial-grade squats or power racks.
Sure, they might be pricier, but they're worth it. They can handle more weight and come with fancy features like multi-grip pull-up bars, dip attachments, and band pegs. They're built to withstand even the most intense gym rat's constant use.
Let's talk about getting a squat rack that will make your neighbors jealous! But first, it's essential to know that prices can increase if you want fancy extras like weight plate storage pegs or safety spotter arms.
TRENDING ARTICLES
Different Types of Squat Racks & their Prices
We've got the lowdown on the best stands for a killer workout without breaking the bank. For around $400, you can score a 3×3", 11 gauge steel stand that's a lifetime investment. But, if you don't plan on hoisting more than 500 lbs, a decent 2×2" 11 gauge steel stand can be yours for around $250.
Look at this handy-dandy chart to find the perfect squat rack for your budget. From affordable to splurge-worthy, we've got you covered with various options. Check it out!
| | | | | |
| --- | --- | --- | --- | --- |
| Type | # Racks | Avg | Cheapest | Most expensive |
| Entry-level squat stand | 9 | $167 | $103 | $240 |
| Mid-range squat stand | 7 | $370 | $250 | $626 |
| High-end squat stand | 8 | $742 | $399 | $2,749 |
| Entry-level power rack | 14 | $328 | $179 | $549 |
| Mid-range power rack | 16 | $831 | $489 | $1,999 |
| High-end power rack | 37 | $2,060 | $599 | $7,350 |
| Folding rack | 21 | $626 | $335 | $1,325 |
| Half rack | 8 | $1,591 | $524 | $3,249 |
Squatting is the ultimate booty goal, but having the right gear is crucial. Lucky for you, there are four types of squat racks to help you define those glutes:
Foldable racks for the space-savvy squatter.
Squat stands for the freestyle lifter.
Half racks for the in-betweeners.
Power racks for the serious squatters who dream big.
Foldable Squat Rack Price Range
Looking for a way to make room for your car in your home gym? Look no further than folding racks! On average, they'll cost you around $630, ranging from $350 to $1,350 (shipping and tax extra, of course). No more fumbling with pesky pins - you'll be on your way to parking your car and getting your workout in no time.
Half Squat Rack Price Range
Looking for a gym setup that won't break the bank? Half racks are an option - but be aware of their budget-friendly price tag. The 8 half racks in our research come in at over $1,500 on average.
Sure, you could score one for under $550, but good luck finding one - they're as rare as a unicorn! And while half-racks may not be as bulky as a power rack, they're way more stable than a squat stand.
Related Article: What Happens When You Perform 100 Squats a Day?
Features Your Squat Rack Should Have
So, you're thinking about getting a squat rack. Good for you! But before you dive in, let's talk about what you should look for to get the most out of your workouts (and not hurt yourself). Here are some key features to keep in mind:
Sturdy Construction
You want to make sure construction quality is good when it comes to supporting heavy loads. That is why you need a squat rack made of durable steel materials that can take your lifting game to the next level. The ideal rack can withstand the stresses of heavy lifting and keep you steady on your feet.
Adjustable Safety Bars
Our rack has adjustable safety bars set to any height. No more worrying about failing a rep or getting trapped under a heavy barbell - set the bars to the perfect level for your workout. Squats and bench presses have always been more effective.
Adjustable J-Hooks
These handy hooks allow you to rest the barbell at just the right height for your preferred starting position and exercise variations. So, don't settle for a one-size-fits-all rack. Get one with adjustable J-hooks and make every workout personalized to your needs!
Weight Plate Storage
Don't let your weight plates lie on the gym floor like lazy slugs! Get on a squat rack with handy built-in weight plate storage pegs. Say goodbye to cluttered messes and awkward fumbling during your workouts. Keep those plates organized and within reach for maximum efficiency.
If you're looking for a set of bumper plates that provides more comfort and safety to your lifting sessions, these bumper plates from DMoose are an excellent option.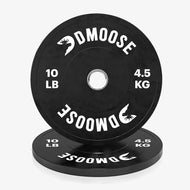 Optional Attachments
You call the shots regarding your fitness routine, so why settle for a flat, squat rack? Make it your own with optional attachments that fit your preferences. From dip and pull-up bars to landmine and lat pulldown attachments, your workout possibilities will multiply faster than rabbits.
Size and Space Requirements
Is your home or gym fit for a squat rack? Before you make that big purchase, remember to measure twice and lift once. Make sure the dimensions of the rack fit within your space, and double-check that there's enough height clearance for all your overhead exercise needs. No limitations, no problem.
Weight Capacity
Don't let a wimpy squat rack cramp your lifting style! Check the weight capacity first and ensure it's strong enough to handle all your gains. Trust us; you don't want a rack that buckles under pressure when hitting those heavy reps.
Brand Reputation and Reviews
Remember to look at the brand reputation and check out reviews from fellow gym-goers. That way, you'll know if the squat rack of your dreams is built to last or just a flimsy facade. Quality, durability, and overall satisfaction await!
What Makes Squat Racks Costly
Let's be honest; squat racks are pricey gems made from top-tier steel, anti-rust powder coating, and much steel manufacturing magic. It's a one-time investment, and with some TLC (aka avoiding salty sea air for eternity), your squat rack will stand the test of time and keep your gains looking good forever. Here are some tips for you;
The squat racks towering over 93" come with a steeper price tag. Looks like you're paying for those extra inches - both in height and cost.
Don't break the bank for convenience! Folding racks that fold with ease are easy to find and come with a higher price tag.
Half racks are like a needle in a haystack; when you find one, be prepared to break open that piggy bank. These babies are in high demand, and everyone knows it.
You have to pay the price if you want squat racks that can handle the heat. That means paying for ones made with 11 gauge steel or thicker.
Good things come in heavy packages - like squat racks over 170 lbs! But be warned, these mighty beasts also come with a heftier price tag.
If you want a gym essential that won't break the bank, look any further than power racks. They're so in demand that the prices are seriously competitive.
The choice is all yours, but if you are considering the sturdy construction, versatility, safety features, and space efficiency of the Squat Rack, the DMoose Squat Racks can offer you excellent value for your money.
Choosing DMoose Squat Rack would allow you to perform multiple workouts, including dips, bench presses, squats, and other exercises, due to its multi-functional and innovatively designed squat rack with base dimensions of 62" x 48".
Perfect gym equipment for a full-body workout at home. Adjustable squat rack allows you to perform squats, benching, and similar workouts.
Why You Need a Squat Rack
If building strength, dominating your athletic performance, or achieving those squat goals is on your agenda, it's time to get yourself a squat rack. Here's why:
Safety Is Crucial
A squat rack is your BFF for secure support during heavy lifting sessions. Plus, adjustable safety bars ensure you can power through without risking an injury.
Versatility Is the Spice of Life
Step away from the boring squats and level up your routine with exercises like rack pulls, bench presses, and barbell rows. Say goodbye to repetitive workouts and hello to feeling like a fitness superhero.
Gainz City, Here We Come
Lower-body Strength and muscle mass? Oh, yes, please! A squat rack is a ticket to gaining those crucial muscles like quads, hammies, and glutes.
Level Up, Overload Style
Want to get stronger? Say hello to progressive overload! Gradually add weight with a squat rack and watch your muscles go wild. They'll thank you later.
Be the Boss
No more waiting for equipment or being held back by gym schedules. With a squat rack at home or your gym, every workout is on your terms and convenience. Consistent training equals success, and a squat rack has your back.
Takeaway
Get ready to take your fitness game to new heights by investing in a squat rack. This essential piece of equipment does it all: safety, muscle building, versatility, progression and overload, and convenience.
From squats to barbell rows, the squat rack provides the support and stability to execute killer exercises effectively without fear of injury. Yes, prices can vary, but don't worry - there are options for all budgets.
Trust us, dropping some cash on this bad boy will pay off in spades when you see how it supercharges your workout regimen. So take the plunge - let's get serious about strength training!
Reading List