If you're looking to create a home gym, then having the best barbell is a must. Determining the best barbell for a home gym requires consideration for your experience, training style, and what your goals are for the short and long-term futures. Fortunately, DMoose has two great barbells for you to consider, and I can break down which will be best based on these factors.
DMoose Regional Barbell
Best for:
Beginners
CrossFit and Olympic Lifting
Bodybuilding Training
People with Limited Budgets
How Much Does a Regional Barbell Weigh?
The Regional Barbell comes in 45 pounds as any other Olympic barbell would as well as a 35-pound version, which most women may want to use.
They both have a very high tensile strength of 190,000 KSI, and they can hold up to 1,500 pounds. Regardless of where you are on your fitness journey, this barbell will support your training efforts.
Uses of Regional Barbells
DMoose barbells are all-purpose barbells as they help you perform most of the strength training. How? Find out below:
1. Barbell for Beginners
Beginners can enjoy this barbell because it has moderate knurling, which will be easier on the hands. There is also no centre knurling on the centre. Because it's more comfortable to hold, you will be able to use it for longer sets. It has a nice chrome finish to it, which will make your home gym look better as well.
2. CrossFit and Olympic Lifting
CrossFIt and Olympic weightlifters will appreciate the spin on the sleeves thanks to the five needle bearings on each sleeve. This will help with exercises such as the clean, snatch, and even curls for some lifters. There are two rings on each side of the shaft. One is for powerlifters, and the other is for weightlifters. This barbell also provides more whip than the powerlifting barbell.
3. Bodybuilding Training
Bodybuilders can use this barbell for many movements such as rack pulls, shrugs, overhead presses, and others without concern for damage to the barbell. It's meant to withstand intense training, and you can use it to develop any part of the physique. Last, but not least, it does come at a lower price point than the powerlifting barbell. If you have to consider a budget, this one is a fine choice, and you would likely have to pay more to another company to get a barbell of this quality.
The 1500 lbs. weight capacity bar is made of high-grade steel with a tensile strength of 190,000 psi (a 500 lbs. increase from the DMoose Open Barbell). Regardless of your weight, you can use it for all of your workouts.
DMoose Powerlifting Barbell
Best for:
powerlifters
Strongman/Strongwoman Training
Advanced Trainees
Non-climate Controlled Environment
How Much Does a Powerlifting Barbell Weigh?
DMoose's Powerlifting Barbell was made with the competitive powerlifter in mind. It only comes in 45-pounds, but it can also hold up to 1,500 pounds.
Characteristics of Powerlifting Barbells
The mighty whip is ideal for heavy squats, bench presses, and deadlifts. This is how they differ from the all-purpose barbells.
1. Best Barbells for Squats
The shaft has one ring on each side to help you determine the best hand placement. It has a more aggressive Volcano knurling so you can maintain your grip on the deadlift or even the squat.
Speaking of the squat, there is centre knurling on this barbell so the bar will stay in place while it's on the back of the shoulders.
2. Can Bear Heavier Weights
Strongmen and strong women athletes can also benefit from this barbell because it's stiffer and will support those heavier weights that you would use in training.
3. Firm Grip
It can also withstand those weights being pushed and pulled for multiple reps. Whether you use figure-eight straps or regular straps, they will stay on the barbell while you're lifting.
Related Article: Essential Barbell Exercises
Created by powerlifters for powerlifters. Our Powerlifting Bar is made of a high quality steel, coated with cerakote, and has a tensile strength of 190,000 psi.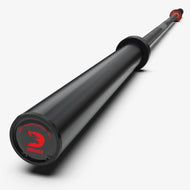 Regional Barbells Vs. Powerlifting Barbells
There are some advanced trainees that may simply want a very dependable barbell. Then the powerlifting barbell would be well worth the investment because it can be used for all training disciplines.
When the pressure is on, you want to focus on getting the lift. You can do that if you have best barbell because it will hold up to the most intense situations.
The best point of the Powerlifting Barbell is that it's resistant to rust and corrosion thanks to the cerakote finish and black phosphate on the sleeves.
It may be slightly more difficult to clean, but it will hold up in any climate, including colder weather if your home gym isn't climate controlled.
TRENDING ARTICLES
Conclusion
Even though the Regional and Powerlifting Barbells have different pros and cons, they are both great barbells for a home gym, and you can't go wrong either way. Consider your level of training, goals for the future, and the environment you're training in when you choose which barbell is best for you. Once you have the barbell you chose in your home gym, don't be afraid to put it to work because it will be ready to go when you are.