When achieving our fitness goals, the right equipment can make all the difference. Whether you want to build muscle, burn fat, sharpen focus, or increase mobility, having access to functioning workout tools is essential for long-term success.
And when it comes to building a strong and healthy body, there is no piece of equipment more important than a quality barbell. Weight training with free weights gives us an exceptionally efficient way of increasing strength and improving health in both mind and body.
It allows us to target specific muscles and increase overall athleticism, but understanding which type of barbell best suits your needs can sometimes be tricky.
In this blog post, we will look at the many different types of barbells available on the market and help you find what type you should buy to achieve your fitness goals!
What is a Barbell?
A barbell is a must-have piece of equipment for anyone looking to get serious about their fitness routine. This versatile tool allows you to perform various exercises, from lunges and squats to deadlifts and bench presses.
With its long, sturdy design and adjustable weight plates, the barbell is perfect for lifting heavy weights and building strength. Barbell exercises like overhead presses into your routine can help you achieve your fitness goals and feel your best. So the next time you hit the gym, grab a barbell and see what you can do.
Main Types of Barbells
Find the perfect barbell for your fitness goals and preferences! Whether you're a beginner or a seasoned athlete, consider your desired results, personal preferences, and physical limitations before choosing.
To maximize your workout and minimize the risk of injury, prioritize using the correct form and technique. Let us explore the various types of barbells available to cater to your unique needs.
Open Barbell
The Open Barbell is an innovative strength training tool that takes your lifting to the next level. Its unique design lets you track your performance during each rep, so you can see your progress and continually challenge yourself.
And with the ability to adjust the weight and resistance, you can customize your workouts to fit your goals and abilities. Also, the Open Barbell's comfortable wrist straps keep the bar secure throughout your lifts so that you can focus on form and technique.
Say goodbye to boring, standard lifting and revolutionize your fitness routine with the Open Barbell. Whether you are into open lifting or powerlifting, this barbell will help you overcome any fitness challenge. Its impressive weight capacity, compatibility with standard weight plates, and impeccable whip make it the perfect choice for your workouts.
When selecting an open barbell, DMoose should be your ultimate choice. Crafted with meticulous attention to detail, this barbell is built to last, ensuring long-lasting durability and performance.
With a comfortable and secure grip, the DMoose open barbell offers optimal control and stability during lifts, minimizing the risk of slippage or discomfort. The open design allows for versatile exercises, providing endless possibilities for strength training, powerlifting, Olympic weightlifting, and more.
Whether you're a fitness enthusiast or a professional athlete, the DMoose open barbell is designed to meet your needs and exceed your expectations. So, invest in the Open Barbell by DMoose now and elevate your training sessions to new heights!
The open barbell is composed of high-grade steel with a tensile strength of 150K psi and a load capacity of 1000 pounds. The black phosphate coating on the shaft and chrome on the sleeves protect it from wear and oxidation, making it a long-lasting product.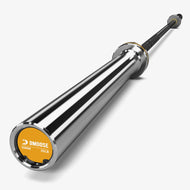 Powerlifting Barbell
A powerlifting barbell is essential in any workout routine for those serious about building muscle mass and increasing their overall strength. With a thicker and sturdier design than regular barbells, powerlifting barbells are built for heavy lifting and can withstand up to 1500 pounds.
Designed for squats, deadlifts, and bench presses, the unique knurling on the bar allows for a secure grip and better control during lifts. A powerlifting barbell is a crucial component in any powerlifter's arsenal and an excellent addition to any gym-goer looking to improve their strength. So, the next time you hit the gym, add the powerlifting barbell to your workouts.
When it comes to powerlifting, the DMoose powerlifting barbell is the ultimate choice for serious athletes and enthusiasts alike. Designed with precision and crafted to perfection, this barbell is specifically engineered to meet the demands of intense powerlifting workouts.
Composed of high-quality materials, including solid steel, the DMoose powerlifting barbell guarantees exceptional durability and reliable performance. Its optimal knurling provides a firm grip, ensuring maximum control and confidence during heavy lifts.
With a high weight capacity and precise sleeve rotation, this barbell allows you to push your limits and achieve new personal bests. The DMoose powerlifting barbell is engineered to deliver unparalleled strength, enabling you to perform at your best and reach new heights in your powerlifting journey.
Invest in the powerlifting barbell by DMoose and experience the difference it can make in enhancing your strength, performance, and overall powerlifting endeavors.
Created by powerlifters for powerlifters. Our Powerlifting Bar is made of a high quality steel, coated with cerakote, and has a tensile strength of 190,000 psi.
Regional Barbell
Are you tired of the mundane, repetitive workouts at your local gym? If yes, it's time to switch up your routine and discover the power of Regional Barbell. This innovative fitness concept takes the workout world by storm, providing a unique and challenging experience for individuals of all fitness levels.
By integrating dynamic and functional movements, Regional Barbell workouts target all major muscle groups while promoting strength, flexibility, and endurance. With a supportive community of like-minded individuals and a diverse range of classes, Regional Barbell is more than just a workout, it's a lifestyle.
So what are you waiting for? Grab your barbell and join the regional fitness revolution today.
Elevate your lifting experience with the DMoose Regional Barbell. Designed with a 1.2 mm diamond knurl, this barbell guarantees a precise and accurate grip. Whether you are into weightlifting, squats, deadlifts, or presses, you will appreciate the bar's impressive whip and stiffness, thanks to its ten-needle bearings.
But that's not all-the Regional Barbell is built tough to endure the most challenging drops, making it the ideal choice for overhead lifts. Don't settle for mediocrity. Upgrade your lifting game now and grab your own Regional Barbell from DMoose!
The 1500 lbs. weight capacity bar is made of high-grade steel with a tensile strength of 190,000 psi (a 500 lbs. increase from the DMoose Open Barbell). Regardless of your weight, you can use it for all of your workouts.
TRENDING ARTICLES
Significance of Each Type of Barbell
Choosing the right barbell depends on your fitness goals, experience level, and training preferences. The Open Barbell is an excellent choice for beginners looking to build strength. It provides a solid foundation for newcomers to weightlifting.
For those seeking a more challenging workout, the Regional Barbell is designed to push you to the next level. It offers an opportunity to challenge yourself and elevate your training routine.
If powerlifting and heavy strength training are your passions, the Powerlifting Barbell is ideal. It is specifically crafted for the demands of powerlifting and provides the necessary grip and durability for heavy lifts.
Now that you better understand your options, you can confidently make a decision that aligns with your fitness goals. DMoose provides reliable barbells that will help you achieve the results you desire. Choose wisely and embark on your fitness journey with confidence.
Considerations for Choosing a Barbell
Choosing the perfect barbell can make a huge impact on your fitness journey. But where do you start? Here are some crucial factors to keep in mind before making a decision. Before purchasing a barbell, let us dive into the nitty-gritty of what you need to know.
Weightlifting Goals
Choosing the right barbell is a crucial decision. Your weightlifting goals will dictate which barbell is best for you. For instance, if your workout routine involves a lot of powerlifting exercises, then a powerlifting barbell may be the ideal choice for you.
On the other hand, if you aspire to compete in the Olympics and need a barbell that adheres to their specific guidelines, then an Olympic barbell is the way to go. And if you want something that can handle various workouts, then a regional barbell may be your best bet.
Related Article: 15 Best Weightlifting Belts for Powerlifters
Budget
When choosing a barbell, there are a few key considerations to remember. One of the most important factors is your budget. With open barbells ranging in price from a few hundred to several thousand dollars, it's important to know exactly how much you are willing to spend before you start looking.
With so many options available at differing price points, taking the time to establish your budget can help you narrow down your choices and find the perfect barbell for your needs.
Specifications of the Barbell
When it comes to finding the perfect barbell for your workouts, it's essential to consider the specifications of the barbell itself. Different barbells are designed for different purposes, so it's important to prioritize your needs before choosing a regional or another type of barbell.
If you are a powerlifter, you will want to look for a barbell that can handle incredibly heavy weights without bending or flexing under pressure. Similarly, if you are an Olympic lifter, you must prioritize finding an Olympic barbell to balance your lifts perfectly.
Knurling and Grip
Knurling is the pattern of grooves on the barbell that provide traction and improve grip. You will want to look for a bar with knurling that is grippy enough to keep your hands from slipping without causing uncomfortable friction. The grip is also essential and can vary depending on the type of bar you need.
Olympic barbells have thinner grips better suited for more dynamic movements, while powerlifting barbells have thicker grips for maximum stability under heavy loads. Some regional barbells have unique knurling patterns that cater to certain workouts or personal preferences.
Related Article: Top 10 Essential Barbell Exercises for Building Muscle and Strength
Spin and Sleeve Rotation
When choosing a barbell for your workouts, there are a few things you need to consider. One of the most important things is the spin and sleeve rotation of the barbell. The Regional Barbell, for example, has a higher spin rate than other barbells out there.
This makes it more suitable for Olympic lifts where the barbell needs to rotate quickly on the wrists. On the other hand, a powerlifting barbell has a lower spin rate and is better suited for slower, controlled lifts like squats and deadlifts.
In addition to the spin rate, you also want to consider sleeve rotation. A barbell with a slower sleeve rotation will make it easier to load and unload weights, while a faster sleeve rotation is better suited for Olympic lifts.
STRENGTHEN YOUR GRIP AND LIFT MORE WEIGHT
SHOP NOW
Conclusion
Make the right choice for your fitness journey by selecting the perfect barbell. Your goals, experience, and training preferences are crucial in making an informed decision. If you are a beginner looking to build strength, the Open Barbell is a versatile and user-friendly option that's ideal for newcomers to weightlifting.
For those seeking a challenge and wanting to take their training to the next level, the Regional Barbell offers the perfect balance of functionality and performance. It will push you to step outside your comfort zone and unleash your full potential.
If powerlifting and heavy strength training are your passions, the Powerlifting Barbell is a must-have. Designed to withstand heavy loads and provide optimal grip, it will empower you to push your limits and achieve new personal bests.
By making an informed decision and selecting the barbell that aligns with your fitness goals, you set yourself up for success. Whether you are a beginner, a seasoned athlete, or somewhere in between, there's a barbell out there that will help you achieve your desired results.
So, take the time to evaluate your needs, explore the options available, and invest in a barbell that will become your trusted fitness companion. With the right barbell, you will be well-equipped to conquer your fitness goals, push your boundaries, and unleash your full potential.
Reading List