Weight Loss is a complicated process, and fat loss is even more so. A huge amount of hard work (training and exercise), self-restraint, and discipline go into the process, and it still evades most people. 
Any help is much appreciated in the tough weight loss journey, and a quality fat burner is a sure-fire way to help speed up weight loss and fat burning. However, you must know that a fat burner cannot do anything if you are not following a proper diet and workout regime.
There are many fat burners out there in the market, and they all claim to be awesome. It's your responsibility, as a user, to choose the right one because you wouldn't want to end up being conned by fake companies and bogus products. In the worst cases, synthetic ingredients may even leave dangerous side effects. 
We realize the importance of finding the right product, and that's why we have come up with ten ingenious tips to walk you through the process of buying an authentic fat burner. 
Common Ingredients in Fat Burners
Fat burners are not manufactured according to one universal recipe: different companies use different ingredients and mix. Dosage, serving sizes, and ingredients can all differ from brand to brand.
However, it's not like they can pick anything from the pantry and claim it to be a fat burner. Certain ingredients that are scientifically proven or traditionally known to burn fat fast or speed up the process are used in a certain amount.
Commonly, it's caffeine, green tea extracts, green coffee bean extracts, cayenne pepper, ashwagandha, raspberry ketone, L-Carnitine, L-Tyrosine, etc.
They can be present in a fat burner together or in different products. Find a product that has them together for high efficacy.
1. Check the Ingredients
The first and the foremost thing in a fat-burning supplement, or any supplement for that matter, are its ingredients. A fat burner is just as good as the ingredients are because the brand and the fancy bottle mean nothing eventually. In the end, it's the ingredients against fat! 
Check the listed ingredients online and find out for yourself if they work or how they work (it's easy, just google them). Knowing the ingredients will also set your expectations right so you won't be discouraged by random fails, which are normal in the fat-burning process.
Doing research can help you ensure that the ingredients are reliable and authentic. Trustworthy research sources must back the ingredients you are using for fat burning. No one would like to invest in a fraudulent product! 
2. Consider Your Medical Background
While it's important to check ingredients for efficacy and authenticity, you must also consider your medical history. Don't forget about your allergies: check the label and see if there are any ingredients that you might want to avoid. 
3. Buy Branded Ingredients
You might think it's enough to buy a branded fat burner, but seemingly, that's not the case. Fat-burning ingredients are manufactured at different sites; fat burner manufacturers do not make them. All ingredients are not the same, and they are not equally effective either. 
You should buy ingredients that are well-reputed and come from trusted brands. For example, Garcinia cambogia is a fat-burning ingredient. Still, you wouldn't want to buy a product that says nothing about its source on the bottle or in the description and uses only cheap, China-made ingredients.
It will probably not yield the expected results and will be nothing more than a blatant waste of money. So always make sure you buy the supplements that use ingredients from trusted manufacturers. 
4. Make Sure You Know the Correct Dose of the Ingredients
You might have seen some bottles with no specific dosage information about each ingredient! These are the ones to avoid. Runaway from these. 
Fat burners are not some sweet, sugary powders for kids that you can consume anytime without worrying about dosage. This is serious business.
You must know what you are taking in and how much of it you are taking in, and how that specific amount of the ingredient is supposed to work in your body. 
A simple way to ensure the right dosage is to buy supplements that enlist ingredients' doses separately in each serving, like DMoose fat burner. Usually, they are safe as long as you follow the directions on the bottles and the recommended doses. 
5. Know the Manufacturers
Oh well, most of us ignore this. We must make sure we buy the right ingredients or the most authentic brand at best. No one pays attention to the company's contact details to be reached if things go wrong or for basic information. 
It's important to know who you are buying from and contact them when needed. Find contact details onsite or on the packaging and ring them up. You should reach a human operator to ask specific questions and mention concerns.
You must avoid 'ghost companies' because what they are selling is not guaranteed or reliable. 
6. Make Sure It Is Research Backed
Fat burners must be chosen with care simply because they are non-prescribed supplements. When there is no medical authority behind them to validate their efficacy, it's important, we the users, take charge and make sure that we are taking something that is backed by sound research, if not by a medical authority. 
It's easy, though, no big deal. You can easily find out which ingredients are backed by real research and which are just bogus. 
7. Consider Caffeine Content Wisely
Stimulants like caffeine or garcinia Cambogia are commonly used in fat burners. They play a very important role- boost energy and ward off laziness so that you can easily pull through the required workout regime. 
However, there is a catch to it. Stimulants like caffeine can interfere with your sleep routine. They make it harder for you to go to sleep. Any stimulant and not necessarily just caffeine will have this result. So you must check how many stimulants are there in your fat burner and if they will hinder sleep. 
Do not ignore the role of sound and proper sleep in burning fat and losing weight. It's imperative to check that caffeine or any other stimulants in your fat burner are within healthy limits. 
8. Make Sure It Contains Natural/organic Ingredients
We are a product of nature, and everything natural syncs with us swiftly. It makes simple sense that our fat burners should also be made from natural ingredients. 
Natural ingredients come with the guarantee that they will not cause "collateral damage" in the body, i.e., side effects. You can take them without any fear. 
If you do not get the hundred percent expected outcome, you will still have no damage with a natural fat burner, making a great difference. 
Related Article: How to Lose Belly Fat Naturally and Safely?
9. Convenient
Fat burners are available in different forms: pills or powders. You can decide for yourself if you would like to buy powders to dissolve in water or pills to easily swallow.  
10. Consider the Cost
Well, whether you want to or not, the cost will force consideration upon you. You can't exceed your limits in terms of money so read the price tag. It takes seconds, but it will save you from the anguish of overspending when you clearly couldn't afford it. 
A supplement should not cost you an arm and a leg, and a high price is not at all a measure of quality. DMoose fat burner is a perfect mix of authentic and scientifically backed ingredients. Ingredients dosage per serving is mentioned on the bottle as well. It's also most appropriately priced, so you do not have to worry about burdening your budget. 
The fat burner comes with a perfect mix of scientifically backed ingredients that have been proven to melt stored fat fast. The ingredients are natural and organic, which means you do not have to worry about side effects at all. You can use it with full confidence and peace of mind. 
Foggy brain and depleted energy dams are often the side-effects of intense weight-loss plans. The painfully slow weight loss process makes it is difficult to stick to your diet plan, and local belly fat burner pills do no good.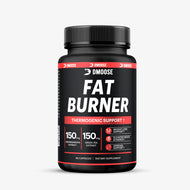 Wrapping Up
Choosing the right fat burner is a little tricky; it's even harder when buying one online. You have to ensure that you are not being conned; check if the ingredients are authentic and the sellers are reliable. Find full contact details of the seller to be on the safe side of it. Do your research about the products, so you don't end up with hoaxes. That's all for consideration: the rest of it depends on your satisfaction. 
Related Article: The Complete Guide of Fat Burners and How to Use for Best Results
TRENDING ARTICLES