Fat bar grips are designed to provide convenience to you when training with dumbbells and thick bars. They can effectively protect your palms as they reduce the amount of stress. They also strengthen your muscles and enable you to work on your grip.
Fat bars have countless benefits to offer, and so they are considered an important choice in training. They are free from any complexity, and you can use them even at your home. They do not weigh much, so it is easy to carry them. They also enable you to exercise properly by giving you a perfect grip on your exercise equipment.
Using thick bars can add a challenging touch to your daily routine and push you to perform even better. They also improve the threshold to lift weights and barbells, which in turn help you to develop a stronger muscle mass.
A study published in the Journal of Strength and Conditioning Research explicitly emphasizes using fat bar grips for improved performance and muscular mass.
What Are Bomber Grips?
In the past, there was not much advancement in gyms. People have to face severe training issues because dumbbells and bars are not thick enough, and so they have problems related to grip and strength development. Even after increasing the thickness of the bars, the problem could not subside.
With the help of thick bar grips, there has been a significant improvement in the training sessions. They ensure to add a challenging touch to the exercise sessions and prompt you to perform better.
They are made of durable material that does not slip and provides better grip strength to the user. They can work effectively well on any dumbbells or bars, and with enhanced thickness, you can improve your performance capability.
These thick bars are available in different diameters and thicknesses. You can experience more diameter to take your training game to the next level and make it more challenging for you.
How Can You Benefit From Fat Bar Grips?
These thick bars can work with any of the exercises that you will like to perform. Their durable look will make you stand out in your gym and have an increased effect on the stability of your body muscles. Some of the main benefits that they provide are listed below:
1. Exceptionally Improved Grip Strength
The quickest way to develop excellent grip strength is to utilize a thick bar in your training session. Working on your grip strength will especially help to have improved performance in various other exercises such as deadlifts and pull-ups, which require excellent strength. Good grip strength also helps in the development of muscles.
2. Minimizes the Risk of Injury
With the use of thick bars, you can minimize the risk of injury to the maximum extent. Being an athlete, you know how important it is to eliminate any chances of injury during your training sessions. You can effectively reduce the chances of wrist pain or injury with thick bars, which otherwise will cause a massive problem.
3. More Convenience in Training
It is difficult to perform any exercise with a bar or dumbbell without any proper grip. You can have an increased strain on your wrist muscles without them. Using thick bars works as an insulation system and keeps your palms protected from any damage. Furthermore, they are much easier to carry in your gym bag as your grips.
4. Elevated Muscular Strength
You will experience great muscular endurance with these thick bars. Additionally, you can also work on your forearm muscles alongside your triceps and biceps. The DMoose grip works on your forearm muscle development and makes you stronger for better and improved performance.
5. Helps in Weight Distribution
These thick bars help develop your muscle mass by significantly reducing the fat content in your body. You will have a better weight distribution in your entire body. Not only that, but thick bars also make you stronger from the inside and help in various other tasks.
How Often Should You Use Them?
Considering that barbell grips have so many benefits to offer, many people jump to use them excessively in their training. We all know that excess of everything is bad, and the same goes for them. They surely benefit your health and exercising capability in several ways, but if you use them incorrectly, they will cause more damage than benefits.
Like any other exercising tool, you need to ensure that you do not perform exercises excessively with thick bars. Lifting weights is good for muscular development, but doing it daily will cause huge problems and damage your muscles. You might even face a plateau condition where there will be no more effect of exercises on your body.
Using grips after every other day or 3 to 4 times a week would work in a much better way for your body. Doing so will help give your muscles enough time to recover and then perform in a much better way.
Things to understand!
The grip's weight can work for the development of muscle mass and improved grip. But, it would help if you analyze what exercise works best for you. Randomly performing any exercise might not give you the desired results.
Before we jump straight to exercises, there are some important points that you need to consider:
Give some time to your body for better results.
Do not go over the limit, and always listen to what your body says.
Always know what your body demands from you.
Working with patience can give you accurate results.
When you go through all these checklists, you can understand a few exercises for improved grip and muscular strength.
Effective Exercises to Perform With Bomber Grips.
1. Farmer Carry
Stand tall in a straight position.
Hold dumbbells in each hand with varying weights.
For instance, one dumbbell should be 100 pounds, and the other should be 50 pounds.
Attach a thick bar to a 50-pound dumbbell to even the weight.
Now squat down with weight in each hand.
Return to an upright position with your back straight.
Walk a few steps.
Make sure to have an excellent grip to avoid any injury.
Do a few reps for improved results.
2. Floor Press
Lie on the floor with your back flat and not arching up.
Bend your knees.
Hold the bar with your arms straight.
Throw a fat bar grip on it for added strength.
Now give a slow bend to your elbows and lower the bar to your chest.
Take it to the original position by using your arm muscles.
3. Bent-over Row
Hold the bar and give a slight bend to your knees.
Bend your hips too.
Your body should make an angle of 45 degrees.
Now pull up the bar with extreme force.
Have a controlled grip on the bar for better results.
Now take the bar down to its original position with a controlled force.
Make sure to adjust the weight of your body according to your needs.
4. Deadlifts
Stand straight with feet shoulder-width apart and feet flat on the ground.
Hands should be outside of thighs.
Squat down at the level of your knees.
Now lift the bar upwards.
The back should be straight.
Lower the back by keeping your movement steady and controlled.
This exercise should engage your core muscles for much better results.
5. Overhead Press
Stand in a straight position with your feet shoulder-width apart.
Hold the bar on your chest.
Ensure that your hands are at a wider angle from your shoulders.
Engage your core, arm, chest, and glutes to take the bar over your head.
Make a slight pause at the top and then lower it down with extreme care.
Have a strong grip over the bar to avoid any injury.
Repeat for a couple of reps.
Doing these exercises combined with many other techniques can work in your favor. If you are still wondering how to use it, then take a brief look at this video. You can also experiment with the exercise of your choice.
Where to Look for Excellent Fat Bar Grips?
You need to be very vigilant while purchasing a fat bar grip for your training sessions. The most important things to look out for are:
Material
Dimensions
Thickness
Weight
These specifications define the usability of a bomber grip. Make sure that you have done thorough research on a product before purchasing it.
Checking for these qualities can help you in the long run to get the perfect results that you have always wanted. DMoose Grips for Weightlifting can be a real game-changer in weight training.
The most noticeable thing about these thick bars is that they are absorbent to shock and resistant to sweat. They do not cause any slipping of hands due to sweat. It also does not add much pressure to your delicate joints and is safe to use.
They can work perfectly with dumbbells and bars. They also engage your muscles at a much better rate than solely using any of these exercise equipment. Below is the list of advantages that you can experience with these thick bars:
Makes you capable of lifting more weight with convenience.
Works effectively in all barbells and dumbbell exercises.
Prevents straining of joints and works for developing muscle mass.
Involves the use of more muscle fibers that help in gaining more mass.
Have a slit on one side that makes it easy to fit around dumbbells.
Provides a secure hold which does not slip.
Works for strengthening of your upper body.
Made from durable material that lasts for a much longer time without any damage.
Regardless of any store you buy from, make sure that your thick bars possess all these qualities.
Avoid hand calluses and fatigue by using our fat bar grips to maximize biceps and forearms. Improve your strength, protect your hands and make your workouts more enjoyable.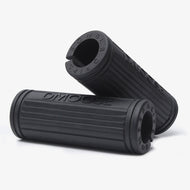 Final Words
It is safe to say that using thick bars does not cause any harm to your body. You need to make sure that you do not work excessively on them and give time to your muscles to relax. They can work well with your training tools and are easy to carry.
There are many exercises that you can do with these thick bars. They help develop more muscle mass, bigger arms, elevated endurance, and improved performance.