Mirror, mirror on the wall, who's the most toned of them all? If it's not you, don't fret! We understand how frustrating it can be to try and tone your upper body only to see little to no results.
Whether you're a workout newbie or a seasoned pro, our team is here to guide you every step of the way. So put down that chocolate bar, and let's get started! Ladies, don't let the fear of bulking up intimidate you from hitting the weights!
Contrary to popular belief, weight training won't turn you into the Hulk. It's a killer way to tone your upper body and get that dream physique. Plus, it's not all serious business - weight training can be a total blast. So, time to get lifting and slay those fitness goals!
But let's not sweat it! You don't need fancy machines or an entire gym to get those upper-body muscles toned. Believe it or not, a simple set of dumbbells can do the trick. Get ready to flex your muscles and feel the burn!
So, are you ready to tone and shape that upper body? We've got you covered with 5 killer exercises that will have you flexing those muscles in no time. And the best part? These workouts are perfect for everyone - whether you're already a fitness guru or a newbie. Grab those weights and get ready to feel the burn!
Benefits of Upper Body Strength for Women
It's time to channel your inner wonder woman and start pumping some iron. Don't let the idea of upper body strength training scare you away! There are five significant perks to building those biceps and buffing up your back.
You'll experience a new level of health and wellness, from better posture to injury prevention. But before going ahead, let's admire the American professional female bodybuilding legendary champion, Lenda Murray she famously said,
Bodybuilding isn't about getting big and strong for people. It's about getting big and strong for yourself. And when you look in the mirror, know that every vein, every muscle cell is because you had the dedication to make it happen.
~Lenda Murray
So what are you waiting for? Flex those girl power muscles and reap the benefits today.
Let's start and enjoy the benefits below:
Be the envy of the gym with adjustable dumbbells!
SHOP NOW
Helps Improve Posture
Picture this: you're strolling down the street, feeling confident and strong, when suddenly you glimpse yourself in a storefront window. Yikes! You're slouching like Quasimodo!
Don't fret, friend. The key to maintaining good posture is often overlooked, but oh so essential: upper body strength! Strong upper back, shoulders, and chest muscles keep your spine aligned and prevent slouching. So hit the gym, and let's give that reflection something to admire.
Not only will a solid upper body help you lift heavy things and rock a tank top, but it also defies gravity and promotes good posture. So, pump some iron and stand tall like the superhero you are.
You can quickly achieve your fitness goals by performing simple exercises like push-ups, pull-ups, and overhead presses. Incorporating these bad boys into our workout routine will improve our posture and overall health. Let's show those dumbbells who's boss!
Give Workouts a Boost
So, you've been hitting the gym like nobody's business? That's great! But have you been neglecting those guns? We're talking about your upper body strength.
Be aware; a solid upper body isn't just for show. It's crucial for overall fitness and can even up your workout game. Plus, who wants to avoid being able to lift heavy bags of groceries without breaking a sweat? Start working on those push-ups and curls, and feel the power!
Strengthening those supportive spine muscles can do wonders for your posture. Plus, a muscular upper body can help you avoid injuries down below. And here's the cherry on top: these exercises burn more energy, meaning bye-bye fat. So don't skip out - give those arms and shoulders some love in your following workout routine.
Makes Everyday Tasks Easier
No more struggling to reach the high shelf or playing with your little ones! Weak upper body muscles can make everyday tasks a struggle, but don't worry - we've got your back (and biceps and triceps!).
Upper body workouts for women aren't just about looking fabulous in a tank top; they're about feeling strong and capable of tackling anything life throws your way. Lifting heavy bags, setting up furniture, and winning arm-wrestling matches - all possible with these exercises!
Strengthen those muscles in your chest, arms, shoulder blades, and back to make life's tasks feel like child's play. Tone your arms, chest, and upper back, and be the envy of all your friends!"
The hexagonal dumbbell consists of two weighted heads connected by a central grip shaft. It's the future of weight training and it's waiting for you.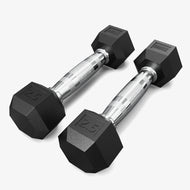 TRENDING ARTICLES
Can Help Build a Positive Body Image
Upper body workouts are the key to achieving that positive body image you've been dreaming of. Not only will you tone those muscles, but you'll also stand up straighter and say goodbye to any lingering unwanted fat.
Admit it, upper-body workouts can also be a real pain in the neck. Who wants to lift heavy weights when you can indulge in some chocolate cake instead? But fear not, my fellow fitness people, because I've got a trick up my sleeve.
Switching things up is the key to keeping those upper-body workouts from being a snoozefest. Instead of doing the same old push-ups until your arms fall off, try throwing in tricep dips or overhead presses for a change.
Put the "U" in Upper-body with these fun and effective workout routines! Trust me; your arms will be saying "thank you" later. Switching up your workout routine not only keeps things interesting but also keeps those guns in tip-top shape. Plus, a little confidence boost is always a good idea. Ladies, let's give our upper bodies some love at the gym!
5 Best Upper-Body Workouts for Women
One of the great things about upper body exercises is that you only need a little equipment to get a good workout. Dumbbells are a fantastic way to work your upper body. They allow you to focus on specific muscles and movements, which can help you achieve the results you're looking for.
Let us look into some best upper body workouts for women using dumbbells that you can do at your home or in the gym.
1. Dumbbell Lateral Raise
Dumbbell lateral raises are a great upper-body exercise that targets the deltoid (shoulder) muscles. You only need a dumbbell and a flat surface to perform this exercise.
Don't Worry if you need help choosing the right pick for you in the dumbbell market. The DMoose Dumbbell Collection is a great choice. There, you can find three kinds of dumbbells, a neoprene one if you are looking for an anti-slip and easy-to-handle dumbbell. At the same time, the attractive hex and adjustable dumbbells can attract you because of their marvelous features. So why search on different sites for dumbbells and stay confused when you can click on DMoose.com and find the one that suits you?
How to Do It:
Take a dumbbell in each hand and stand with your feet close together.
Next, raise the dumbbells out laterally to your side-to-shoulder height. Please keep them in front of your shoulders, in a scaption position.
Finally, slowly lower the dumbbells back to the starting position.
As with all exercises, utilize good form, and prioritize quality over quantity. With some practice, you'll be kicking back in no time!
Related Article: How Much Does a Dumbbell Really Cost & Why Are Some So Expensive
2. Behind the Head Dumbbell Triceps Extension
The behind-the-head tricep extension is one of the key muscles in the upper body, and strong triceps can help improve your overall strength and performance in various upper-body exercises. Behind the head, tricep extension is a great way to target this muscle, and there are several various methods you can use to complete them.
The most common way to do behind the head tricep extension is with a dumbbell. You can also use a resistance band. The good thing is, you can find a wide range of resistance bands at DMoose and elevate your full-body core strength. The Dmose resistance bands can do everything necessary by providing muscle therapy and rehabilitation.
How to Do It:
Hold the weight overhead with your arms straight. Bend your elbows behind your head, and extend your arms to return to the initial position.
You can carry out this workout while lying down as well. Hold a dumbbell above your chest if you're using a dumbbell.
On the ball, lie on your back and press up to the starting position.
These are just a few techniques to perform behind-the-head tricep extensions. Try out various variations to see which one suits you the best.
Pull-up assistance bands are a one-step solution to give you all comfort required during rigorous training. These bands are perfect for elevating your performance on the deadlift, powerlifting, and shoulder press training.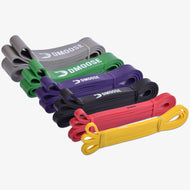 3. Bent Over Dumbbell Row
There are numerous exercises for the upper body, but bent-over dumbbell rows are a great all-around exercise targeting many muscles simultaneously. The main muscle groups targeted are the latissimus dorsi (lats), the large muscles in your back, and the biceps.
How to Do It:
Put a dumbbell in each hand and begin standing with your feet shoulder-width apart.
Maintaining a flat back, flex your knees, and tilt forward at the hips. Let the dumbbells hang down, then row them up, leading with your elbows.
At the movement's height, reverse the dumbbells' descent after squeezing your shoulder blades together.
This exercise can be done with smaller weights for higher reps or heavier weights for lower reps, depending on your goals. Try it the next time you're looking for a great upper-body workout!
4. Incline Bench Press
Want to pump up those pecs, triceps, and delts? Look no further than the incline bench press! This upper body exercise is so popular it deserves a fan club. Not only will it help you build killer muscles, but you can also customize it to hit specific areas.
Get ready to bench-press your way to glory with this trio of muscle groups: pectoralis major, triceps brachii, and anterior deltoid.
How to Do It:
To properly execute an incline bench press, lay flat on a weight bench. Place your feet on the ground and hold the barbell at shoulder width.
Lower the barbell to your chest, and press it back to the starting position.
Ensure to keep your elbows close to your sides throughout the movement.
Following these simple instructions, you can use the incline bench press to focus effectively on your upper body muscles.
Are you looking for comfy-grip dumbbells to tone and sculpt your arms, shoulders, and back? If yes, then try DMoose neoprene dumbbells - perfect for your fitness regime.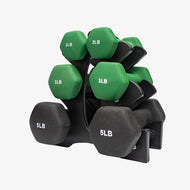 5. Bent Over Rear Delt Raise
The bent-over rear delt raise is significant for targeting the rear shoulders and upper back muscles. The starting position for the bent-over rear delt raise is with your knees bent and your back straight.
How to Do It:
You can either have your feet together or hip-width apart. Once you have assumed this starting position, bend forward until your torso is parallel to the ground.
From here, raise your arms out laterally until they are in line with your shoulders.
Hold this position for a second before lowering your arms back to the starting position.
The bent-over rear delt raise is an effective exercise for targeting the shoulder muscles. To make the maximum of this exercise, make sure to keep your back straight and prevent the swinging of your arms as you raise and lower them.
Related Article: Weighted Dips: Your Ultimate Solution to Building Your Chest, Shoulders, and Triceps Muscles
FAQs
1. How much weight should I use for these exercises?
The amount of weight you use depends on your fitness level. If you are; a beginner to strength training, starting with lighter weights is advisable, gradually increasing the amount as you get stronger.
2. How many reps and sets should one do?
Again, how fit you are will determine this. If strength training is new to you, you might want to start with 2-3 sets of 8-12 repetitions for each exercise. As you get more experienced, you can increase the number of sets and reps.
3. What is the best-suited time to do these exercises?
The best time of day to do strength training exercises is whenever you can fit it into your schedule. Starting, you can do 2-3 sessions per week. You can also increase the frequency to 4-5 times per week as you gain experience.
Conclusion
Strength training is not only for men or ladies. It comes with heaps of perks, both visually and physically. No need to put up with the dreaded bat wings or weak arms! Check out these upper body moves with dumbbells to get your guns toned and defined.
Add the lateral raise, behind-the-head tricep extension, bent-over dumbbell row, incline bench press, and bent-over rear delt raise into your routine. Your posture, overall workout performance, and daily tasks will also improve. And who doesn't want a significant confidence boost by liking what they see in the mirror? All hail the power of strength training! So let's get going ladies, and rock the world.