When you're creating a home gym, there are a certain number of must-have items such as a squat rack and a barbell. If you're going to get a barbell, then you need weight plates as well. You can use traditional cast-iron plates, but bumper plates are more modern, durable, and safer because they can be dropped without suffering damage.
Only the best weight plates will do, which is why you need to strongly consider DMoose's bumper plates for your personal workout space. I got to review these plates and will share my experience and honest thoughts on the best features as well as what I feel could be improved upon. 
Spoiler alert: I'm glad I got them and feel you will enjoy them too.
About Me (Roger Lockridge)
For those of you that don't know me, I've been training for 25 years and have worked in the fitness industry in a variety of roles for many of those years. I'm also a competitive powerlifter that used these plates as a part of my training for a powerlifting meet in September 2023. These plates were put through the paces. So, I feel this review will serve you well.
Also for full transparency, DMoose sent me these weights for the purpose of reviewing them. However, you will read that this is an honest review because I do have points I think could be better.
Related Article: Regional Barbell Vs Powerlifting Barbells Review by Roger
DMoose Bumper Plates
The DMoose Olympic bumper plates come in five different weights that range from 10-45 pounds. The price range is from $76 to $237 per pair as of October 2023.
I had a pair of the 45-pound bumper plates. I used them for many different exercises on top of the squat, bench press, and deadlift that I had to train for in preparation for my meet.
If you're looking for a set of bumper plates that provides more comfort and safety to your lifting sessions, these bumper plates from DMoose are an excellent option.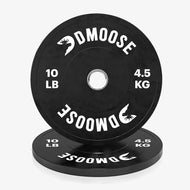 Pros:
Very durable
Wide variety of weights to choose from or use
Sold in pairs
Low bounce
Quieter than iron weights
Fits on all Olympic barbells and racks
1. Whisper-Quiet Workouts
The biggest advantages to using rubber plates are that they can be dropped in case you need to prevent an accident or injury, and the impact won't hurt your floor or training surface.
They are also quieter than iron plates because they don't clang together. The dense rubber will buffer noise on impact, and the plates won't rattle.
2. Diverse Weight Options
Another advantage to these plates is even though they have a wide variety of weights, they are all the same diameter, which as an added bonus was comparable to the weights I used in my meet.
3. Universal Fit
I have used them on different barbells and specialty bars, and they fit on all of them. Again, not all plates are made that way. Some plates don't fit on specialty bars. So, this allowed me to use them even more.
They also meet International Weightlifting Federation (IWF) standards. I only used the 45's, but if you're able to get the entire set, I highly advise it and hope to myself. Since they are sold in pairs, you can start using them as soon as they arrive.
Not all weights are sold in pairs, and they have a very fair price considering the quality of the plates.
If you're looking for a set of bumper plates that provides more comfort and safety to your lifting sessions, these bumper plates from DMoose are an excellent option.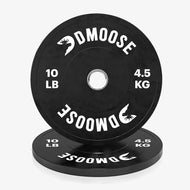 TRENDING ARTICLES
Cons:
Little grip support
All plates are one color
There aren't many negatives to these, but I did notice a couple of minor issues.
1. Missing Lips and Handles
These plates have virtually no lip on them, and they have no handles. If they are lying on the floor on one side, it can be tough to get my fingers under them to pick them up. A slightly thicker lip would solve this issue.
2. All Plates are of Same Color:
The other issue is also small, but some consumers prefer that the different weight plates be different colors, so they are easier to identify. The DMoose plates are all black with white letters and numbers. They look great, but having this option would be even better.
Conclusion
Whether you're looking for plates to help with competition training or to simply help with a personal fitness journey, the DMoose Olympic bumper plates are a great asset to invest in. Another bonus with these is that they didn't have that annoying odor that comes with some bumper plates. Trainees of all levels should go ahead and hit the order button on these because they will last you for many years and workouts to come.