Losing weight- a thought that could be termed a collective nightmare of today's society. Call it insecurity or self-love; we all want to achieve a dream body. For most of us, it would have to start with shedding some weight off from our frames.
Most of us don't know how to lose weight naturally and safely. We try different ways without sufficient knowledge; thus, the results are unsatisfactory.
Several people are oblivious to the methods of safe and natural weight loss. Numerous websites claiming weight loss through their medication do not help the audience but rather spread the misinformation to promote their weight loss products.
Most renowned researchers claim that people who find online information related to weight loss come across false or deceptive information. Important is to take out time for yourself! Take help from a nutritionist and make your diet plan healthy and accordingly.
Losing weight is not a piece of cake; it requires COMMITMENT. Let's face it! Set your goals with utmost DETERMINATION and SINCERITY, and you will get your desired body in no time!
Remember, vision without action is a daydream! Action without vision is a nightmare! So, if you are ready to get started, here are some effective and essential guidelines to help you get on the right road.
Change Your Mindset!
The steps to lose weight are fairly simple. It starts with a MINDSET! In addition, you need to make sure what your body demands. A healthy diet and good exercises are the keys to making your body fit, smart, and perfect!
Don't Try Out Every Possible Way!
These days people are willing to try out everything that guarantees faster results to achieve their desired weight goals. Media, especially social media, is a platform where people easily introduce new methods without proper research.
People forget that anything that happens too fast or too soon is not a good day idea, so we must be wise enough to know what changes our body requires and how to follow up with the new trials.
There are limitless diets, unauthentic drugs, and meal substitute plans claiming quick weight loss; it's your job to make sure what changes your body exactly needs. It is very important to take out time and think about how to lose by natural means.
Easy Positive Changes You Can Make in Your Life Right Now!
You don't have to switch directly to strict meals or leave yourself hungry from day one. It is important to go step by step as slow and steady always win the race! Switch to stairs, start doing walks, carry your grocery bags, and chew food properly. To make your lifestyle healthy - stay happy, stress-free, and be determined in your life choices.
TRENDING ARTICLES
Lose Weight Safely and Naturally
1. Master Your Meal Plan
It is very important to add a natural diet to your routines and minimize processed food as saturated foods are responsible for weight gain. Eat meat, vegetables, fruit, eat everything you want to, but not excessively.
Top nutritionists claim that the person feels quickly fuller with an increment in fiber intake.
You should start minimizing processed foods and saturated fats, like butter and frozen food! On the other hand, green vegetables, fruits, and proteins are something you can welcome with open arms.
2. Avoid Refined Carbs
An easy and best way to attain quick weight loss is to avoid the intake of carbs. With a minimal consumption of starches, carbohydrates, and sugars, your body will utilize the stored fat for energy rather than the crabs.
Saturated fats are less damaging to the body's metabolism than refined carbohydrates, Evidence of which can be found in The American Journal of Clinical Nutrition.
3. Add Fruits, Fiber, and Veggies to Your Diets
Cutting down your calorie intake does not essentially mean that you have to consume lesser food. High-fiber foods, which include vegetables, whole grains, beans, and especially fruits, are large in volume, and they take a longer time to digest, which proves them a great asset for weight loss.
4. Get Enough Sleep!
There is a relationship between sleep deprivation and obesity. Research suggests that sound and appropriate sleeping habits can help in weight loss.
People who do not get enough and good sleep also experience hormonal changes that lead to weight gain. Not only this, but they also become the victim of fatigue, exhaustion, and mood swings.
5. Stay Hydrated!
To most bodily functions, water is an essential fluid to intake. A person can use it all day long since it contains no calories and provides numerous health benefits.
The habit of drinking water all day long helps to create a stronger metabolism. Moreover, if a person drinks water before a meal, it helps lose weight, says a US study.
Consumption of water is far better than sugary beverages as they contain a huge number of calories. Water further helps one reduce calorie intake.
6. Add Green Tea Into Your Daily Diet
Green tea is a natural beverage that is loaded with antioxidants. Various studies show that the caffeine of green tea helps in burning fats fast and enhances workout performance. Thus, the results are obvious and great!
7. Exercise – It's Important!
Exercise is beneficial for losing weight and sustaining weight loss. Exercise can have instant and long-term health benefits: it helps you achieve strong metabolism, reduces the risk of diseases, and most importantly, help you control weight.
Daily Exercise doesn't need to have a gym membership or expensive equipment. You can start many exercises at home! For instance: burpees, jumping jacks, pull-ups, and more! Daily thirty-minute exercise sessions can transform your whole body and get you into the perfect shape you desire.
Related Article: Weight Loss: Can You Achieve Your Goal With Exercise Only?
Golden Tips to Lose Weight Naturally!
Add Protein in daily routine - Protein helps burn calories when the body is digesting it and boosts your metabolism.
Avoid processed foods - Processed foods are extremely high in sugar and bad fats.
Make a habit of eating healthy snacks.
Limit the intake of sugar or foods which are high in sugar. Also, trying to eliminate sugary drinks means carbonated drinks and packaged juices.
Have at least 2 liters of water in a day - Drinking water helps flush out toxins and clear up our system.
Include foods in your diet, which are high in fiber - Fiber helps in digestion and boosts metabolism.
Look for delicious recipes and try to cook a healthy treat for yourself.
Don't overcook your food; rather, bake it or cook differently.
Must have a good and relaxed sleep.
Supplement for Weight Loss
In the age of processed foods, it is almost impossible to keep a steady and healthy diet. Adding natural supplements can help you maintain and lose weight. Your body needs more than just meal plans. If your diet is lacking important nutrients, the best choice is to take natural supplements.
DMoose natural supplements can fill the nutritional gap so you can maintain the right balance! These natural supplements are made with 100% organic products to help you lose weight.
DMoose Fat Burner is the best supplement containing a perfect blend of ingredients, such as green tea extract, Rasberry ketone, ashwagandha extract, and caffeine anhydrous that helps boost your weight loss process. Once combined with exercise and a reduced-calorie diet, the green tea extract's thermogenic blend is perfect for supporting fat loss. The fat burner will also help keep your cravings in check. It won't have any side effects on the body.
Foggy brain and depleted energy dams are often the side-effects of intense weight-loss plans. The painfully slow weight loss process makes it is difficult to stick to your diet plan, and local belly fat burner pills do no good.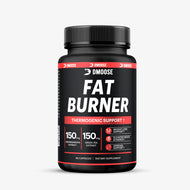 Takeaway
It is very important to have a good healthy diet! Switch to organic foods and exercise more. Remember, the faster ways will always be more appealing, but the winner is the slow and steady one. Do not rush into anything; understand the science behind everything, ditch oily food, and switch to Fiber, Fruits, and Veggies. Love yourself, look after yourself!
Article Sources
Hu, Frank B. "Are Refined Carbohydrates Worse than Saturated Fat?" The American Journal of Clinical Nutrition, vol. 91, no. 6, June 2010, pp. 1541–42. Silverchair, https://doi.org/10.3945/ajcn.2010.29622. 
Thomson, Cynthia A., et al. "Relationship Between Sleep Quality and Quantity and Weight Loss in Women Participating in a Weight-Loss Intervention Trial." Obesity (Silver Spring, Md.), vol. 20, no. 7, July 2012, pp. 1419–25. PubMed Central, https://doi.org/10.1038/oby.2012.62.