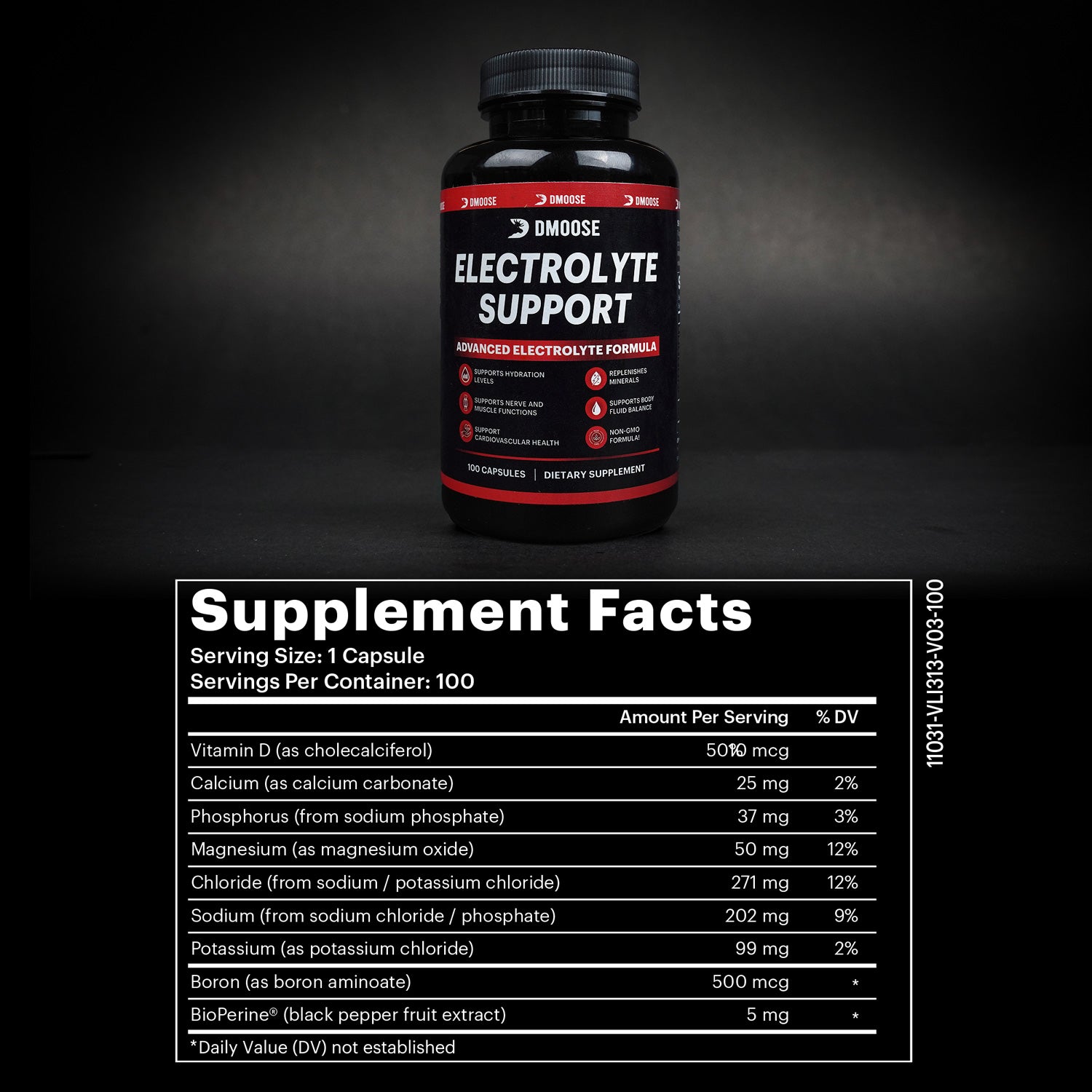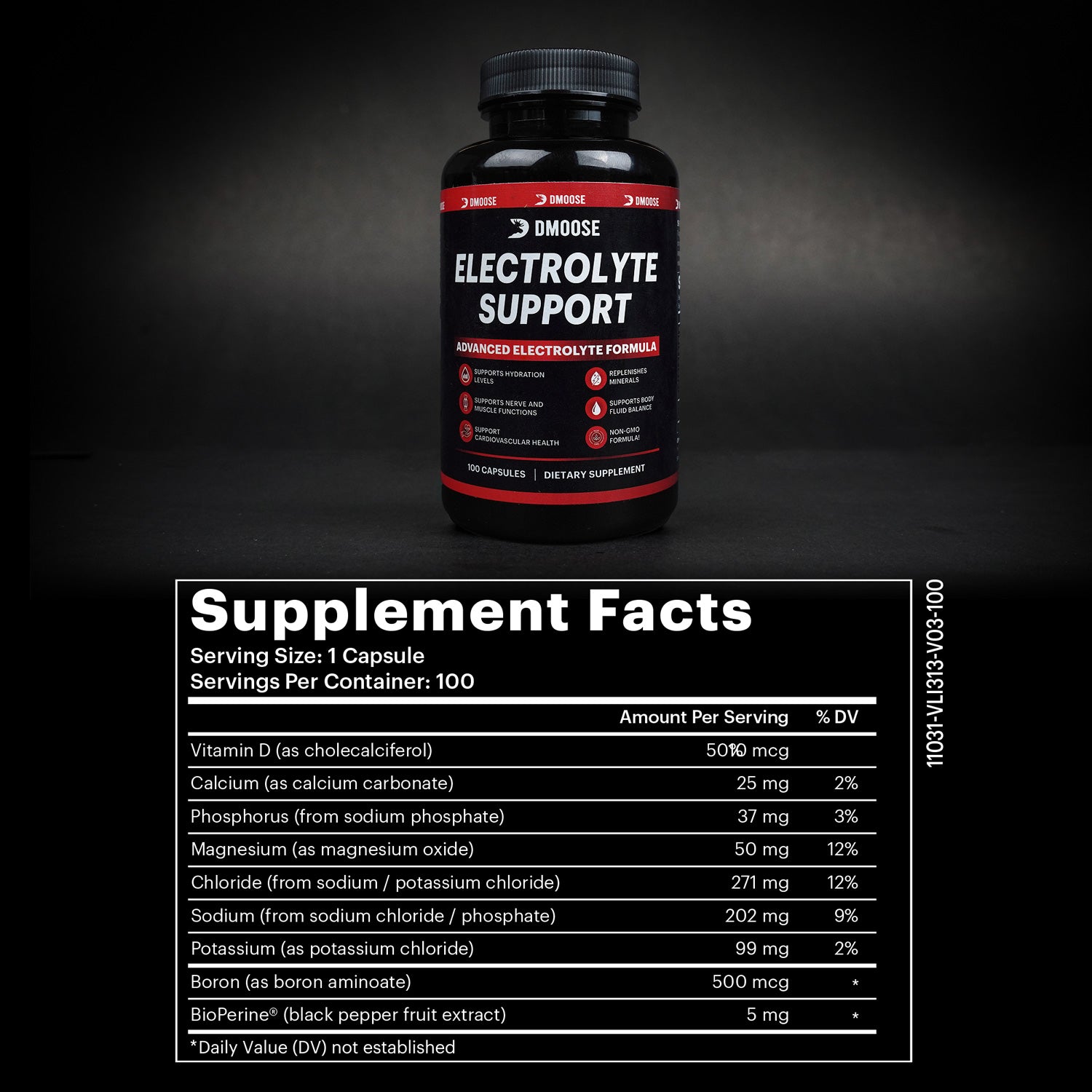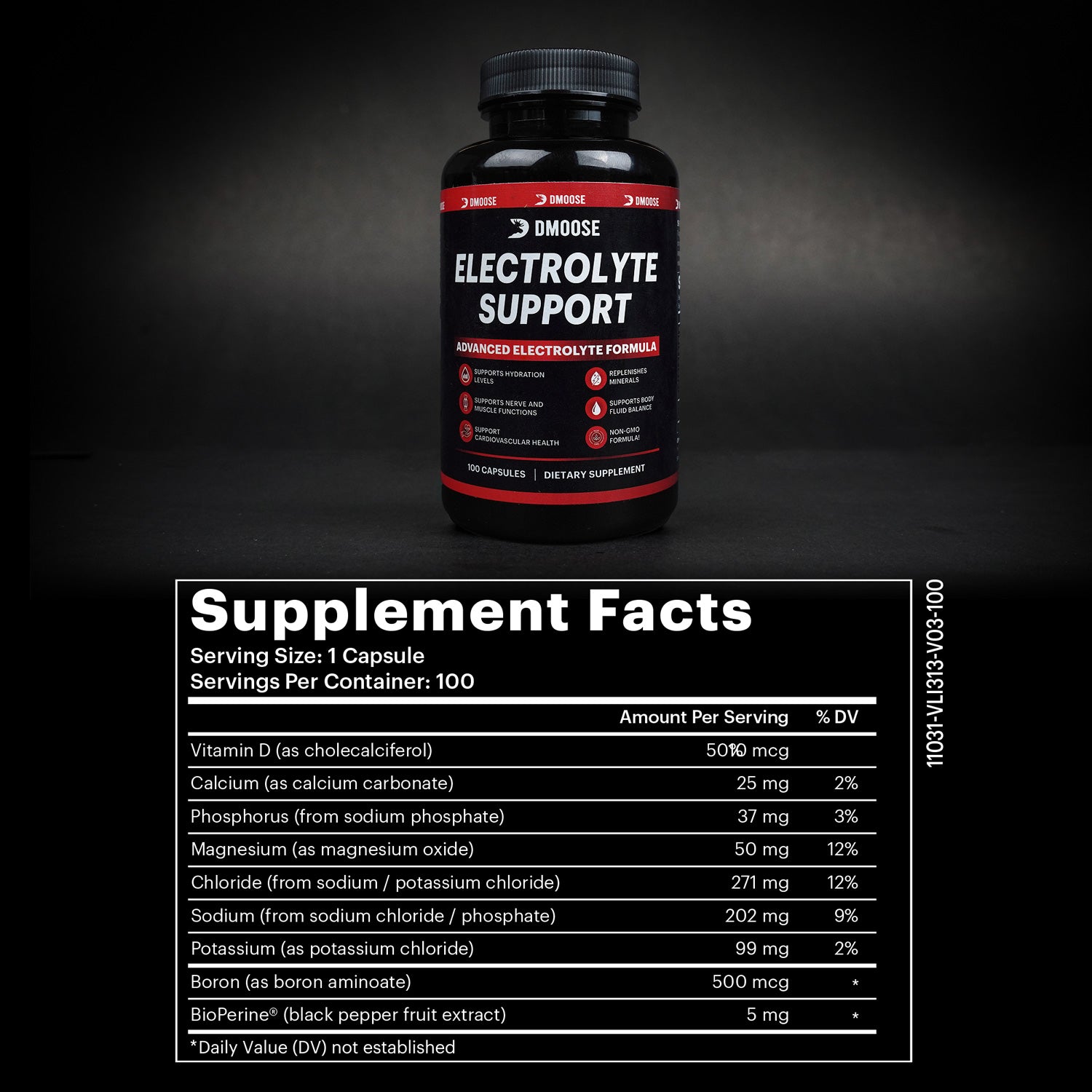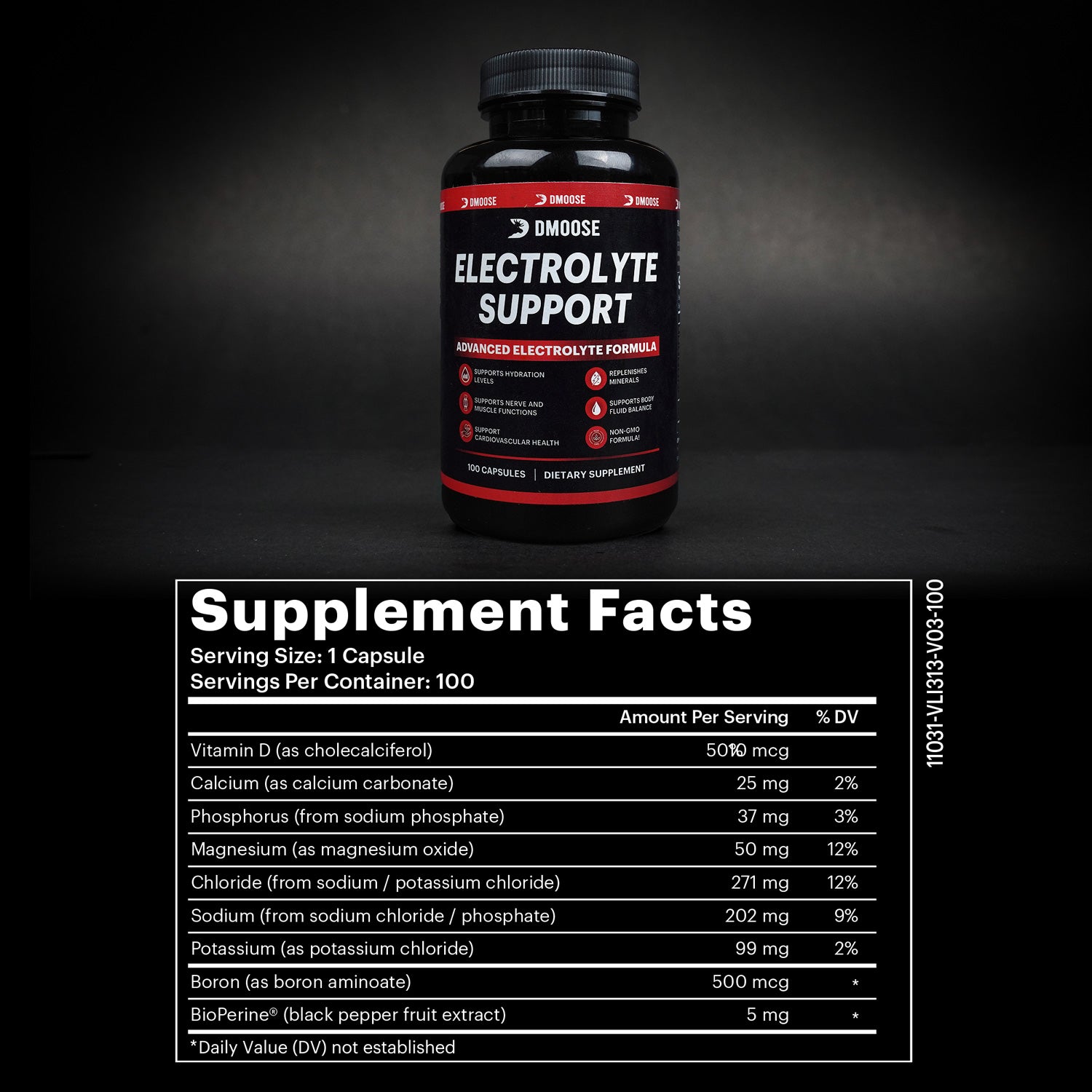 -31%
Sale price
$20

​
Regular price
$29

​
Unit price
per
& FREE Returns
Return this item for free
Free returns are available for the shipping address you chose. You can return the item for any reason in new and unused condition: no shipping charges
Learn more about free returns.
Why DMoose Electrolyte Capsules?
Optimal hydration
Replenish vital electrolytes and minerals.
Enhanced absorption
BioPerine® extract for maximum effectiveness.
Energy boost
Elevate energy levels and mental focus.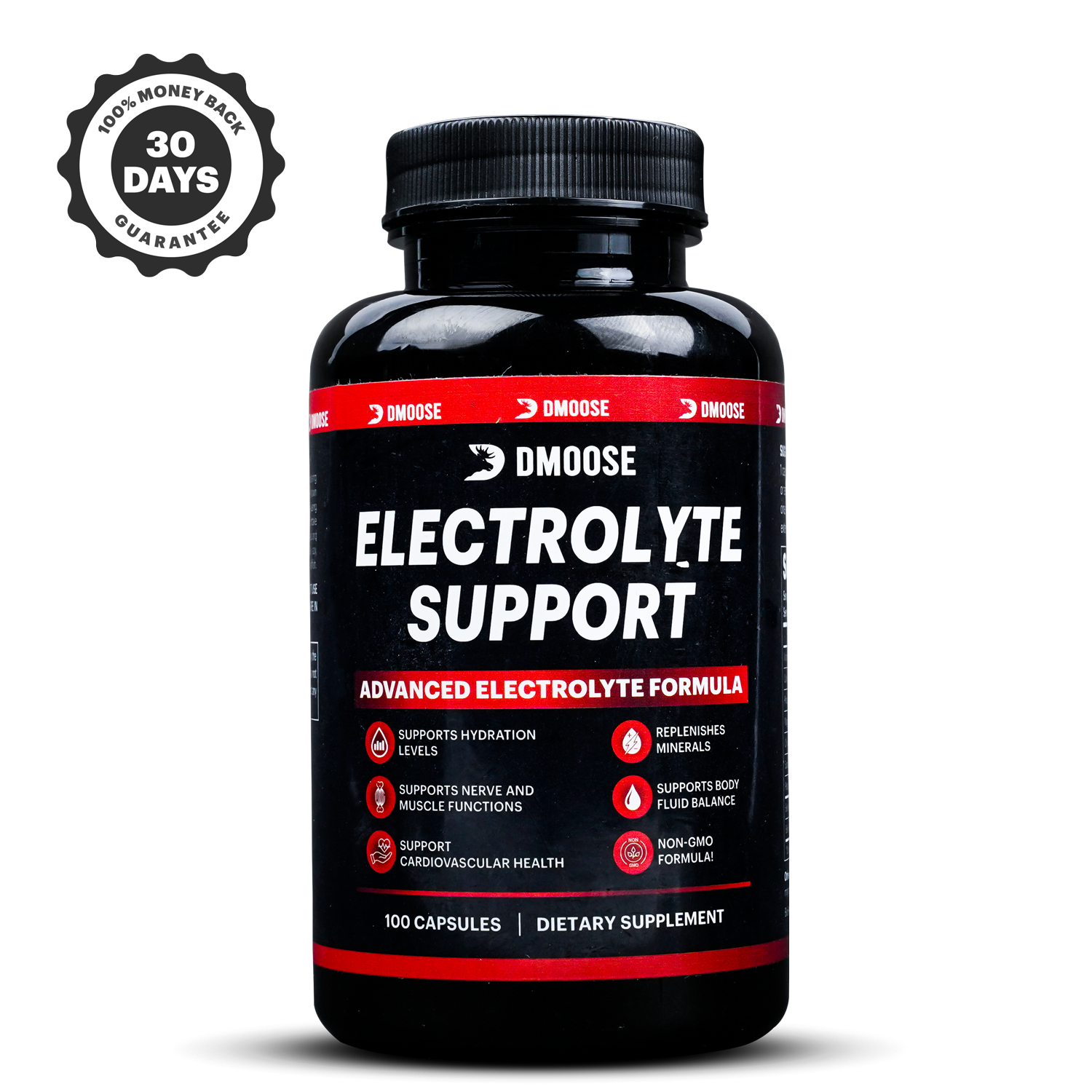 Protein Boost
9 grams of protein per serving to fuel muscle growth and recovery.
Hot or Cold Mix
Dissolves effortlessly in both hot and cold liquids.
Clean & Pure
No artificial additives or preservatives for a healthier you.
KNOW YOUR INGREDIENTS
Vitamin D - Immune Support

DMoose Electrolyte Capsules contain 10 mcg of cholecalciferol, a vital nutrient that helps maintain bone health, supports immune function, and aids in calcium absorption, ensuring proper muscle, nerve, and immune system function.
Essential Electrolytes - Hydration Balance

Replenish and energize your body with calcium, sodium, phosphorus, magnesium, chloride and potassium – the vital electrolytes in DMoose Electrolyte Capsules, designed to keep you hydrated and performing at your best.
Boron - Nutrient Absorption

DMoose Electrolyte Capsules contain 500 mcg of boron aminoate, a trace mineral that supports bone health, brain function, and the metabolism of essential nutrients like calcium, magnesium, and phosphorus.
BioPerine® - Enhanced Absorption

Our formula includes 5 mg of patented BioPerine® black pepper fruit extract, which enhances the bioavailability and absorption of nutrients in supplements, ensuring that your body can fully utilize the electrolytes and minerals in DMoose Electrolyte Capsules.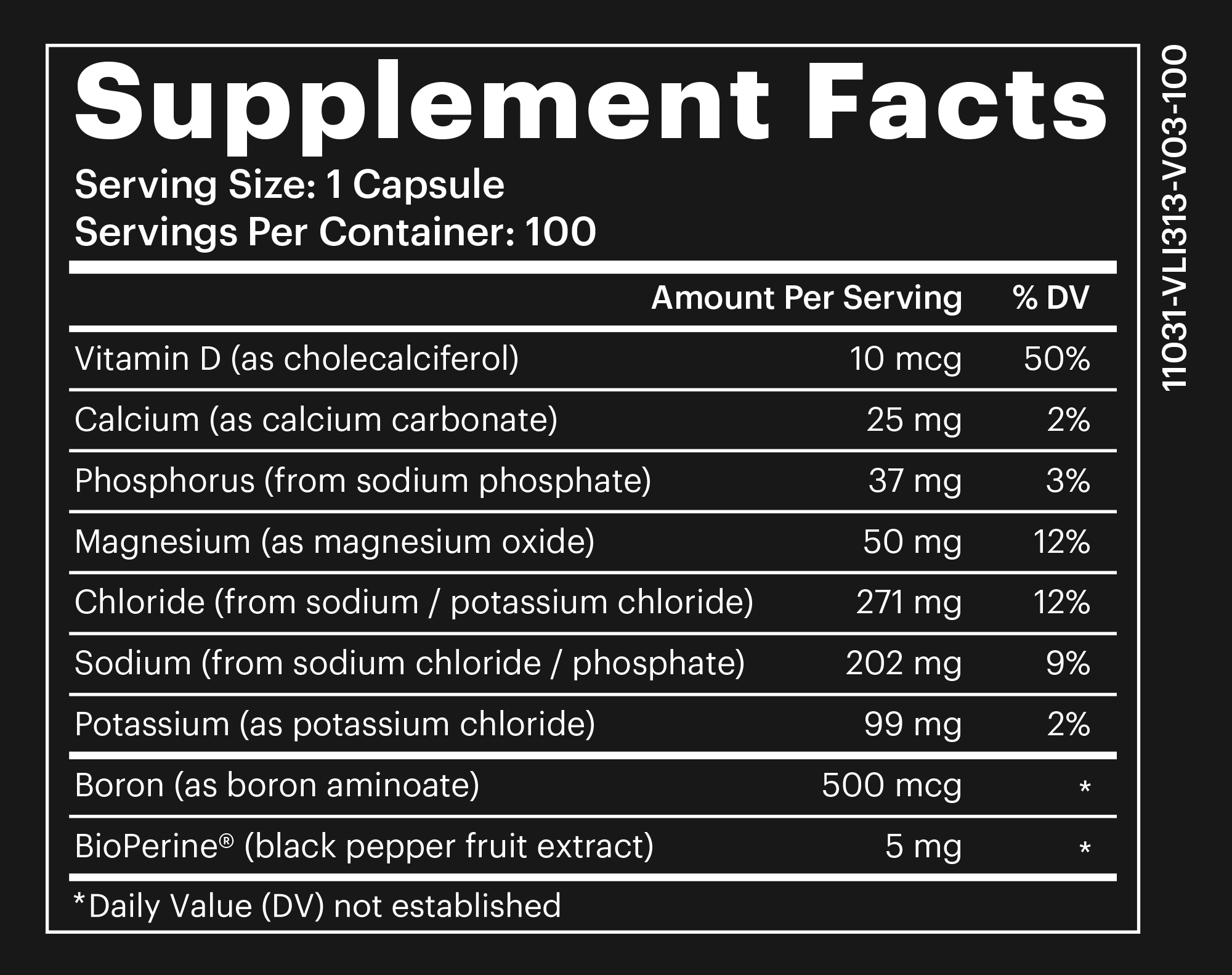 ×
What Our Customers Are Saying
Game Changer for Workouts
"DMoose Electrolyte Capsules have made a significant difference in my workouts. No more cramps or dehydration, and my energy levels are noticeably higher. These capsules are now a staple in my fitness routine."
- Sarah Thompson
Perfect for Marathon Training
"Training for a marathon can be tough, but DMoose Electrolyte Capsules have been a lifesaver. They keep me hydrated and focused during long runs, and I've noticed a decrease in muscle soreness. Highly recommended!"
- Jake Martinez
Quality and Convenience
"I love the convenience of DMoose Electrolyte Capsules. They're easy to take on-the-go and the quality of the ingredients is impressive. Since taking these capsules, I've experienced fewer muscle cramps and increased energy during my workouts."
- Emily Davis
Frequently Asked Questions
A. Each bottle of DMoose Electrolyte Capsules contains 100 capsules, providing a three-month supply if taken as directed (1 capsule per day).
A. DMoose Electrolyte Capsules are free from common allergens and do not contain any artificial ingredients.
A. It is important to consult with your healthcare professional before starting any new supplement, including DMoose Electrolyte Capsules, especially if you have a medical condition or are taking medications.
A. Yes, DMoose Electrolyte Capsules are suitable for both vegetarians and vegans as they do not contain any animal-derived ingredients.
A. Results may vary depending on individual factors such as diet, exercise routine, and overall health. However, many users report noticing improvements in hydration, energy levels, and muscle recovery within a few days to a couple of weeks of consistent use.
A. Yes, DMoose Electrolyte Capsules can be taken before, during, or after exercise to support hydration and muscle recovery. However, it's recommended to take them with a meal or as directed by your healthcare professional for optimal results.
More
Questions?
If you have any questions about this product please feel free to get in touch. we pride ourselves in the quality of our products and our customer service.
Electrolyte Capsules: Replenish, Energize, and Perform