"I love this product to use for cable kickbacks." -Sierra
-Inf%
Sale price
$18

​
Regular price
$0

​
Unit price
per
Why DMoose Ankle Straps?
Powder Coated Double D Rings
Ensures a secure attachment to cable machines, preventing slipping during exercises.
5mm Thick Neoprene Padding
Provides maximum comfort and protection for your ankles during workouts.
Breathable and Skin-Friendly Neoprene
Keeps skin irritation-free, allowing for extended, comfortable wear.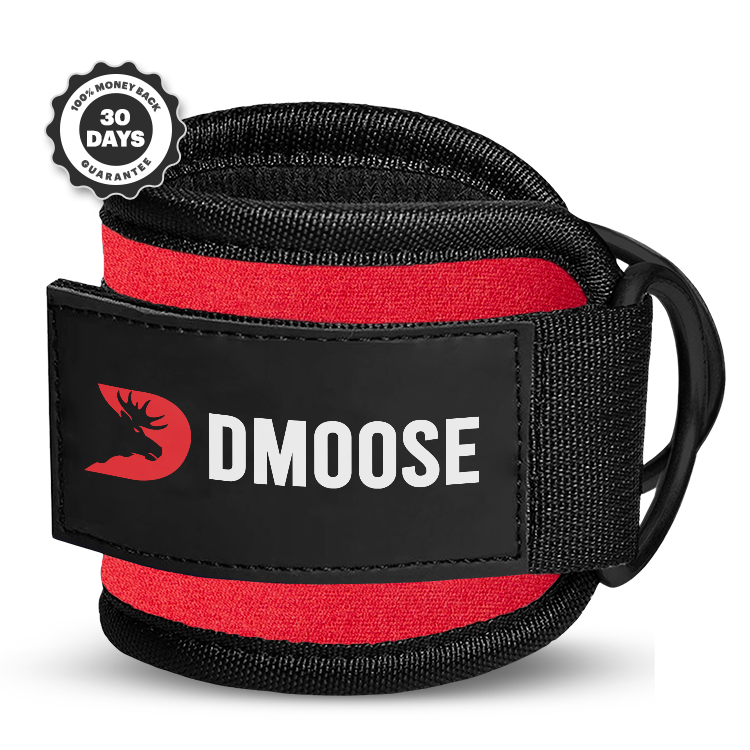 Versatile Design for Various Exercises
Suitable for a wide range of cable machine exercises, optimizing your workout routine.
Portable and Lightweight
Convenient, hassle-free, and perfect for everyday workout sessions.
Non-slip design
Ensures a secure grip and stability during various workouts.
What Our Customers Are Saying
Perfect for Cable Workouts!
"These ankle straps are incredible! The neoprene padding is super comfy, and the double D rings keep them securely in place. No more ankle discomfort or slipping during my leg curls and kickbacks. Love the eco-friendly packaging too!"
- Sarah Johnson
Comfortable and Effective!
"The neoprene padding on these ankle straps is top-notch, providing excellent support without irritation. The versatile design works great for multiple exercises, and the vibrant color options are a fun touch. My cable workouts have improved significantly since using these!"
- Mark Anderson
Stylish and Reliable!
"I'm obsessed with these ankle straps! The double D rings give me complete confidence during my gym sessions. The neoprene is soft on my skin, and the range of colors lets me match my workout gear. I appreciate the effort towards sustainability with the recyclable packaging too. Highly recommend it!"
- Emily Roberts
Frequently Asked Questions
A. Yes, our ankle straps feature powder-coated double D rings, ensuring a secure and universal attachment to most cable machines, making them perfect for various gym setups.
A. Absolutely! The ankle straps come with 5mm thick neoprene padding, providing maximum comfort and protection, allowing you to wear them for prolonged workouts without discomfort.
A. Not at all. The ankle straps are crafted from breathable and skin-friendly neoprene, preventing irritation and providing a smooth and enjoyable workout experience.
A. These versatile ankle straps support various exercises, including leg curls, hip abductions, glute kickbacks, cable leg raises, calf raises, and inner and outer thigh workouts.
A. Slide the ankle strap through the buckle to form a loop around your ankle. Adjust for a comfortable fit and securely fasten the buckle before moving.
A. Attach the ankle straps to your ankles. Then, connect them to a cable machine's low pulley and perform exercises like leg curls or hip abductions while maintaining proper form and control.
More
Questions?
If you have any questions about this product please feel free to get in touch. We pride ourselves in the quality of our products and our customer service.
Ankle Straps for Cable Machine