 -20%
Sale price
$527

​
Regular price
$659

​
Unit price
per
& FREE Returns
Return this item for free
Free returns are available for the shipping address you chose. You can return the item for any reason in new and unused condition: no shipping charges
Learn more about free returns.
Product Dimensions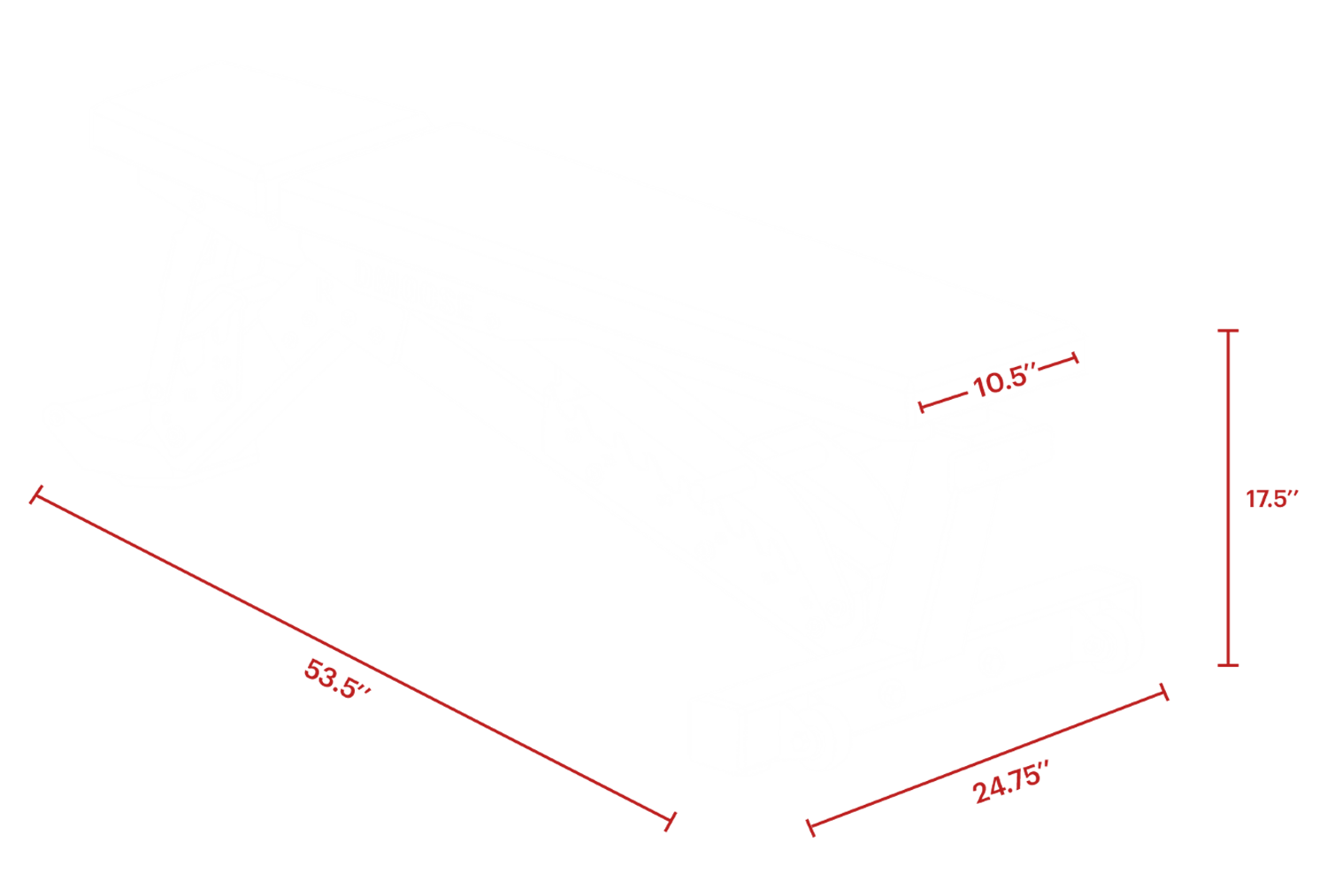 Steel Notes:

Frame - 3"x3" 11 Gauge Steel

(10) Back Adjustment Positions:

0, 15, 30, 37.5, 45, 52.5, 60, 67.5, 75, and 88 degrees

(3) Seat Adjustment Positions:

0, 15, 30 degrees

Pad Height:

17.5" Flat, 55.75" at 88 degrees

Pad Width:

10.5" (Grippy cover Foam Pad)

Pad Length:

52" (Overall Pad Length)

Foot Print:

24.75" Rear Foot Width x 53.5" Length at Base

Unit NET Weight:

110 LBS

Built-In Vertical Storage Stand

Wheels & Handle for mobility

Custom Plastic Feet on legs to prevent sliding, protect floor

Stainless Steel Adjustment Rails
WHY DMOOSE BENCH?
Versatile settings
10 back & 3 seat positions for diverse workouts
Durable frame
3" x 3" 11-gauge steel ensures long-lasting performance
Comfortable pad
Grippy foam provides added support during exercises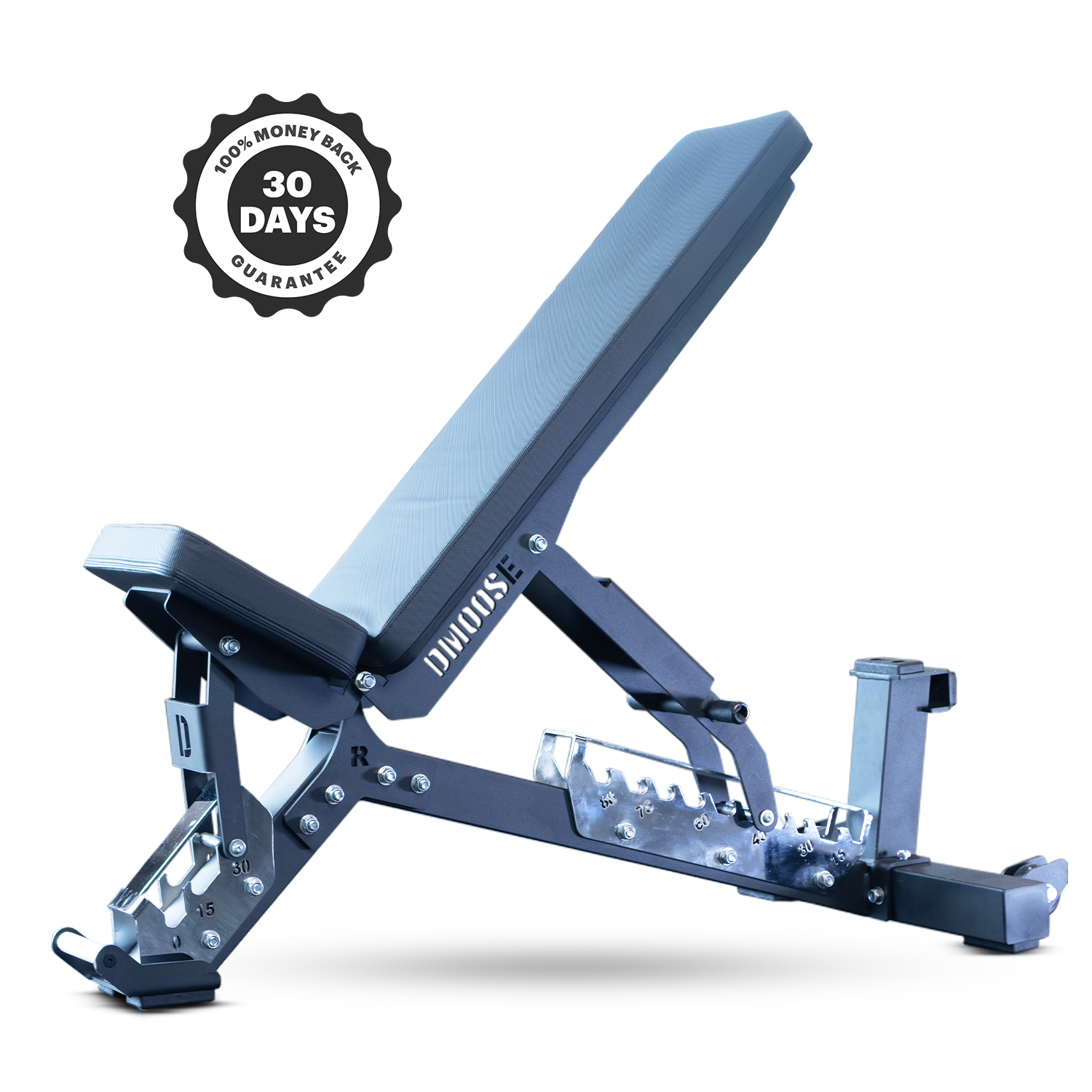 Easy mobility
Built-in storage, wheels & handle for space-saving and movement
Stable design
Custom rubber feet protect floors and enhance stability
Smooth adjustment
Stainless steel rails for secure and effortless positioning
What Our Customers Are Saying
Great Home Gym Addition
"Fantastic adjustable bench with multiple positions for targeting different muscle groups. Top-notch build quality and very sturdy. Highly recommended!"
- Jake T
Comfy and Versatile
"Exceeded expectations! Comfortable foam pad and perfect for various exercises. Easy to switch angles and move around. Great fitness investment."
- Laura P
Sturdy, Reliable Bench
"Satisfied with this adjustable bench's performance. Sturdy steel frame, stable grippy foam pad, and versatile for flat and incline exercises. Excellent home gym addition."
- Martin R
Frequently Asked Questions
A. The weight capacity of this adjustable bench is up to 1000 lbs.
A. Yes, the bench can be used for both flat and incline exercises, as it offers multiple back adjustment positions ranging from 0 to 88 degrees.
A. The bench offers 10 different incline angles: 0, 15, 30, 37.5, 45, 52.5, 60, 67.5, 75, and 88 degrees, providing versatility for various workouts. Total 30 possible combinations with 3 seat pad angles.
A. The dimensions of the bench when fully assembled are approximately 53.5" in length (base) and 24.75" in rear width. The pad height ranges from 17.5" when flat to 55.75" at 88 degrees.
A. Yes, assembly instructions are included with the bench, and all the tools required for assembly are provided.
A. Yes, the bench can be easily moved or transported after assembly, thanks to the built-in wheels and handle for mobility.
A. The bench frame is constructed from 3" x 3" 11 Gauge Steel, while the padding is made of a grippy cover foam pad.
A. DMoose offers a 30-day money-back guarantee for this adjustable bench. For additional warranty options, refer to the product documentation or contact the manufacturer.
A. To maintain and care for your adjustable bench, regularly inspect it for signs of wear or damage, wipe down the pad with a damp cloth, and dry it thoroughly. Lubricate any moving parts as needed and tighten bolts periodically to ensure stability. Always follow the manufacturer's guidelines for proper maintenance.
More
Questions?
If you have any questions about this product please feel free to get in touch. We pride ourselves in the quality of our products and our customer service.
DMoose Adjustable Bench - Ultimate Strength Training Solution