-Inf%
Sale price
$35

​
Regular price
Unit price
per
Neoprene Weightlifting Belt
Size Guide
Measure Around the Navel
Small
30 - 33
Medium
33 - 36
Large
37 - 40
X-Large
41 - 44
Measure Around the Navel
Small
76 - 83
Medium
83 - 91
Large
93 - 101
X-Large
104 - 111
Why DMoose Weightlifting Belt?
Reinforced Durability
Built tough with reinforced stitching for lasting support.
Lumbar Support
Protect your lower back and lift confidently with our built-in lumbar support.
Moisture-Wicking Neoprene
No sweaty discomfort with the comfortable neoprene material.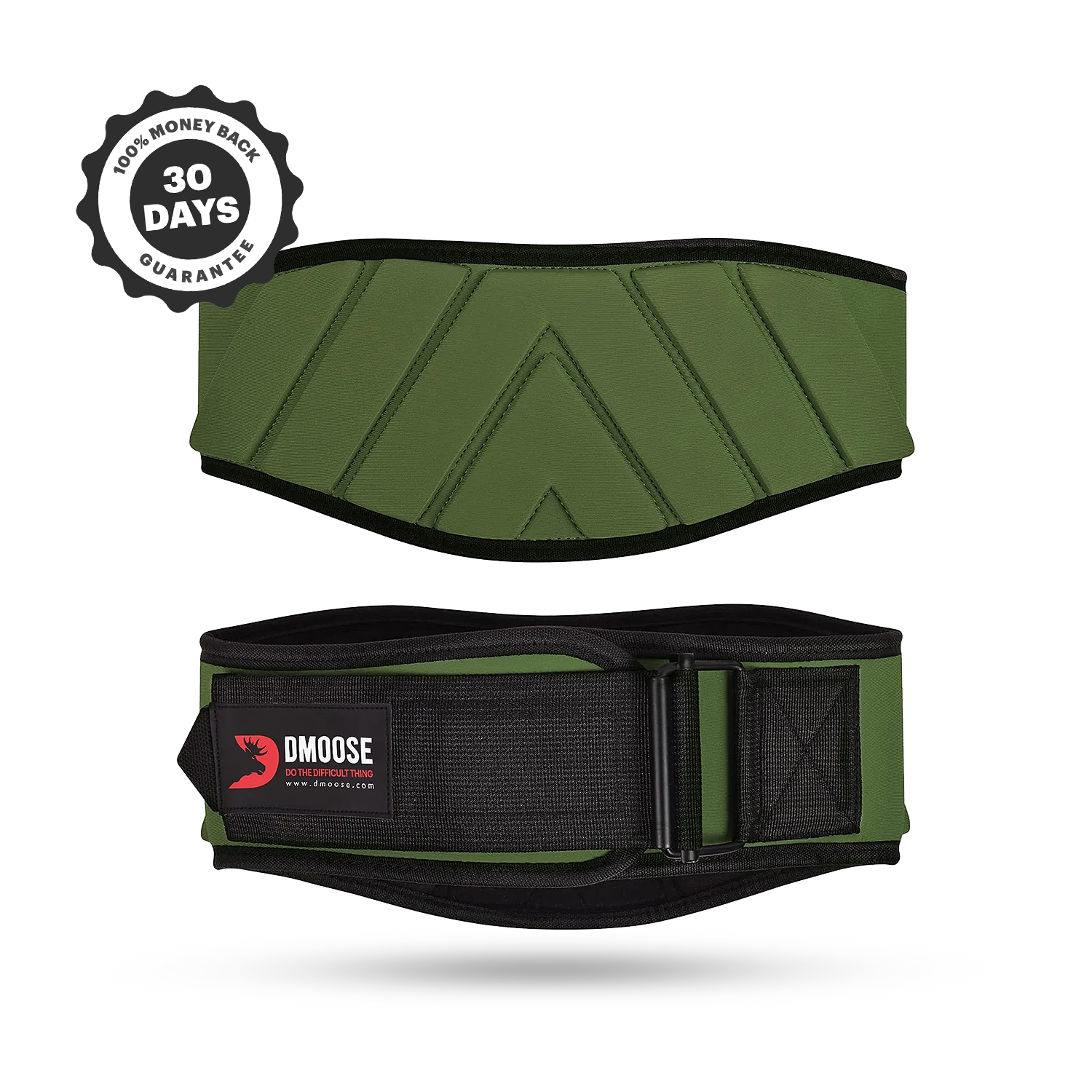 Quick Removal
Easy transitions, save time with our quick-release buckle.
Secure Fastening
DMoose neoprene weightlifting belt provides a secure fit, preventing slippage.
Universal Design
Ergonomically crafted for all, regardless of gender.
What Our Customers Are Saying
A Lifesaver!
"The DMoose Neoprene Weightlifting Belt has revolutionized my workout experience. I used to struggle with back pain after lifting, but this belt has provided the support I needed. Highly recommended!"
- Katherine J
Boosted My Confidence
"This belt not only keeps me safe during heavy lifts but also boosts my confidence. Knowing I have the DMoose Neoprene Belt on gives me the extra push to set new personal records."
- Robert B
Perfect Fit!
"I love how adjustable this belt is. It fits snugly and comfortably, making every workout a breeze. Thanks to DMoose, I can now train without worrying about my form."
- Elisa T
Frequently Asked Questions
A. Yes, it features a unisex design and is perfect for everyone.
A. The auto-locking buckle ensures a secure fit without needing constant adjustments.
A. Yes! It's one of the best neoprene belts for weightlifting and powerlifting.
A. Absolutely! Our belt is designed to cater to beginners and experienced lifters, offering the support and comfort needed for safe and effective workouts.
A. Yes, indeed! Our versatile neoprene belt is suitable for various exercises that engage your core and lower back.
More
Questions?
If you have any questions about this product please feel free to get in touch. We pride ourselves in the quality of our products and our customer service.
Neoprene Weightlifting Belt