-Inf%
Sale price
$45

​
Regular price
$0

​
Unit price
per
4" Leather Weightlifting Belt
Size Guide
Measure Around the Belly Button for the Correct Sizing.
Small
26 - 30
Medium
31 - 33
Large
34 - 38
X-Large
39 - 41
XX-Large
42 - 45
Measure Around the Belly Button for the Correct Sizing.
Small
66 - 76
Medium
78 - 83.8
Large
86.4 - 96.52
X-Large
99 - 104.14
XX-Large
106.6 - 114.3
Why DMoose Weightlifting Leather Belt?
Premium Quality Leather
Crafted from top-notch leather, our 4" leather belt guarantees flexibility and longevity.
Double-Pronged Buckle for Maximum Security
The belt features a double-pronged buckle design, providing maximum security.
Extra Wide 4" Padding
With its 4" width and generous padding, our belt offers exceptional lumbar support.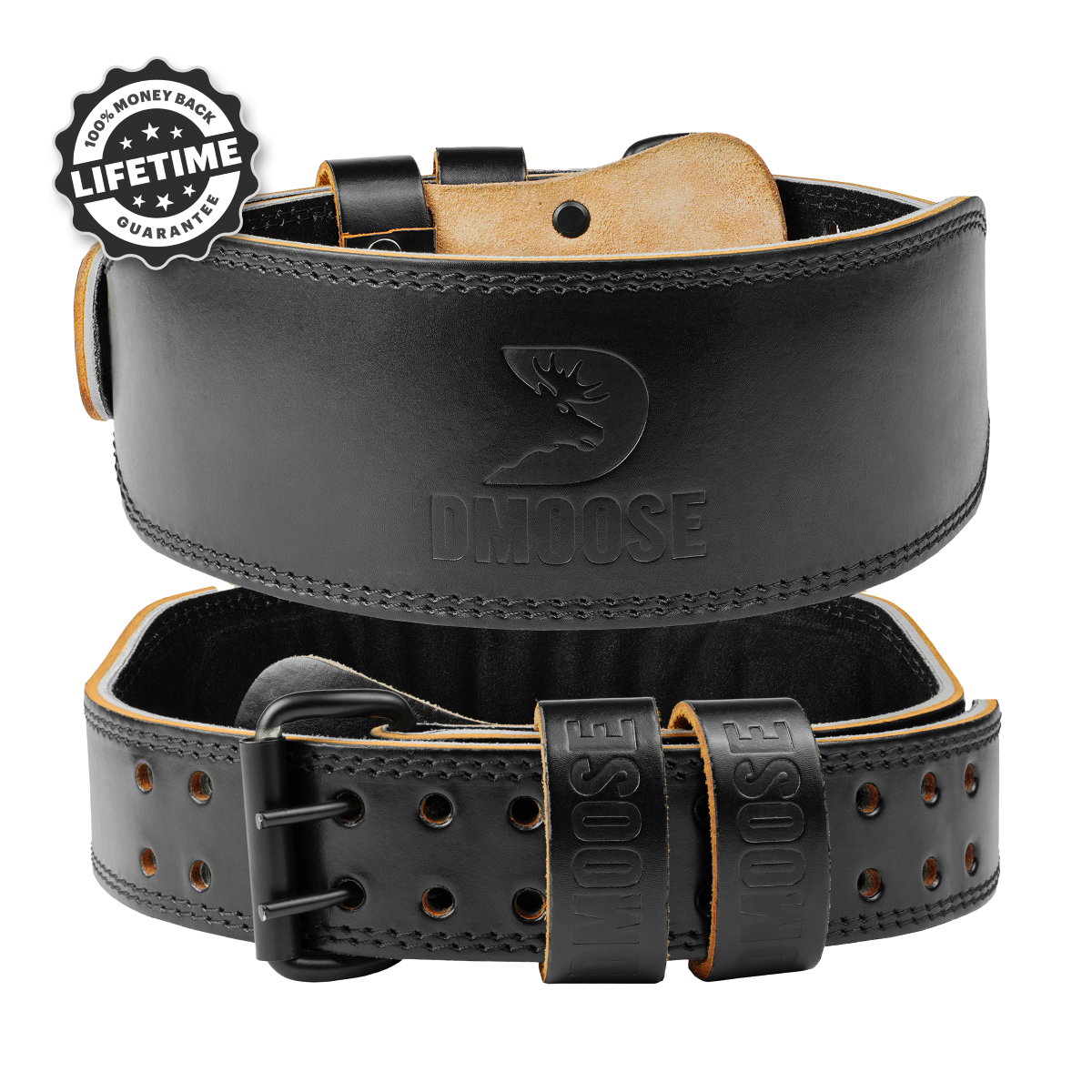 Adjustable Holes for Personalized Comfort
Enjoy a customized fit with our belt's 13 adjustable holes.
Built to Last
DMoose 4" leather belt boasts a sturdy construction reinforced with four coated rivets.
Specially Designed for Heavy Lifting
Ideal accessory for heavy lifting exercises, providing support and stability.
What Our Customers Are Saying
Top-Notch Support
"I've tried various leather belts for weightlifting, but this one is by far the best. It provides excellent support, and the quality of the leather is top-notch."
- Ben J
Surpassed Expectations
"I was initially hesitant to buy this belt, but it has exceeded my expectations. It's perfect for heavy lifts and doesn't slip during workouts."
- Sofia L
Game Changer Alert!
"The DMoose 4" Leather Belt is a game-changer. I can lift heavier weights without worrying about lower back pain or injury. Highly recommend it!"
- James B
Frequently Asked Questions
A. The belt comes in a range of sizes, from small to XXL.
A. Yes, it's perfect for both men and women.
A. Yes, it's ideal for powerlifting and lifting heavy weights.
A. The belt has a 4-inch width for maximum lower-back support.
A. Yes, it's crafted with high-quality genuine leather for durability.
A. Yes, we offer a 100% satisfaction guarantee and a 90-day warranty.
More
Questions?
If you have any questions about this product please feel free to get in touch. We pride ourselves in the quality of our products and our customer service.

4" Leather Weightlifting Belt