"Fit well and offer good support. A very good buy." -Larry
-Inf%
Sale price
$55

​
Regular price
$0

​
Unit price
per
Size Guide
Measure Around the Belly Button
Small
26 - 30
Medium
31 - 34
Large
35 - 38
X-Large
39 - 41
XX-Large
42 - 45
Measure Around the Belly Button
Small
66.4 - 76.2
Medium
78.7 - 86.3
Large
88.9 - 96.5
X-Large
99.6 - 104.1
XX-Large
106.6 - 114.3
Why DMoose 5MM Buckle Belt?
5mm Thickness
Offers exceptional stability during heavy lifts.
Powerlifting Speciality
Designed specifically for powerlifting routines.
Top Quality
Made from high-quality, authentic leather for lasting durability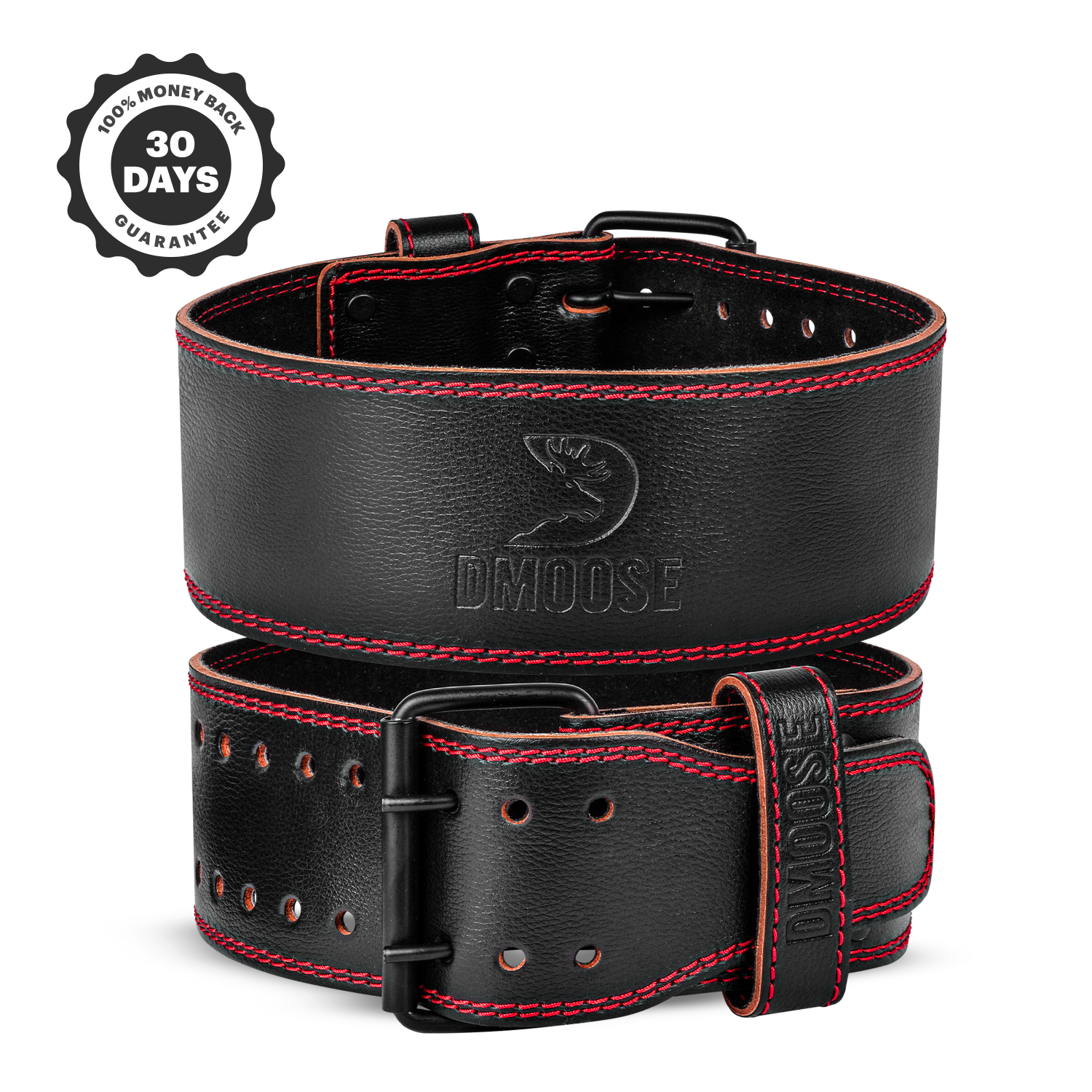 Lumbar Support
Provides excellent back support for safer lifting.
Double Pronged Buckle
Ensures a secure fit during all lifts.
Carry Bag Included
Convenient for easy transport and storage.
What Our Customers Are Saying
Stellar Support, Sleek Design
"I'm thrilled with this 5mm weightlifting belt! The support it offers is stellar, and it's incredibly comfortable. The double prong buckle keeps it snug during my entire workout. Plus, the sleek design has me lifting in style. A fantastic addition to my gym gear!"
- Laura S
Confidence Booster in the Gym
"This 5mm belt is amazing! It's helped me feel more secure and confident during lifts. The genuine leather is durable, and the double prong buckle ensures it stays in place. It's become an essential part of my training routine. Highly recommended!"
- Daniel R
Rock Solid and Comfortable
"I love this 5mm weightlifting belt! It's rock solid, providing the support I need without compromising comfort. The double prong buckle is easy to use and holds tight. It's perfect for anyone looking to enhance their lifting experience. Two thumbs up!"
- Rebecca C
Frequently Asked Questions
A. Yes, the 5mm thickness is suitable for heavy lifting, offering a balance between support and flexibility, making it ideal for a variety of exercises.
A. The 5mm weightlifting belt is typically made from genuine leather, which is durable and provides excellent support for your core during lifts.
A. Absolutely, the double prong buckle is designed to ensure that the belt stays securely in place during your lifting sessions, providing consistent support.
A. Yes, the 5mm weightlifting belt is versatile and can be used for a range of exercises including powerlifting, CrossFit, and other strength training routines.
A. To clean your 5mm weightlifting belt, use a damp cloth to wipe it down after use. Avoid using harsh chemicals. Store it in a cool, dry place to maintain its shape and longevity.
A. Yes, the 5mm weightlifting belt is suitable for all levels of lifters. It provides ample support for beginners learning proper form, and experienced lifters looking for additional core stability.
More
Questions?
If you have any questions about this product please feel free to get in touch. We pride ourselves in the quality of our products and our customer service.

5MM Weightlifting Belt