"fit was good, overall quality is amazing" -Liam
-Inf%
Sale price
$99

​
Regular price
$0

​
Unit price
per
Size Guide
Measure Around the Navel
Small
26 - 30
Medium
31 - 33
Large
34 - 38
X-Large
39 - 41
XX-Large
42 - 45
Measure Around the Navel
Small
66.4 - 76.2
Medium
78.7 - 83.8
Large
86.3 - 96.5
X-Large
99.6 - 104.1
XX-Large
106.6 - 114.3
Why DMoose 10mm buckle belt?
10mm Thickness
Offers exceptional stability during heavy lifts.
Powerlifting Speciality
Designed specifically for powerlifting routines.
Top Quality
Made from high-quality, authentic leather for lasting durability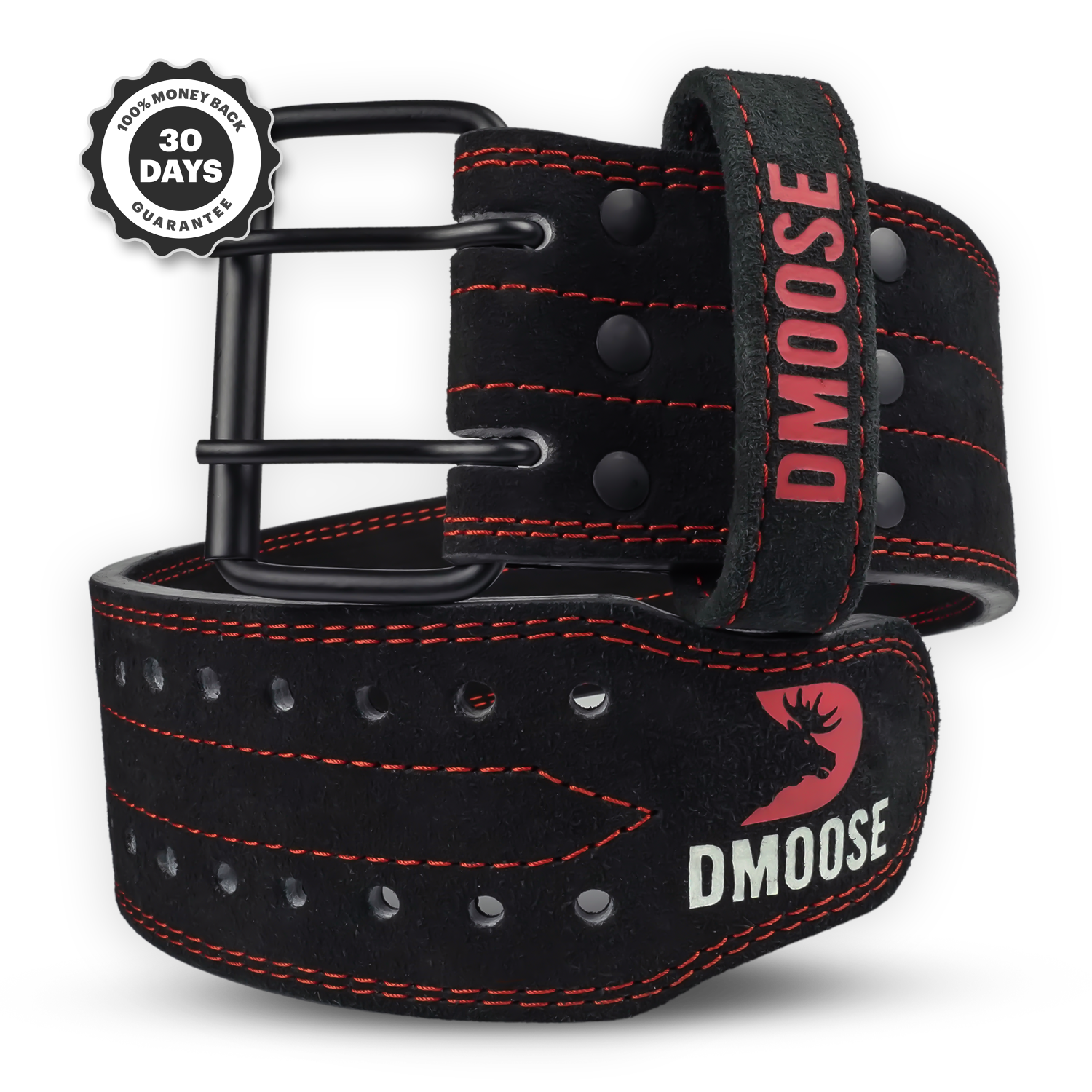 Lumbar Support
Provides excellent back support for safer lifting.
Double Pronged Buckle
Ensures a secure fit during all lifts.
Carry Bag Included
Convenient for easy transport and storage.
What Our Customers Are Saying
A Lifesaver for Lifting!
"I've been using this 10mm powerlifting belt for a month now and it's amazing! It fits perfectly, provides excellent support, and the genuine leather is truly durable. Highly recommended for anyone serious about their lifting."
- Elsie G
Worth Every Penny!
"This is by far the best 10mm lifting belt I've owned. The quality of the leather and the overall fit is top-notch. It's been integral in my powerlifting routine, adding an extra layer of safety and support."
- Mark T
Top-Notch Quality!
"The difference this 10mm belt makes is incredible! It's sturdy, supports my back, and the genuine leather construction really shows in its durability. It's definitely a must-have for any weightlifting enthusiasts."
- Lisa R
Frequently Asked Questions
A. The 10mm weightlifting belt is made of high-quality genuine leather, which is known for its durability and comfort during heavy lifts.
A. Yes, the double prong buckle is designed to provide extra security and stability. It ensures that the belt stays firmly in place during even the most intense lifting sessions.
A. Absolutely, the 10mm thickness is ideal for offering a balance of support and flexibility. It is thick enough to provide substantial support to the lower back without restricting movement.
A. Yes, the 10mm weightlifting belt is unisex and can be used by both men and women. It is designed to fit comfortably and provide support regardless of gender.
A. To determine the right size, measure the circumference around your waist, slightly above your hips. Compare this measurement with the sizing chart provided to select the appropriate size.
A. Yes, while the 10mm weightlifting belt is specifically designed for weightlifting, it can also be used for other forms of exercise like CrossFit or general gym workouts where core support is beneficial.
More
Questions?
If you have any questions about this product please feel free to get in touch. We pride ourselves in the quality of our products and our customer service.

10MM Weightlifting Belt