"Fantastic, the best ones I have ever owned" -Michael
-Inf%
Sale price
$18

​
Regular price
$0

​
Unit price
per
Why DMoose Wrist Wraps?
Industrial-Grade Hook and Loop Fasteners
Ensures a secure fit, preventing slipping during workouts.
Thumb Loop
Offers added convenience for easy application and removal.
Customizable Support
Choose between 12-inch and 18-inch options for a personalized fit.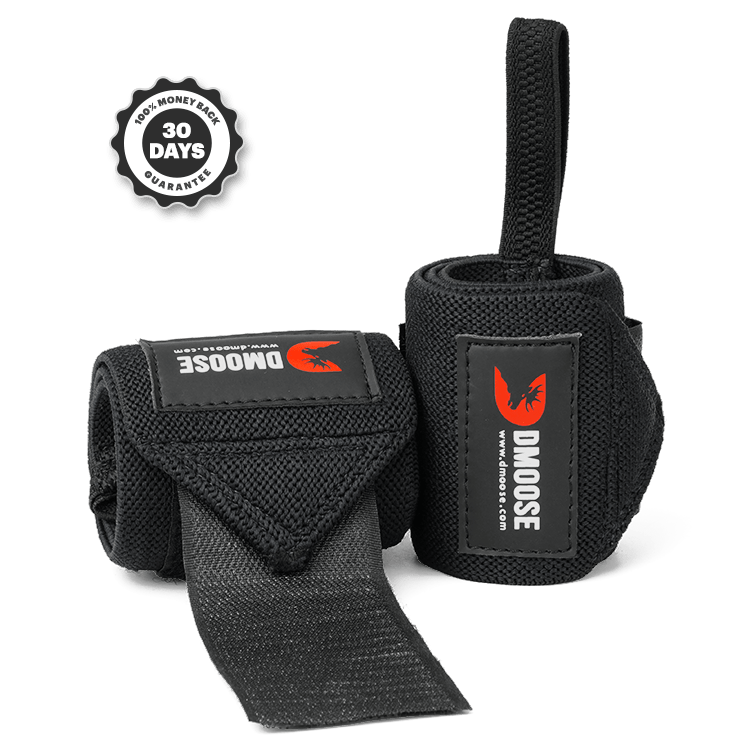 Double-Reinforced Stitching
Provides durability, withstanding rigorous training routines.
Cotton and Elastic Blend
Offers a comfortable and flexible feel during workouts.
Multiple Colour Options
Adds a splash of style to your gym gear, matching your personality.
What Our Customers Are Saying
Perfect Support for Heavy Lifts!
"The DMoose Wrist Wraps have transformed my workouts! The industrial-grade hook and loop fasteners provide unmatched stability, and the thumb loop makes them a breeze to put on. The customizability of the 18-inch option gives me the perfect support for heavy lifts. A must-have for serious lifters!"
- Tiffani F
Comfortable and Stylish!
"I love my DMoose Wrist Wraps! The cotton and elastic blend feels great on my wrists, offering support and flexibility. Plus, the double-reinforced stitching ensures they withstand my intense training. With multiple exciting colour options, I can match them to my gym outfits. Highly recommend these wraps!"
- Lewis J
Injury Prevention Essential!
"As a fitness enthusiast, injury prevention is crucial. The DMoose Wrist Wraps deliver exactly that! The 12-inch option suits my dynamic workouts, and the secure fit from the hook and loop fasteners keeps my wrists safe. They're comfortable and durable and boost my confidence during every lift. Fantastic product!"
- Christian S
Frequently Asked Questions
A. Select the 12-inch wraps for moderate support and flexibility during workouts. Opt for the 18-inch wraps for maximum support, ideal for heavy lifting and intense exercises.
A. Absolutely! The Wrist Wraps by DMoose are suitable for both beginners and seasoned lifters. They provide essential wrist support, ensuring safety and confidence during all fitness levels.
A. Yes, they are! Our wrist wraps are made from a comfortable cotton and elastic blend, allowing flexibility without compromising support. They'll keep you comfortable throughout your workouts.
A. The wrist wraps feature double-reinforced stitching, ensuring exceptional durability to withstand rigorous training routines and prolonged use.
A. Absolutely! DMoose Wrist Wraps are versatile and can be used for various exercises, such as CrossFit, powerlifting, and bodybuilding, providing support during any intense workout.
A. Simply slide your hand through the loop, wrap the straps around your wrist, and use the industrial-grade hook and loop fasteners to secure the fit. The thumb loop adds convenience during application and removal.
More
Questions?
If you have any questions about this product please feel free to get in touch. We pride ourselves in the quality of our products and our customer service.

Wrist Wraps for Weightlifting