Want to be so strong that people would be envious, and you'd be the talk of the town? You want to inspire respect and envy in hearts with a body that speaks only one language - unmatched strength. Do you know what this sounds like? It sounds like the biggest legend in weightlifting history, aka George Hackenschmidt!
The man was an icon, history in himself. He was one of a kind. If you aspire to be like him, you might as well behave like him, eat like him and train like him. Follow his ideologies, and you have a good chance of having that awe-inspiring body that Schmidt had. 
George Hackenschmidt's workout routine is an excellent way for beginners to get started. It is simple yet effective and can be done by anyone, regardless of their fitness level. So what are you waiting for? Get started today and see the results for yourself!
Workout Summary
| | |
| --- | --- |
| Main Goal | Build Muscle |
| Workout Type | Split |
| Training Level | Beginner |
| Program Duration | 12 weeks |
| Days Per Week | 3 |
| Time Per Workout | 45-70 minutes |
| Equipment Required | Barbells, Bodyweight, Cables, Kettlebells, Dumbbells, Machines |
| Target Gender | Male & Female |
Who Was George Hackenschmidt?
George Hackenschmidt was a Russian professional wrestler, strongman, and physical culture pioneer. He was nicknamed "The Russian Lion" and is considered one of the first true world champions in professional wrestling.
Hackenschmidt was born in 1877 in Tartu, Estonia, then part of the Russian Empire. He began his athletic career as a gymnast and later became interested in wrestling. He quickly rose to prominence in the sport, winning the European Greco-Roman Wrestling Championship in 1902.
In 1904, Hackenschmidt traveled to America to challenge Frank Gotch for the World Heavyweight Wrestling Championship. Although he lost the match, Hackenschmidt's performance was so impressive that he gained a large following of fans in the United States.
Hackenschmidt returned to Europe and continued his success streak, winning the World Heavyweight Championship in 1905. He held the title until 1908 when he lost it to American wrestler Ed "Strangler" Lewis.
Hackenschmidt retired from wrestling in 1913 but remained active in the world of physical culture. He wrote several books on diet and exercise and opened a chain of gyms across Europe.
Hackenschmidt's workout routine was ahead of its time, and his physical training philosophy is still relevant today. His diet and exercise principles improve their health and well-being regardless of their fitness level.
Hackenschmidt's Strength Training and Diet Philosophies
George Hackenschmidt firmly believed in the importance of strength training. He believed that strength training was the key to unlocking one's true potential, both physically and mentally.
Hackenschmidt believed that lifting heavyweights was the best way to train for strength. He advocated using compound exercises such as the squat, deadlift, and bench press to build muscle and strength.
Hackenschmidt also believed in the importance of rest and recovery. He advised his athletes to take at least one day off per week to allow their bodies to recover from strenuous workouts.
Today, Hackenschmidt's philosophy of strength is still relevant. Strength training is integral to any fitness journey and can help you reach your goals. Get started today and see results for yourself!
George Hackenschmidt believed diet was as important as exercise to achieve optimal health. He advocated a healthy and balanced diet with plenty of fruits, vegetables, and lean protein. Hackenschmidt believed that processed foods and sugary drinks were detrimental to one's health and should be avoided. He also advised against eating late at night, which can lead to weight gain. Today, Hackenschmidt's diet philosophy is still relevant. Eating a healthy and balanced diet is essential for achieving optimal health.
Related Article: 7 Practical Things You Can Apply to Make Your Deadlift Easier
The hexagonal dumbbell consists of two weighted heads connected by a central grip shaft. It's the future of weight training and it's waiting for you.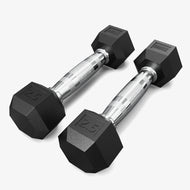 TRENDING ARTICLES
Workout Description
This workout embodies what Hack believed in regarding strength training. It is a modern version of George's favorite exercises and his training and diet philosophies. It is based on three days of activity and four days of rest to allow muscles to heal from the strenuous exercises' results.
Hackenschmidt believed in weight lifting for gaining strength, and this workout follows his philosophy. All the exercises are based on weightlifting and muscle strengthening. The required number of reps is fewer than usual. Because although Hack believed in weightlifting and strength training, he was totally against excess of it. He trained excessively but never trained for muscle failure.Hackenschmidt believed in moderation, and so does this workout. You will train only as much as possible and take a two-minute break when overwhelmed.
The workout also allows you to rest for 4 days so your muscles return to normal after being stressed with exercises. Power up your workout with the Hackenschmidt diet philosophy and avoid sugar and processed food. He believed in natural ways and advocated taking raw food most of the time.
He would say,"Man was born without a frying pan and stew pots."
He ate vegetables and legumes and wasn't a big meat fan which is quite unlike most bodybuilders of our age who live off protein. George did not believe in abandoning cardio exercises and advocated running, swimming, cycling, walking, or combining all of these.
Related Article: Why Everyone Should Be Doing Cardio and What Are the Best Exercises to Do
THE SECRET FORMULA TO BULK
UP & BUILD SERIOUS MUSCLES
SHOP NOW
George Hackenschmidt Workout 1 to 4 Weeks: Chest, Shoulders, Triceps
This workout plan combines Hackenschmidt's training philosophies and favorite movements with today's modern technology and principles. Every work set you to perform should be a challenge but successful. If you have one or two reps left at the end, you're using the proper weight. Rest for two minutes between sets.
Your cardio can be biking, swimming, running, walking, sprints, or a combination. Perform 20-30 minutes of activity 4-5 days a week, either after your weight training or at a separate time.
| | | |
| --- | --- | --- |
| Exercise | Sets | Reps |
| | 5 | 5 |
| | 3 | 4-6 |
| | 3 | 6-8 |
| | 3 | 8 |
| | 3 | 8 |
| | 3 | 8 |
Hackenschmidt's Training Principles
George Hackenschmidt is one of the most prominent bodybuilding icons of the early 20th century. He is credited with popularizing the concept of progressive overload, which involves gradually increasing the weight or resistance of an exercise to build muscle strength and size.
Hackenschmidt believed bodybuilding was about building muscle mass and promoting overall health and wellness. He emphasized the importance of proper form, nutrition, and recovery in achieving optimal performance. His training principles continue to inspire fitness enthusiasts and athletes worldwide. Let's have a look at the training principles.
"The exercises should not exceed one-quarter of an hour at the commencement and should only be increased by five minutes in a few months. Afterward, about thirty minutes are fully sufficient to acquire and preserve strength and endurance."
- George Hackenschmidt.
Full-Body Workouts
Hackenschmidt believed in training the entire body for overall development. Rather than isolating specific muscle groups, he focused on compound exercises that engaged multiple muscles simultaneously. This approach allowed for efficient use of training time and promoted functional strength.
Progressive Overload
To continually challenge the body and stimulate muscle growth, Hackenschmidt emphasized progressive overload. This involved gradually increasing the resistance or difficulty of exercises over time.
Whether adding weight, increasing reps, or reducing rest periods, the goal was consistently pushing the body beyond its comfort zone.
Functional Strength and Endurance
Hackenschmidt recognized the importance of functional strength for everyday activities and athletic performance. He incorporated exercises that mimicked real-life movements, such as squats, deadlifts, and overhead presses. Additionally, he incorporated high-intensity interval training (HIIT) to improve cardiovascular fitness and endurance.
Mind-Muscle Connection
Hackenschmidt emphasized the mind-muscle connection, focusing on the specific muscle targeted during each exercise. Individuals can optimize muscle activation and achieve better results by consciously engaging the muscle and maintaining proper form and technique.
Recovery and Rest
Hackenschmidt understood the significance of rest and recovery in achieving optimal performance and muscle growth. He advocated incorporating rest days into the training routine and ensuring sufficient sleep.
Additionally, he recommended utilizing active recovery techniques such as stretching and foam rolling. These practices help reduce muscle soreness, improve flexibility, and promote blood circulation.
"Do not perform any exercise to excess to tire yourself out. If you feel tired and exhausted, give yourself the necessary rest, and, as in everything else, use moderation and common sense. Remember that excessive and rapid exercising is harmful."
Related Article: How to Get Rid of Muscle Knots? An Exercise Physiologist Explains
The Secret to Bigger and Stronger Arms
SHOP NOW
FAQs
1. What exercises are included in George Hackenschmidt's workout routine?
His program primarily consists of weightlifting, gymnastics, and calistics exercises such as squats, deadlifts, presses (bench press & overhead press), rows (barbell or dumbbell), pull-ups, push-ups, dips, handstands, bridges/backbends, etc.
2. Is George Hackenschmidt's workout routine suitable for beginners?
Yes! His program is perfect for beginners since it focuses on form overload - meaning you should use lighter weights at higher reps to ensure you are using proper form when performing the exercises.
3. How many reps should I do for each exercise?
George Hackenschmidt believed that strength training should involve heavier weights at lower reps - generally in the range of 8-10 repetitions per set.
4. What is the best way to finish up my workout routine?
After completing your weightlifting and calisthenic exercises, end with some stretching or foam rolling, which will help improve flexibility and reduce soreness. This will help ensure that your muscles recover properly from your workouts.
Key Takeaways
George Hackenschmidt's impact on the world of bodybuilding is undeniable. His training principles, dedication to functional strength, and emphasis on balance have inspired generations of athletes and fitness enthusiasts. Hackenschmidt's approach to bodybuilding goes beyond mere aesthetics and focuses on overall health, athleticism, and longevity.
By incorporating Hackenschmidt's training principles into your workout routine, you can unlock your full potential and achieve remarkable results. Remember to prioritize full-body workouts, progressive overload, functional strength, and the mind-muscle connection. Additionally, pay attention to recovery and rest, as they are crucial in optimizing your training gains.