Feeling frustrated with those stubborn love handles that just won't budge, no matter how many crunches you do? 
We get it – toning your abs and obliques can be a real challenge.
But here's the good news: there's a simple yet effective solution, "the Best Ab Roller Wheel Kit with Elbow Support and Knee Pads. It will help you target those hard-to-reach oblique muscles and sculpt your midsection.
If you're tired of endless crunches that seem to lead nowhere, incorporating ab wheel exercises into your workout routine might just be the game-changer you've been looking for.
In this article, we'll guide you through how to use ab wheel for ab and oblique workouts, making sure you understand the techniques and benefits.
What Are Obliques?
Located on the sides of your abdomen, the obliques are a group of muscles essential for various movements, stability, and overall functional fitn
The oblique muscles are divided into two main groups: the external obliques and the internal obliques.
External Obliques
These are the largest and outermost muscles of the oblique group.
They run diagonally from the lower ribs to the front of the hip bone and are responsible for flexing the spine, rotating the torso, and bending the torso sideways.
Internal Obliques
Situated beneath the external obliques, the internal obliques run in the opposite direction.
They help with the same movements as the external obliques but work in the opposite direction, providing rotational stability to the core.
A strong core, including well-toned obliques, may prevent injuries by providing support to the spine and improving overall body mechanics.
Related Article: Difference in Ab Roller Vs. Traditional Crunches
TRENDING ARTICLES
Essential Ab Wheel Oblique Exercises
Using an ab wheel can be a real deal for strengthening your oblique muscles. Ab exercises for obliques focus on your sides, giving you a toned and strong core.
By rolling the ab wheel in different directions, you engage your obliques, enhancing stability and preventing injuries.
These movements challenge your core muscles, making them work hard to maintain balance.
As a result, your obliques get stronger, and your overall core strength is improved.
Below are some of the best oblique exercises you can do with an abs wheeler at home!
1. Ab Wheel Leans
The ab roller lean is an effective exercise that targets the core muscles, offering a challenging yet rewarding workout.
The simplicity of the ab roller lean belies its intensity; it requires and builds stability, control, and endurance.
How to do it?
Kneel on the ground or a mat, keeping your back straight and legs together.
Grip the handles of the ab wheel firmly.
Engage your core by pulling your belly button towards your spine.
Roll the ab wheel forward slowly, extending your arms and keeping your core tight and back straight.
Lean forward as you roll the wheel beyond your hands, maintaining control and core engagement.
Hold the lean briefly, focusing on abdominal muscle contraction and stability.
Return to the start by rolling the wheel back towards your knees with controlled, core-driven movements.
Repeat for your desired number of reps, ensuring proper form and control.
2. Hip Abducted Ab Rollout
The hip abducted ab rollout is an effective abs wheel exercise that engages your hip abductors and core muscles. It may improve core stability and balance and help you achieve a toned midsection.
How to do it?
Stand by the ab roller, feet apart.
Bend and grip the handle at shoulder height
Roll forward, spreading legs
Extend body, keeping back straight
Pause, feeling core and hip tension
Rollback, closing legs
Do 8-10 reps for core and hips
3. Kneeling Lateral Ab Rollouts
Kneeling Lateral Ab Rollouts are a tough twist on the usual ab rollout exercise, focusing more on your side abs, like the obliques.
This exercise adds a side-to-side movement, giving your core a unique challenge. It boosts your side core strength stability and helps with twisting movements.
Adding this to your workouts can build a stronger, more balanced core, which is great for everyday activities and boosts your overall athletic ability.
How to do it?
Kneel on the ground or a mat, legs together, back straight, hands on the ab wheel.
Engage your core, pulling your belly button towards your spine.
Roll the ab wheel forward, arms extended, keeping your core tight and back straight.
Rotate your hips to one side at full extension, moving the ab wheel diagonally.
Keep control, engaging the obliques on one side.
Pause briefly in this side position.
Return to start by bringing the ab wheel back to center.
Repeat, rotating to the opposite side, alternating sides with each rep, focusing on form and control.
4. Single-Leg Roll Out
When it comes to the best oblique exercises at home, nobody can ignore single-leg rollouts targeting lower abs. Not only will it help strengthen the core and abdominal muscles, it will also enhance balance and stability.
How to do it?
Begin kneeling in front of an ab roller
Hold the ab roller handles with hands shoulder-width apart
Lift one leg behind you, keeping the other knee on the floor
Roll the ab roller forward, extending your body in a straight line
Pause briefly at full extension
Roll the ab roller back by bending your hips and knees
Perform 8-10 reps on one leg before switching to the other
5. Ab Roller Twists
Ab Roller Twist is an intense core exercise for your abdominal muscles, targeting abs, obliques, and stabilizers.
It combines rotation to challenge and strengthen your core, enhancing rotational strength and stability.
How to do it?
Kneel on a mat, legs together, back straight.
Grip the ab wheel handles firmly.
Engage your core, pulling your belly button towards your spine.
Roll the ab wheel forward, arms extended, keeping your core tight.
At full extension, twist your torso to one side, moving the wheel diagonally.
Keep arms extended, using your core for control.
Pause briefly in the twist.
Return to start by untwisting the wheel back to center.
Repeat, twisting to the other side.
Alternate sides for each rep, focusing on form and core engagement.
Related Article: Ab Rollout — How to Do It, Muscles Worked, Variations & Common Mistakes
Choosing the Right Ab Wheel
Selecting the right ab roller is essential for effective core and oblique workouts. When it comes to quality and performance, the DMoose Ab Roller Wheel is a top choice.
The product stands out as your best ally for your core workouts. How?
Its wider wheels guarantee unmatched stability, ensuring every oblique exercise is spot-on, eliminating the wobble that often accompanies inferior rollers.
The premium rubber-coated handles promise an unyielding grip, letting you focus entirely on your core, even during the most intense sessions.
Its compactness means you can carry your commitment to fitness everywhere, making no room for excuses.
This ab roller is built to last, thanks to its durable construction, so you won't have to worry about wear and tear.
Simply put, the DMoose Ab Roller is the missing piece for a core workout that truly counts.
Buy best ab roller for beginners, pros, women, men, seniors, offering knee pads, elbow support, non-slip and noise-proof wider wheel and steel body.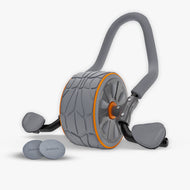 Conclusion
Obliques play a crucial role in stability and core strength. Strengthening them can prevent injuries and improve overall body mechanics. And the best way to target oblique muscles is to perform ab exercises for obliques.
The best is if you try the ab wheel, especially if you are a beginner. However, that doesn't mean Ab rollers are not suitable for gym experts.
For faster results and to achieve goals without injuries, you must invest in a high-quality ab roller wheel. Get this from a well-reputed brand such as DMoose, and do not forget to check reviews to have an idea of the performance.
Reading List