When it comes to working out, athletes must make many decisions. What time of day should they work out? How long should their workouts be? And, perhaps most importantly, what type of workout should they do?
Athletes can do two main types of workouts: full-body and split-body workouts. Both have pros and cons, so deciding which is right for you can be challenging. But let me share the wise words of Arnold Schwarzenegger, who, apart from being a great actor, is also a retired professional bodybuilder. He says,
There is no one-size-fits-all when it comes to training. You need to find what works best for you and your body. ~Arnold Schwarzenegger
Get ready to flex those decision-making muscles because we're breaking down two types of workouts in this post. So, grab a towel, and let's sweat it out together!
Differences Between Full Body and Split Workouts
Most people who hit the gym want to get the most out of their workouts. Let's face it: there are about a million ways to tackle fitness; one of the most common debates is whether it's better to do full-body or split workouts. So, what's the difference?
As the name suggests, full-body workouts work all the muscles in a single session. It may be a great way to get a comprehensive workout and ensure that all your muscle groups are getting attention. However, it can be tough to push yourself when you're working your entire body simultaneously.
Split workouts focus on specific muscle groups on different days. It allows you to put all of your efforts into targeting those muscles, which can lead to better results. However, it can also be easy to miss out on other muscle groups if you're not careful.
A full-body workout aims to train as many muscle groups within the same session. Therefore, there will be significant overlap between workouts and, thus, more extended periods for recovery so you can make progress safely.
Split workouts, on the other hand, can isolate specific muscle parts while allowing your tired muscles to heal, necessitating a training frequency of up to five to six days per week.
Also, the exercise selections of both forms are different. For instance, full-body workouts prioritize barbell and dumbbell movements, including squats, hinges, presses, rows, and lunges, to effectively use training time. The other enables the lifter to concentrate on a different muscle or muscle group daily.
The ultimate ideal exercise is the one that fits your goals and lifestyle. If you have the time and effort for a split workout, go for it! But if a full-body workout is more your style, there's nothing wrong with that.
Remember: Consistency is vital regardless of the workout type you do. To establish a schedule that works for you and keep to it!
Related Article: Compound Vs. Isolation Exercises
Enhance your performance and protect your knees with DMoose weightlifting knee sleeves. Experience the perfect blend of comfort, support, and durability during your gym sessions, weightlifting, or powerlifting.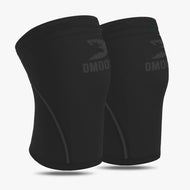 Full Body Workout Structure
Full-body workouts are a great way to increase the frequency of your training, with a high return on investment exercises. You'll notice that as you practice many moves multiple times per week, there will be an improvement in your athletic performance when using weights.
While barbell-centric workouts are typical, they're not the only full-body exercise that works the body well. Unilateral exercises like calisthenics or using kettlebells might interest you as well. In fact, DMoose offers a highly durable Kettlebell that allows you to burn calories with an easy-wide grip. It comes in various weight categories, so you may choose the one you prefer and change between the weights.
Related Article: Top 10 Essential Barbell Exercises for Building Muscle and Strength
Elevate your fitness routine with Kettlebells!
SHOP NOW
Sample Exercises
Barbell Workout
| | | |
| --- | --- | --- |
| Exercise | Sets | Reps |
| | 3 | 6 |
| | 3 | 8 |
| | 3 | 8 |
| | 3 | 10 |
Unilateral Workout
| | | |
| --- | --- | --- |
| Exercise | Sets | Reps |
| | 3 | 10 each side |
| | 3 | 10 each side |
| | 3 | 12 each side |
| Single-Arm Farmers Carry | 3 | 20 paces on each side |
| Single-Leg Glute Bridge | 2 | 12 each side |
Bodyweight Workout
| | | |
| --- | --- | --- |
| Exercise | Sets | Reps |
| | 3 | 10-15 |
| | 3 | 8-12 |
| | 3 | 10-12 |
| | 3 | 8-12 |
| | 3 | 15 each leg |
Split Body Workout Structure
Split workouts can be one of the best ways to get a strong and toned body. You can train each muscle or group of muscles 1-3 times per week without overworking them.
You can organize your body into a training split in three ways, one that focuses on specific muscles, the second that divides the entire human form into upper and lower halves, and the third, an intense workout session focused on push-pull movements.
Body Part Split
Body part splits allow you to concentrate on only one muscle or muscle group throughout each workout. Four to six weekly sessions are typically necessary for a week of body component training.
For instance, five days of the week should be dedicated to separate workouts for your chest, back, shoulders, legs, and arms. A good chest exercise might resemble this:
| | | |
| --- | --- | --- |
| Exercise | Sets | Reps |
| | 3 | 5 |
| | 3 | 10 |
| | 2 | AMRAP |
| | 3 | 12 |
Upper and Lower Split
You can independently focus on your legs, torso, and arms when you do an upper/lower split. Exercises that combine your upper and lower body have a good "flow" and make your body work as a cohesive unit. For each side of your body, here are two samples of training days.
Upper
| | | |
| --- | --- | --- |
| Exercise | Sets | Reps |
| | 3 | 10 |
| | 3 | 15 |
| | 3 | 12 |
| | 3 | AMRAP |
| | 2 | 10 |
Lower
| | | |
| --- | --- | --- |
| Exercise | Sets | Reps |
| | 3 | 10 |
| | 3 | 10 |
| | 3 | 12 |
| | 3 | 12 |
| | 2 | AMRAP |
Push and Pull
You can arrange your exercise according to how your muscles work mechanically, like an upper/lower split. A very well-liked training split is to perform "push" or "pull"-centered exercises since it enables you to engage your body synergistically and maintain a high frequency.
To fully exhaust your muscles, it's also typical to include a third day in your "rotation" just for leg exercises. It results in two cycles of three different workouts every week. For instance:
Push
| | | |
| --- | --- | --- |
| Exercise | Sets | Reps |
| | 3 | 8 |
| | 3 | 10 |
| | 3 | 10 |
| | 3 | 12 |
| | 3 | 15 each side |
Pull
| | | |
| --- | --- | --- |
| Exercise | Sets | Reps |
| | 3 | 10 |
| | 3 | 12 |
| | 3 | 12 |
| | 3 | 12 |
| | 3 | 12 each side |
Leg
| | | |
| --- | --- | --- |
| Exercise | Sets | Reps |
| | 3 | 10 |
| | 3 | 12 each side |
| | 3 | 12 each side |
| | 3 | 12 |
| | 3 | 12 |
Pros of Both Workout Types
We know you like to pump up those muscles and shed some sweat, but we can't decide whether to go for a whole body or a split session. Don't worry. We are here to help. Let's look at the pros of both types of workouts so you can decide which is right for you.
Pros of Full Body Workout
In the short term, a full-body workout can help increase energy levels, improve circulation, and reduce stress.
It helps increase fat burn during exercise because all major muscle groups are worked during a full-body routine, which means more muscles are used, and more calories are burned.
Additionally, a full-body workout can help improve your cardiovascular system more than a split routine because the body has to continuously work to transfer blood from the upper body to the lower body several times throughout the session.
Finally, it is often considered more efficient than split routines since it takes less time to complete this routine, leaving more time for other activities.
If you're looking for a set of bumper plates that provides more comfort and safety to your lifting sessions, these bumper plates from DMoose are an excellent option.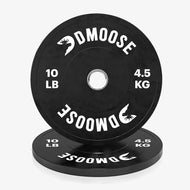 Pros of Split Body Workout
The main benefit of split routines is that they allow you to target specific muscle groups, which is ideal if you have specific goals, such as increasing your bench press or building bigger biceps.
Additionally, it helps you avoid overtraining any one muscle group.
You can allow your muscles some rest by targeting multiple muscle groups on different days between workouts.
This type of workout is also more efficient in time and effort.
Rather than spending hours at the gym concentrating on a few key regions and using different exercises for various body parts, you can achieve better results faster.
The hexagonal dumbbell consists of two weighted heads connected by a central grip shaft. It's the future of weight training and it's waiting for you.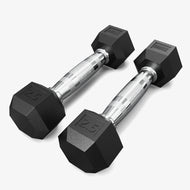 Which One Is Best for You?
It's the eternal question: total body workout vs. split body workout? Both offer advantages, but which is best for you? If you're trying to decide, here are a few things to consider.
Do you need more time? If you don't have a lot of time to work out, you can choose a full-body workout. You may accomplish more without worrying about skipping a muscle group in less time.
Do you have specific goals? A split-body workout might be more effective if you're trying to build muscle in a particular area. You can pay attention to the muscles you want to work and give them the attention they need.
Do you like variety? If you get bored quickly, a full-body workout might be better. Give your body a surprise every so often, and watch it thrive. Mixing it up is not only more fun, but it will also keep your body on its toes. Get out there and shake things up!
The age-old question of entire body vs. split body workouts has puzzled gym-goers for ages. But here's the thing: there's no right or wrong answer! It all boils down to what you find enjoyable and your fitness goals.
So put on your thinking cap, ponder those goals, and pick your best route. And most importantly, remember to enjoy the ride!
The Bottom Line
Both workout routines have benefits and drawbacks that should be considered before starting any new workout program. Athletes just starting or looking for general fitness improvements may find that a full-body workout provides better overall tone and strength results.
However, splitting the body into different segments may be more beneficial if an athlete is looking to focus on a specific muscle group or improve performance in a particular sport. Ultimately, it's essential to experiment with both routines and see which works best for you - after all, there's no "one size fits all" solution when it comes to working out!
Reading List