-30%
Sale price
$112

​
Regular price
$160

​
Unit price
per
& FREE Returns
Return this item for free
Free returns are available for the shipping address you chose. You can return the item for any reason in new and unused condition: no shipping charges
Learn more about free returns.
WHY DMOOSE AMERICAN BUNDLE?
Patriotic Design
Bold American colors to represent your national pride during workouts.
Ab Straps
Improve core strength and stability with these durable, comfortable straps.
Wrist Wraps
Enhance grip and support for heavy lifts, reducing the risk of wrist injuries.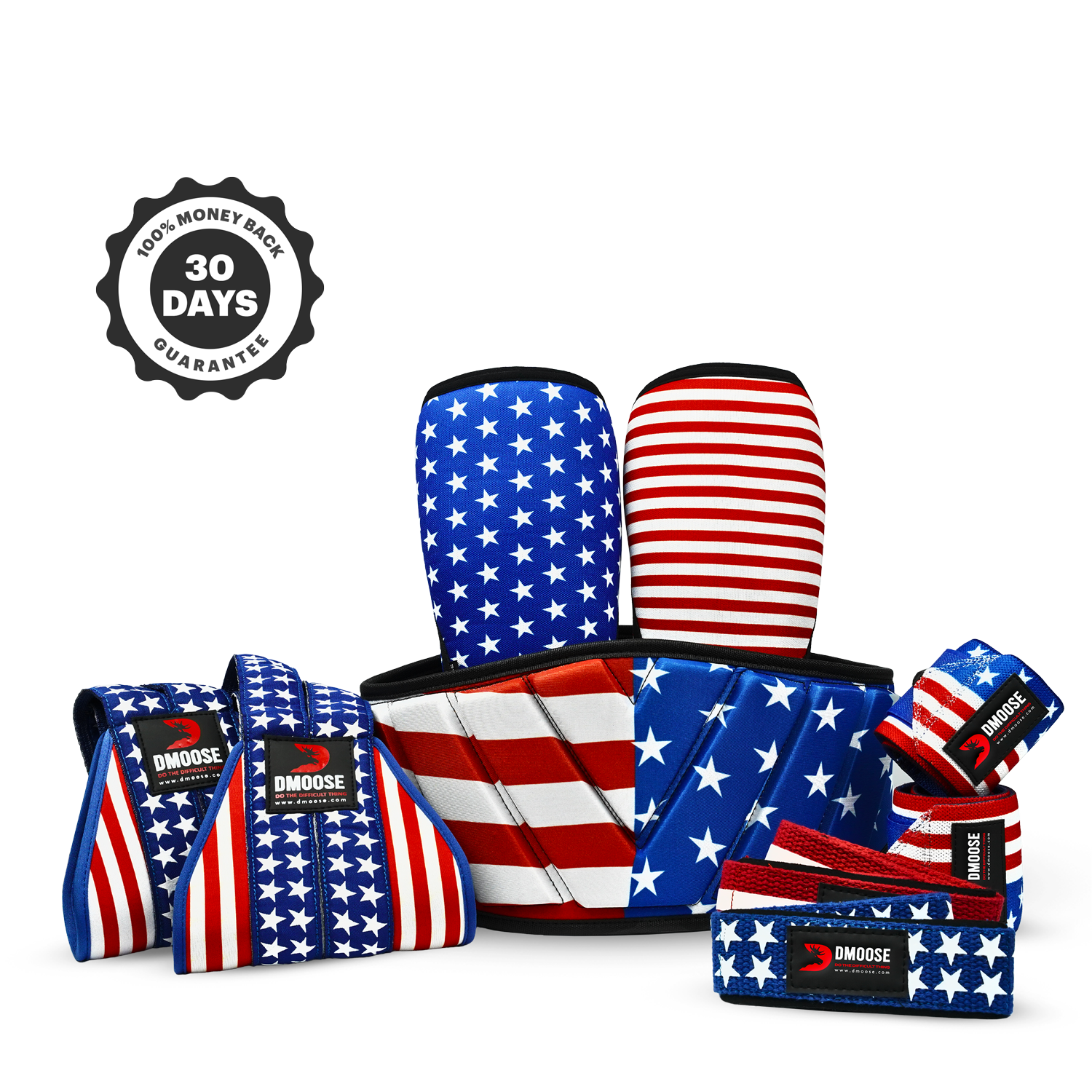 Lifting Straps
Maximize your lifting potential by securing weights and improving your grip.
Knee Sleeves
Protect your joints and boost performance with added stability and support.
Neoprene Belt
Strengthen your core and maintain proper form during intense weightlifting sessions.
Frequently Asked Questions
A. The bundle includes Ab Straps, wrist wraps, lifting straps, knee sleeves, and a neoprene belt, all in patriotic American colors.
A. Yes, the bundle is designed to provide support and protection for both beginners and advanced weightlifters, helping them improve their performance and reduce the risk of injuries.
A. While the bundle offers the best value for a complete weightlifting experience, you may be able to find individual items for sale separately. However, we highly recommend purchasing the full bundle for maximum benefits and savings.
A. Refer to the sizing chart on the product page to determine the appropriate size for your knee sleeves and neoprene belt. Measure your thigh circumference for the knee sleeves and waist circumference for the neoprene belt to ensure an accurate fit.
A. To keep your weightlifting gear in top condition, hand wash the items with mild detergent and air dry. Avoid using bleach or harsh chemicals, as they may damage the materials and colors.
A. Our products are made from high-quality, durable materials designed to withstand intense workouts. While we prioritize performance and durability, we also strive to incorporate eco-friendly practices and materials whenever possible.
More
Questions?
If you have any questions about this product please feel free to get in touch. we pride ourselves in the quality of our products and our customer service.
American Bodybuilding Bundle: Ultimate Support & Style for Patriots