-Inf%
Sale price
$100

​
Regular price
Unit price
per
Why DMoose Battle Rope?
Premium Poly Dacron
Tough against all odds.
Extra-Long Handles
Grip more, slip less.
Effortless Setup
Anchor quickly, start swiftly.
Wear-Resistant
Made for the long haul.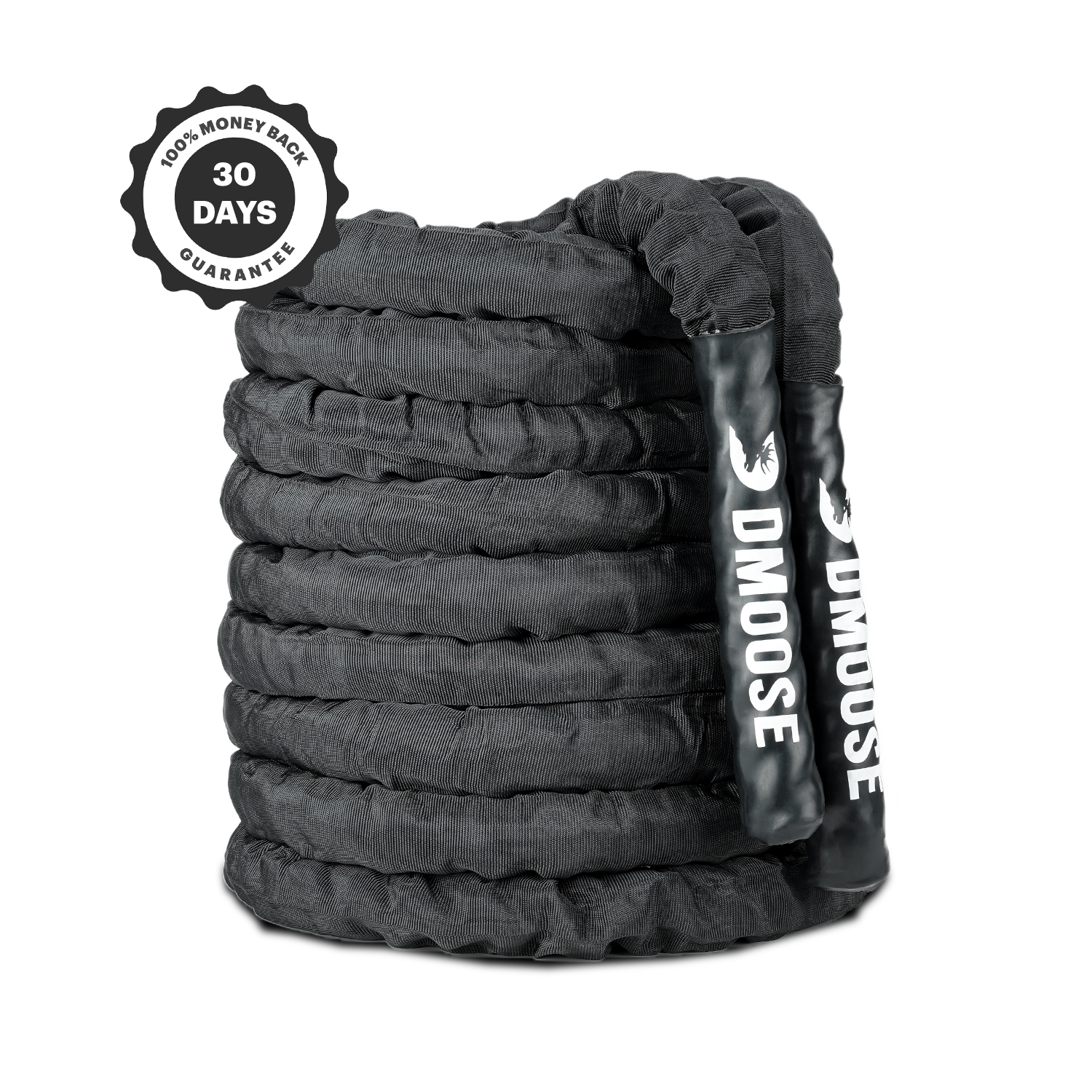 Full-Body Fitness
Every muscle gets its due.
Enhanced Balance
Stability in every swing.
Go-Anywhere Gear
Fitness knows no bounds.
What Our Customers Are Saying
A Real Deal Breaker!
"Tried a few exercise ropes in my life, but nothing quite compares to this one. The quality is top-notch. My workouts have genuinely leveled up."
- Jake L.
Consistency Meets Quality
"I've had my DMoose Battling Rope for a few months now, and it still feels brand new. The durability is impressive. I'm really enjoying my workout these days. Thanks, DMoose!"
- Maria V.
Every Workout Counts
"I was confused about whether to buy it, but this battle rope has added so much value to my daily routines. The grip, weight, and feel all just come together perfectly."
- Terrence P.
Frequently Asked Questions
A. Heavy battle ropes are utilized for cardiovascular exercises, strength training, and full-body workouts, enhancing muscle engagement.
A. For most beginners, a battle rope that's around 30 feet in length is recommended as it provides a manageable resistance and wave.
A. Yes, many battle ropes, especially those made of materials like Poly Dacron, are suitable for both indoor and outdoor workouts.
A. You can get DMoose battle rope at the best price, offering multiple benefits and high-end features.
A. The term "combat rope" is often used interchangeably with "battle rope." They're designed primarily for high-intensity workouts and muscle engagement.
A. Using a wall mount or anchor straps kit is the most secure way to anchor your battle rope, ensuring stability during exercises.
More
Questions?
If you have any questions about this product please feel free to get in touch. We pride ourselves in the quality of our products and our customer service.

DMoose Battle Rope for Full-Body Training