-10%
Sale price
$35

​
Regular price
$39

​
Unit price
per
& FREE Returns
Return this item for free
Free returns are available for the shipping address you chose. You can return the item for any reason in new and unused condition: no shipping charges
Learn more about free returns.
Reversible Knee Sleeves for Weightlifting
Size Guide
Extend Your Leg And Measure Around Elbow
Small
11.8 - 13
Medium
13 - 14.2
Large
14.2 - 15.7
X-Large
15.7 - 17
XX-Large
17 - 18.3
Extend Your Leg And Measure Around Elbow
Small
30 - 33
Medium
33 - 36
Large
36 - 40
X-Large
40 - 44
XX-Large
44 - 47
Why DMoose Knee Sleeves?
Reversible Design
Wearable from both sides, providing you with two stylish options in one knee sleeve.
7mm Thickness (USPA Approved)
The optimal thickness approved by the USPA for superior support during weightlifting and intense workouts.
Dual Side Logo
Dual side logo for anti-slip feature ensures that the sleeve stays in place.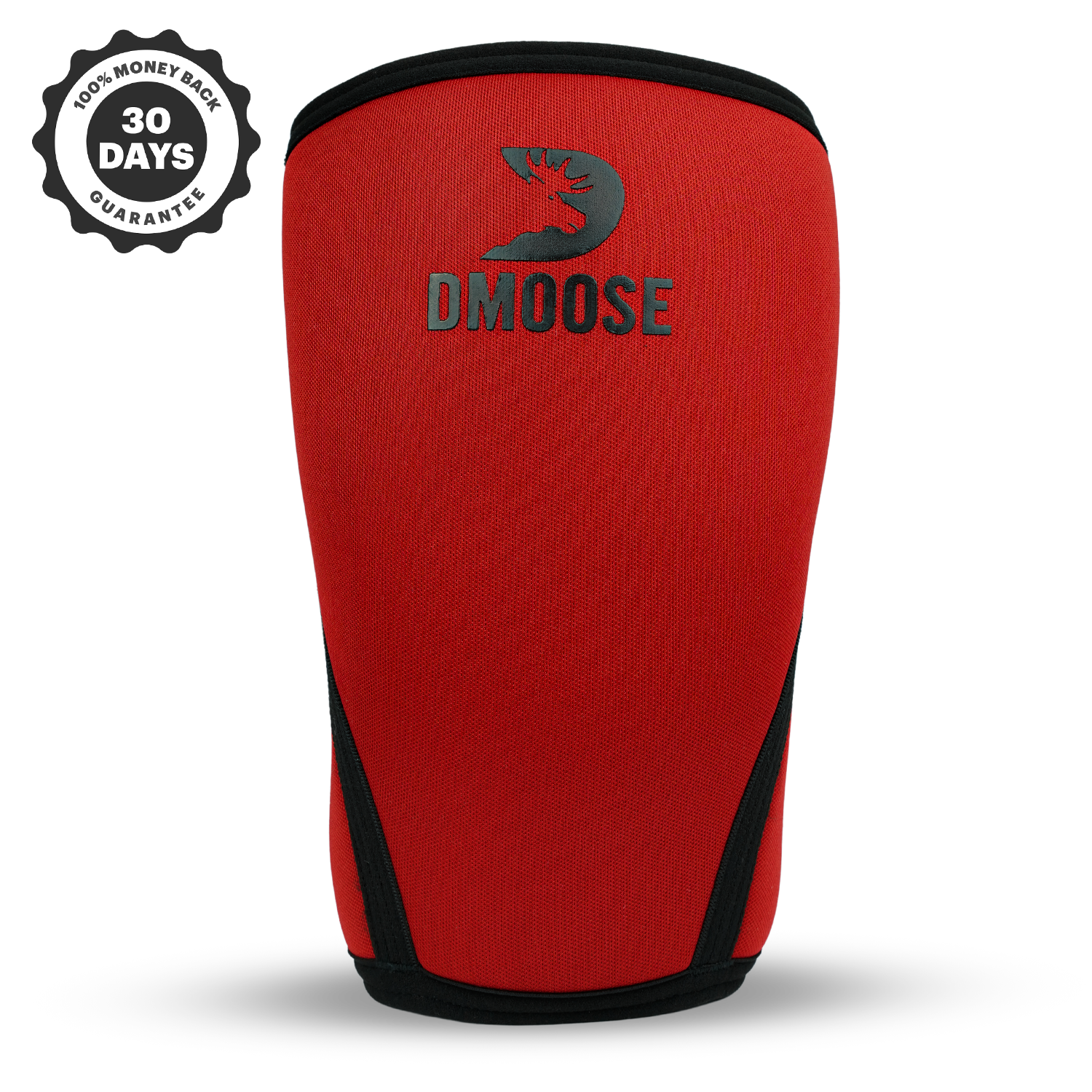 Reinforced Stitching
Reinforced stitching enhances durability and longevity of the sleeve.
Skin-Friendly
Skin-friendly materials make the sleeve comfortable to wear during intense workouts.
Recyclable Packaging
Eco-friendly packaging for a sustainable and guilt-free purchase.
What Our Customers Are Saying
The Best Knee Sleeves for CrossFit
"I've tried a lot of knee sleeves over the years, but these Reversible Knee Sleeves are by far the best I've ever used. They provide excellent support and compression during my CrossFit workouts, and the reversible design allows me to switch up my style as needed. Highly recommend it!"
- John Smith
Amazing Knee Sleeves for Lifting
"As someone who lifts weights regularly, I've struggled with knee pain and discomfort for years. But ever since I started using these Reversible Knee Sleeves, my workouts have been more comfortable and effective than ever before. The 7mm thickness provides maximum protection, and the skin-friendly materials make them a joy to wear."
- Lily Howard
Great Fit and Comfortable
"I was hesitant about purchasing knee sleeves online, but these Reversible Knee Sleeves were a great choice. The sizing chart was accurate, and the sleeves fit perfectly. They're also incredibly comfortable to wear, and the reinforced stitching ensures that they'll last for a long time."
- Mark Davis
Frequently Asked Questions
A. The Reversible Knee Sleeves come in multiple sizes to fit most individuals. It is recommended that you measure around your knee joint to determine the size you need.
A. Yes! The Reversible Knee Sleeves are designed to provide maximum support and compression during weightlifting, CrossFit, and gym workouts.
A. Yes, the Reversible Knee Sleeves can be machine washed for easy cleaning and maintenance.
A. Both sides of the sleeve can be worn, but the dual side logo is intended to be on the outside to prevent slipping and ensure a secure fit.
A. Absolutely! The Reversible Knee Sleeves are suitable for both men and women, providing comfortable and stylish support for all fitness enthusiasts.
A. The 7mm thickness of the Reversible Knee Sleeves are USPA approved, making them suitable for competition use. However, it's always a good idea to check with your specific competition's rules and regulations to confirm their approval.
More
Questions?
If you have any questions about this product please feel free to get in touch. We pride ourselves in the quality of our products and our customer service.
Reversible Knee Sleeves for Weightlifting