Buying a new set of dumbbells is always a good idea. Dumbbells enhance your strength and help you train the biceps. If you are into intensive strength training, a pair of dumbbells will help you torch that excess fat you cannot deal with otherwise. 
Dumbbells come in two types; adjustable and fixed. Your choice between them depends on how you expect them to work for you. Some other factors that you should consider before making the final purchase include the weight level you are comfortable with, the space you have, and the amount of money you can spend on them.
What Are Adjustable Dumbbells?
An adjustable dumbbell set includes conventional dumbbells that let the user adjust the weight strength on each side. The user can swap between the plates on the handle using a lever or a pin. With this, the weight on each side increases or decreases, just according to the user's wish. 
Many fitness freaks have started switching to adjustable dumbbells while ditching the fixed one. The major reason is that adjustable dumbbells allow you to set multiple weights on one handheld device. Here is a video tutorial on setting weights on an adjustable dumbbell for doing your workout correctly. 
While many people consider them a little pricier, they are not! This is because in fixed dumbbells, to reach the required weight target, you may have to keep paying way more than what you would spend once on an adjustable set of dumbbells. The heavy adjustable dumbbells may be pricier, but you would not need many of them in your workout sessions!
Related Article: Adjustable Dumbbells: How They Are the Best Investment You Can Do for Your Home Gym
What Are Fixed Dumbbells?
Fixed dumbbells are the traditional dumbbells you see in all the gyms regularly! They have a short bar containing weights of a set amount on both sides. Contrary to the adjustable dumbbells, it doesn't let the user change the strength of the weight on either side. 
Fixed dumbbells are surely more popular compared to adjustable ones. The latter is a new technology, and not enough people are aware of it. 
Just like the name specifies, the fixed dumbbells have unchangeable weights. They are sold in the form of pairs. If you have just started weight lifting, this might be the best play for you. Or, if you are focusing on one particular area/part of the body, opt for these dumbbells.
These come with a fixed level of weight, and you need to adjust the load by adding or removing the weight bars. For that, you will have to ensure that weights of all magnitudes are readily available while you are working out.
If you have your gym and buy dumbbells to stock up there, you also need to consider the storage space. As you can add weight to a pair of dumbbells, you can surely add to the number of dumbbells in your stock. For that matter, you would have to look for a bigger rack with ample space.
The hexagonal dumbbell consists of two weighted heads connected by a central grip shaft. It's the future of weight training and it's waiting for you.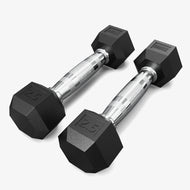 Pros & Cons of Adjustable Dumbbells
Adjustable dumbbells come with several advantages and disadvantages. While using them has its perks, you should not neglect the cons. 
Pros
1. Huge Space Savers
Let's be honest. Personal gym areas have limited spaces, and one can't fill them up only with dumbbells. An adjustable pair of dumbbells is manufactured to have removable plates, altering their weight quotient. Hence, you can use them in place of numerous fixed dumbbells possessing the same level of weight. 
You can easily adjust the weight of the adjustable dumbbells simply by using a pin or level mechanism. It is easy to swap between the weights, bringing the dumbbell to the level you are comfortable with. 
If you reside in a limited-spaced apartment, it would be wise to opt for adjustable dumbbells. 
2. Portable And Handy
These dumbbells are quite convenient to use for strength training. It is quite easy to not only store them but also transport them. Whenever you feel like working out outdoors, you can easily take these portable dumbbells along and have a session in the fresh air.
Thus, an adjustable dumbbell workout is possible both inside the four walls of your house and outside your nearby garden. 
3. Convenient Weight Increments
If you have just started weight training, you need to go slow! You would initiate with small weights and gradually increase the load. Adjustable dumbbells are the perfect choice in this scenario. This is why they are also known as interchangeable dumbbells. 
Whatever weight adjusting technology your dumbbells have, it would surely be much more convenient than having to add or remove the weight bars yourself. It is easier to make strength progressions using adjustable dumbbells. You can enhance or reduce the weights, considering your abilities and power, making it highly personalized. 
4. Offers Extensive Options
Regular dumbbells reduce the chances of progression in your workout results. They are limited, and eventually, you run out of all the options and cannot challenge yourself anymore.
Rather than sticking to the same strength for way too long, opting for adjustable dumbbells help you go the demanding hard way and make smaller progressions gradually. 
As your workout strength increases, you may add to the load. However, you can reduce the limit and work out comfortably when you don't feel enough energy.
Cons
1. The Price
Compared to the regular ones, the adjustable dumbbells have a bigger price tag. One possible reason behind this higher price could be that these dumbbells are sold in pairs. Thus, whenever you need to replace one of them, you may end up having to buy a complete set yet again. 
Though the price tag may put you off, it is a one-time purchase that makes it a desirable product to opt for. It offers an extensive weight range, covering several body parts and exercise variations. 
2. Not a Durable Option
Adjustable dumbbells are loaded with perks, but they are not durable! Fixed working out equipment is always more long-lasting than the adjustable ones.
You may even end up losing the spare parts due to constantly changing and adjusting the plates. They also tend to get damaged quite soon. Hence, if you are looking for something that would last long, you may have to skip adjustable dumbbells. 
3. Not Suitable for a Gym
If you plan to establish a community gym, opting for adjustable dumbbells may not be the right thing to do. The reason is that only one person can use them at a time. Hence, if you have only one pair of adjustable dumbbells in your fitness center, your customers may have to wait for their turns which may be quite off-putting.
However, if you are looking forward to having a home gym for personal usage, the adjustable dumbbell and bench set may come as a piece of great equipment for you.
TRENDING ARTICLES
Pros & Cons of Fixed Dumbbells
Like the adjustable ones, the traditional fixed dumbbells also have pros and cons. Some of the factors that may impact your final decision are: 
Pros
1. Ease of Usage
Due to their construction, the dumbbells are quite easy to use. You won't even need some extensive instructions for using them. However, if you still need some, the written instructions that come with these dumbbells would be enough to know how to set them up and manage the weights.
2. Risk-free
A fixed set of dumbbells is usually risk-free as getting injured is minimal. They are stable. Compared to the adjustable weights, they are placed quite sturdily in their position and don't get loose.
While using a fixed dumbbell, you would mostly work out in the right manner. The probability of injuring yourself by using them wrong is almost zero. This is the reason why most commercial gyms opt for fixed dumbbells. They are a safer option for anyone who has just started working out and is a novice in strength training.
Cons
1. Limited Functionality
Fixed dumbbells have their limits. They don't offer extensive movement patterns, and hence it's not possible to cover all the body parts. The functionality of the fixed dumbbells is minimal. Hence, they are not preferred for those looking forward to extensive workout sessions.
2. Definite Resistance
Another major concern that arises while using the fixed dumbbells is that they come with a definite resistance. Hence, if you want to go to a higher level of exercise, you may have to buy more weights. 
Fixed Vs. Adjustable Dumbbells: Comparison 
1. Construction and Durability
Fixed dumbbells take the cake here! The construction and durability of a fixed dumbbell are always better than the adjustable ones. You can use them for many years, while you may misplace the parts of adjustable ones due to changing the weights frequently. 
2. Flexibility 
While comparing the flexibility function of fixed and adjustable dumbbells, it is evident that the latter wins the competition. An adjustable dumbbell helps you train a wider muscle range and body parts. 
You can easily opt for the range starting from 5 kgs to as much as 50 kgs. On the other hand, the fixed ones are limited to the weight bars that they come with. Even if you want to enhance the flexibility, you would have to pay more to buy new weight bars. 
3. Space Efficiency 
Fixed dumbbells tend to take up more space than adjustable ones. Hence, if you are working out in a limited area, these might not be the right ones to go for.
You would need separate pairs for every weight you want to lift. To store each of these, you would require a lot of space.
On the other hand, while using the adjustable dumbbells, you can change the weight of the pair you are already using. Hence, there is no need for ample space to put them up. 
4. Ease of Use 
Fixed dumbbells are surely much easier to use. There is no sophisticated technology involved in them. You simply need to lift them and change the weights. Comparatively, changing the weight level for your adjustable dumbbells may not be an easy task. 
5. Price and Cost-effectiveness 
Adjustable dumbbells are much costlier compared to fixed ones. As it is a new technology and is a sophisticated version of weight training equipment, they require you to pay a higher amount.
Comparatively, the fixed dumbbells are less pricey, but that also depends on the brand and version you are choosing for yourself. 
For a home gym, the adjustable dumbbells are a better option as they don't need a lot of space for storage and are highly flexible in usage.
Buying dumbbells set for the first time may be a little overwhelming. You may not be sure about which one to opt for and how. If you have decided to get your hands on the adjustable version, getting them from DMoose would make things easier for you. 
These multifunctional dumbbells are great for muscle development, allowing you to target multiple areas of your body with just one pair, with a money-back guarantee and instant delivery.
This will surely be the best investment you will make for your new home gym. You can perform various exercises using these dumbbells and alter the weights according to your progression. 
Related Article: How to Create the Ultimate Home Gym
Are you looking for a piece of multifunctional gym equipment that easily fits in your tiny space? Look no further than adjustable dumbbells set for sale that help you reach your ultimate fitness goals and save additional space!
Final Thoughts 
Fixed and adjustable dumbbells come with their features and specifications. The fixed dumbbells are long-lasting, durable, and easy to use, while the adjustable ones offer convenience and flexibility.
Furthermore, adjustable dumbbells may appear to be a convenient option for a home gym as they don't take up much space. However, the fixed dumbbells seem preferable for a commercial gym setup. Considering your fitness goals, convenience, and budget, you may choose between them. 
Read More
Article Sources
Rufa'i, Adamu Ahmad, et al. "Design of a Randomised Intervention Study: The Effect of Dumbbell Exercise Therapy on Physical Activity and Quality of Life among Breast Cancer Survivors in Malaysia." BMJ Global Health, vol. 1, no. 1, July 2016, p. e000015. PubMed Central, https://doi.org/10.1136/bmjgh-2015-000015.